Caribbean Corner: Marley pursuing NFL dream.
Alexis Nunes and Shaka Hislop chat with Nico Marley, the grandson of Bob Marley, who signed with the Washington Redskins in the NFL.
Caribbean Corner: Talking West Indies with Jeff Dujon.
Alexis Nunes and Shaka Hislop chat with West Indies legend Jeff Dujon about the team's struggles after their series against Pakistan.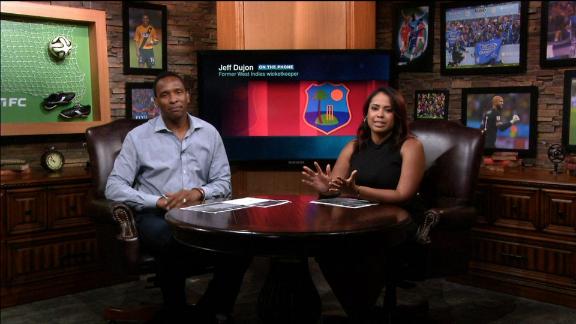 Real Madrid
Football
Hislop: James Rodriguez doesn't fit in at Real Madrid.
Shaka Hislop believes Zinedine Zidane is not to blame for James Rodriguez's troubles at Real Madrid.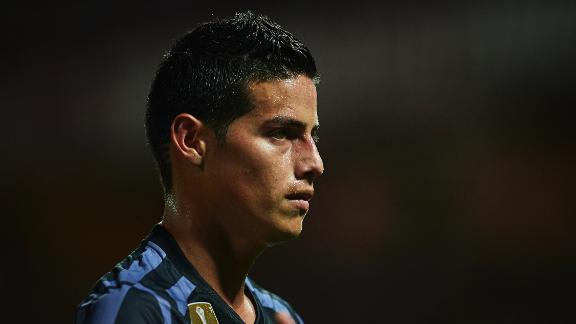 Chelsea
Football
WATCH: Chelsea players swarm Conte in dressing room.
Antonio Conte and his Chelsea squad continued their wild post-match celebrations in the dressing room.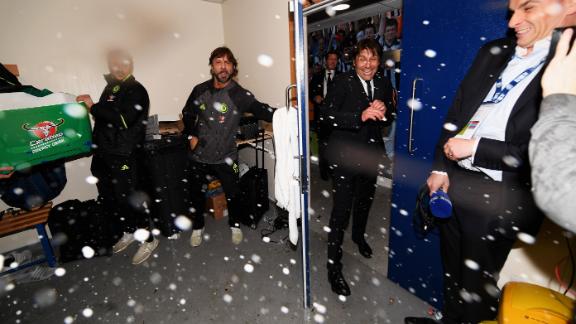 Barcelona
Football
The Sweeper: Messi embarrasses Cillessen.
Lionel Messi embarrasses Cillessen at Barca training, Wenger Out chants overtake WWE Raw and much more in The Sweeper.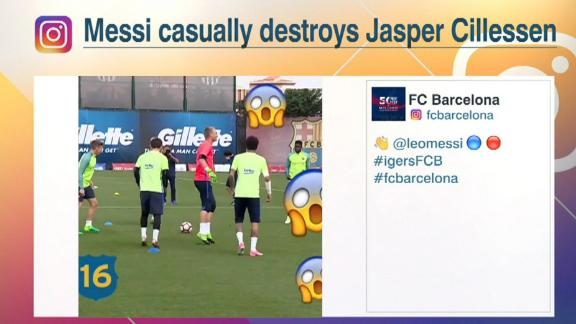 WATCH - Taylor nabs hat-trick for Sussex.
West Indian Jerome Taylor took an excellent hat-trick for Sussex in their Royal London One-Day Cup match against Essex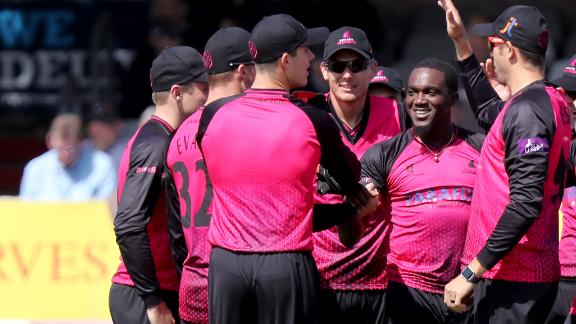 The Sweeper: Conte 'The Confather.'
A ref was shown a red card, Messi shows off his jersey collection and Conte's daughter holds a unique sign in The Sweeper.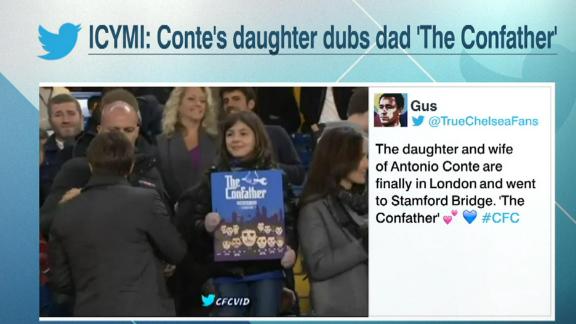 Argentina
Football
Messi's four-match international ban lifted.
Lionel Messi has won his appeal against a four-game ban on World Cup qualifying duty with Argentina.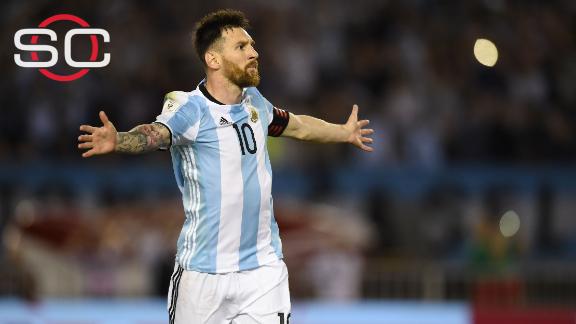 Caribbean Corner: Kenwyne Jones' role in Atlanta.
Herculez Gomez joins Shaka Hislop and Alexis Nunes to defend his tweet about the impact Kenwyne Jones can have in Atlanta.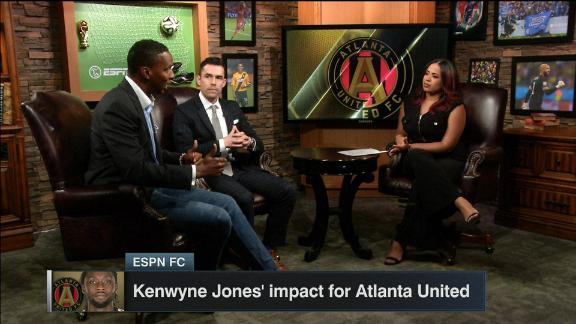 Am I Wrong? May the fourth NOT be with United.
Layla Anna-Lee believes Manchester United do not have what it takes to progress in the Europa League on 'Star Wars day'. Is she wrong?
The Sweeper: Buffon's insane record.
Gigi Buffon's incredible UCL shutout streak, Mauro Icardi's lion-inspired tattoo and more headline the Sweeper.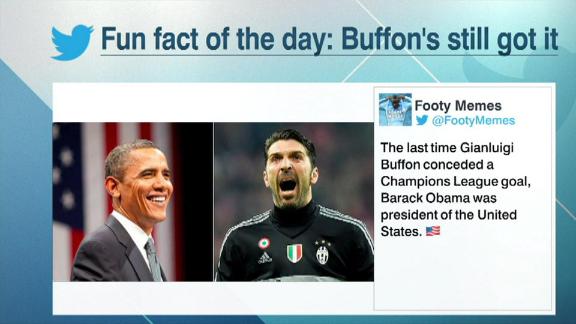 Philadelphia Union
Football
Caribbean Corner: Blake's misfortune; Island Cup a go?
Alexis Nunes and Shaka Hislop asses Andre Blake's struggles and a new Caribbean league that could feature Ronaldinho.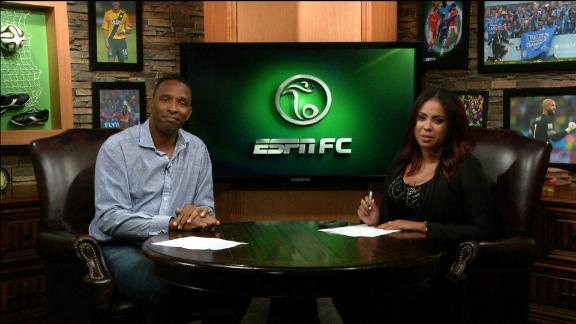 Jones heads Atlanta into the lead.
Major League Soccer: Kenwyne Jones (9') Atlanta United 1-0 D.C. United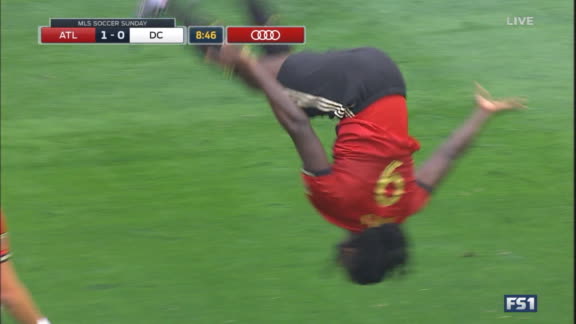 The Sweeper: Evra's friends in high places.
Patrice Evra takes social media by storm again, stars collide at Barcelona and plenty more in The Sweeper.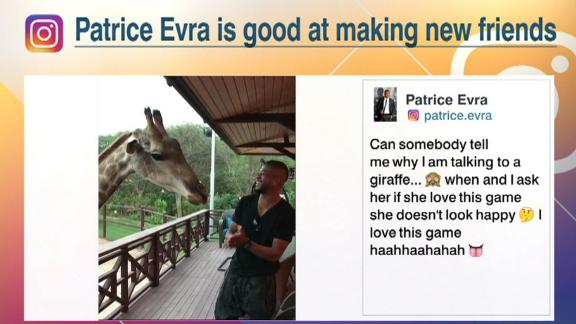 Real Madrid
Football
Ronaldo Jr.'s free kick.
Max Bretos breaks down Toronto's best chances at a title and Ronaldo Jr.'s free-kick style that mimics his dad.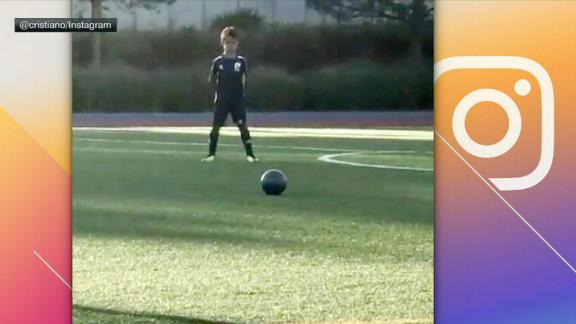 The good and bad of Westbrook in Game 2.
Russell Westbrook made history Wednesday with his triple-double but also missed 14 shots in the 4th quarter, sending the Thunder home down 2-0.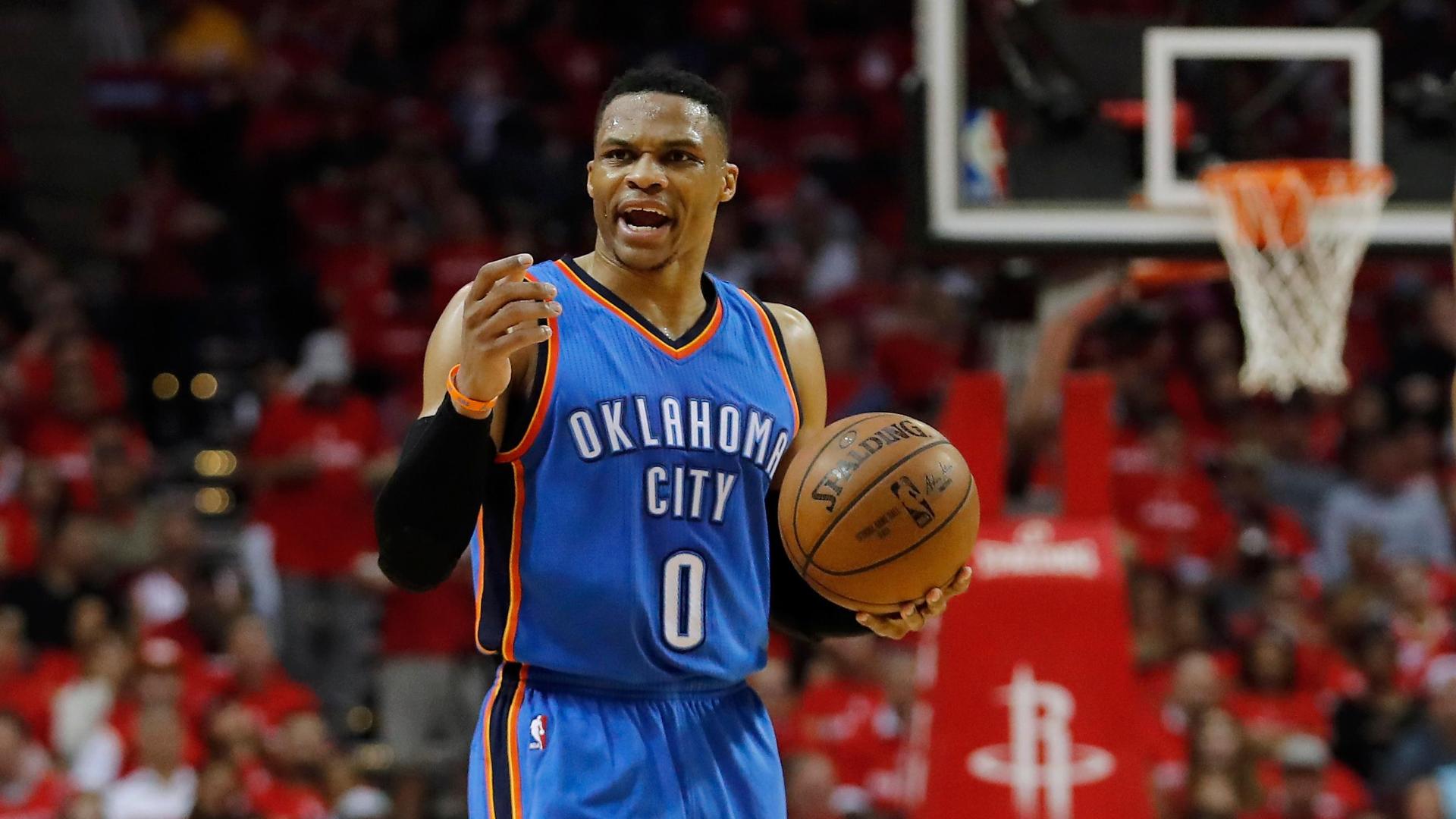 The Sweeper: No more jeering Ronaldo.
Cristiano Ronaldo thanks his teammates after a UCL milestone, Gabriel Jesus returns to training and more in The Sweeper.
'Tremendous feeling to get a hat-trick' - Badree.
Samuel Badree was delighted to pick up a hat-trick on his RCB debut but lamented his side's performance with the bat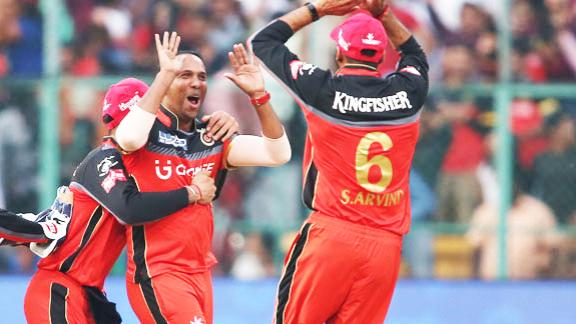 Quest for NBA title brings hope to 16 cities.
With the NBA playoffs set to begin, 15 teams are looking to take the title away from the reigning champ Cavaliers.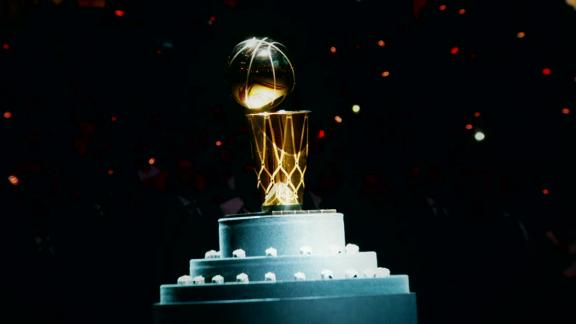 The Masters
Garcia says the wait made winning sweeter.
After receiving the green jacket, Sergio Garcia says "it's been a long wait" and it was a long but enjoyable week that culminates with him being able to call himself Masters champion.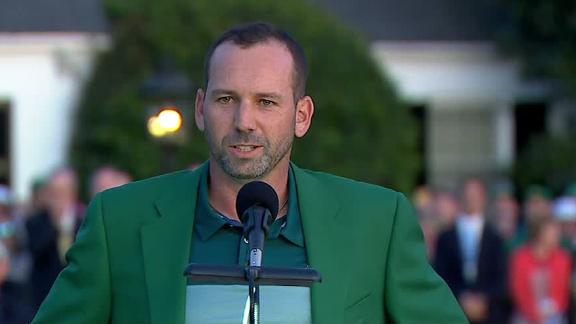 Garcia introduced as Masters champion.
Billy Payne, chairman of Augusta National Golf Club, awards Sergio Garcia the green jacket for winning the 2017 Masters.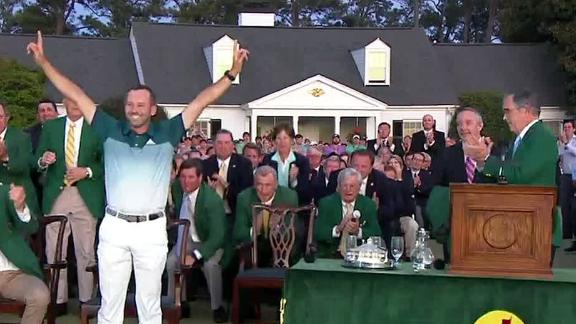 Thunder
NBA
Thunder
NBA
Westbrook thankful for support.
Russell Westbrook is full of gratitude as he reacts to surpassing Oscar Robertson for the most triple-doubles in a single season.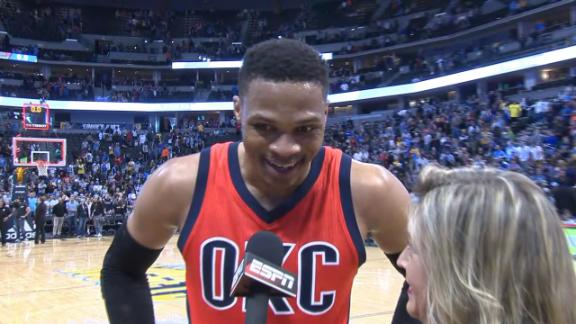 Is overtaking alive and well in F1?
There were plenty of exciting overtakes at the Chinese Grand Prix, but will the trend continue through the season?
'We will bounce back' - Pandey.
Manish Pandey looks forward to bouncing back after his side fell to Mumbai Indians by four wickets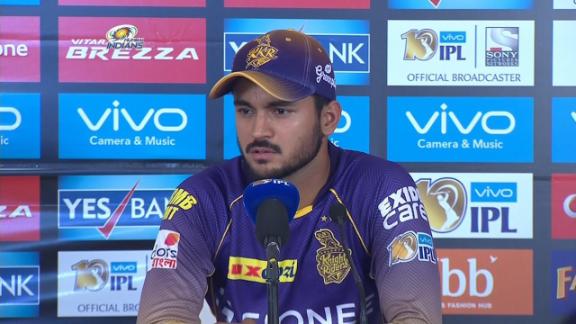 Formula 1
Is Ferrari too focused on Vettel?
With Sebastian Vettel seemingly back in the title fight, Jonathan Legard wonders if Ferrari risk hindering Kimi Raikkonen's season.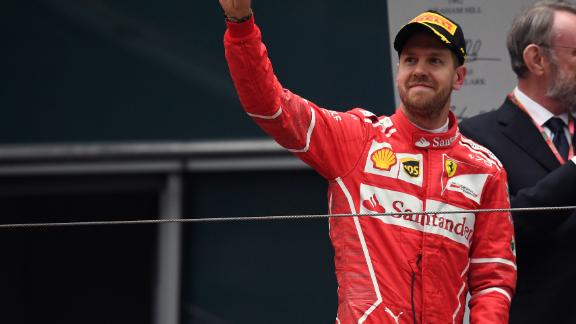 Real Madrid 1-1 Atletico Madrid: Atleti force draw late in derby.
Antoine Griezmann's late equaliser rescued Atletico a point at Real Madrid in their derby clash.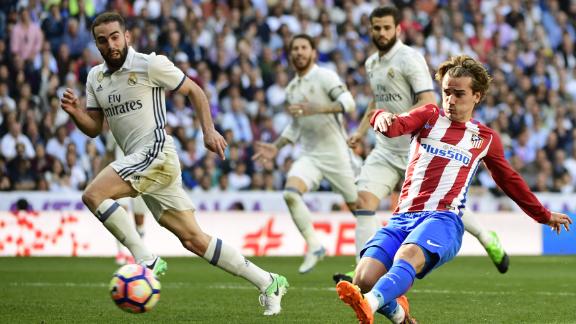 ESPNPlay - the best of live sports
Watch the very best in sport LIVE and on-demand with ESPNPlay. Service available across the Caribbean.
ESPN

The ESPN World Fame 100 is a ranking of the planet's 100 most famous athletes. Here's a visual breakdown of the list by gender, sport, country and social media following.
Definitely Caribbean. Distinctly ESPN

Super agent Mino Raiola has told an Italian newspaper that Zlatan Ibrahimovic once refused a €100 million offer to join a Chinese club.

He may be the fastest man on earth but can Usain Bolt predict this weekend's Premier League results?

Nine-time Olympic gold medalist Usain Bolt joins the FC crew to discuss his love for Man United, and if he could make the squad.

Check out how each NFL stadium looks in "Madden NFL 17."

University lecturer Jarrod Gilbert lets his sociology class know what he would much rather be doing with his day

Dan Graziano gives some insight on the magnitude of the restrictions Tom Brady faces during his suspension from the Patriots.

President Barack Obama says 49ers QB Colin Kaepernick is exercising his constitutional rights by not standing during the national anthem and is generating conversation around topics that need to be talked about.

Ohio State student Vinny Forte hits a long-distance shot in his lecture giving his entire class a 100% on an organic chemistry quiz.

A delay of game is called on the first punt as the Nebraska Cornhuskers line up without a punter to honor Sam Foltz, who died over the summer.

A Las Vegas batter hits the ball foul but it surprisingly spins back into fair territory, where El Paso first baseman picks it up and steps on the bag for an out.

Dwyane Wade explains to ABC's George Stephanopoulos why he has mixed feeling about Republican presidential nominee Donald Trump's tweet following the shooting death of Wade's cousin.

Seminoles WR Travis Rudolph talks about his visit to Montford Middle School where he saw a boy on the autism spectrum eating alone, and decided to join him.
Customise ESPN