Rivers finds Williams on 75-yard TD
Chargers QB Philip Rivers throws a 75-yard touchdown to WR Tyrell Williams on 1st-and-10 against the Titans.
Vrabel: 'Poor coaching and poor execution' in loss to Chargers
Mike Vrabel breaks down his play calling, including going for a 2-point conversion late, in the Titans' loss to the Chargers.
Lynn impressed with Chargers' leadership and fight
Chargers coach Anthony Lynn says he's impressed the leaders in the locker room and their fight to never give up
Chargers are on an upward trend
The NFL Countdown crew breaks down why the Chargers are showing signs of positive growth.
Titans fail on 2-pt conversion attempts
Tennessee's pair of failed two-point conversion attempts cost them the game against the Chargers in the fourth quarter.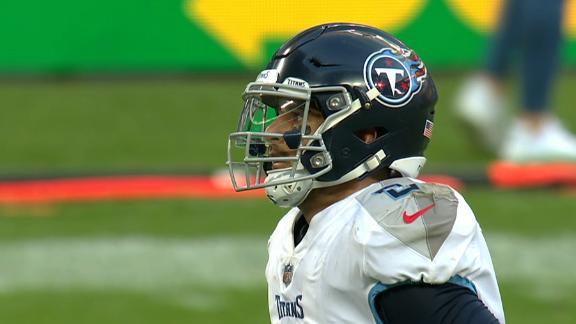 Mariota finds Stocker for TD
Marcus Mariota finds Luke Stocker on a one-yard touchdown pass near the end of the fourth quarter.
Williams hauls in Rivers' 55-yd TD pass
Philip Rivers finds Mike Williams on another deep pass to put the Chargers up 17-6 over the Titans.
Chargers' D intercepts Mariota
Titans QB Marcus Mariota's pass is tipped and intercepted by Denzel Perryman.
D'Antoni on scuffle: 'I wasn't getting in there'
Mike D'Antoni explains his perspective during the Rockets-Lakers fight and says he is going to let the NBA handle that.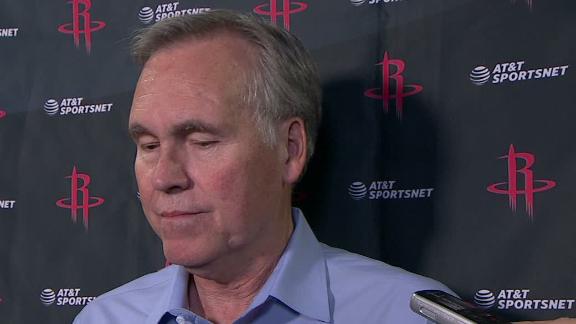 Carmelo calls Rondo's alleged spitting 'unacceptable'
Carmelo Anthony expresses his thoughts on Rajon Rondo allegedly spitting in Chris Paul's face which escalated the fight during the game.
LeBron says scuffle didn't determine outcome
LeBron James reacts to the scuffle between the Lakers and Rockets, saying he said nothing to his team and let Luke Walton do the talking.
LeBron's home debut ends in defeat
LeBron James makes his much-anticipated debut at the Staples Center, scoring 24 points in the Lakers' 124-115 loss to the Rockets.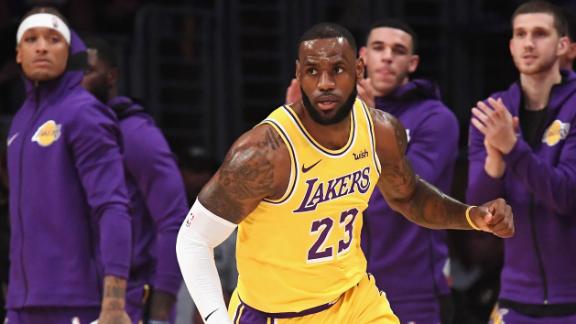 Punches thrown, Rondo, CP3 and Ingram tossed
James Harden gets shoved by Brandon Ingram going up for a basket, leading to Rajon Rondo, Chris Paul and Ingram throwing punches, with all three ejected.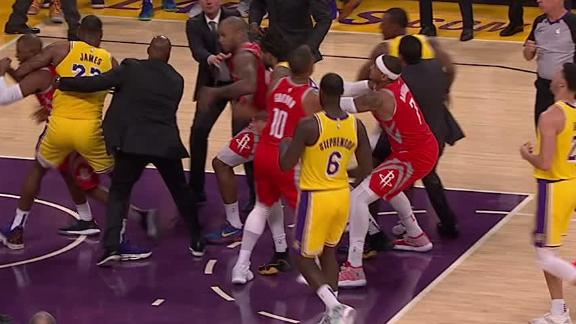 Harden says he trusts in his teammates to make big shots
James Harden reacts to the scuffle between Bandon Ingram, Chris Paul and Rajon Rondo and breaks down the Rockets' first win of the season.
Close-up video appears to capture Rondo spitting
Rajon Rondo appears to spit into the face of Chris Paul with 4:13 remaining in the game, spurring a fight with multiple players.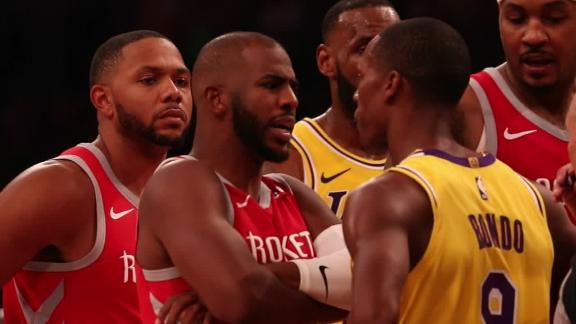 Stephen A. says Ingram should get 'stiffest suspension'
Stephen A. Smith reacts to the Rockets-Lakers brawl and why Brandon Ingram should receive the longest punishment.
Russillo: I liked the fight
Ryen Russillo talks with SVP about the scuffle between the Rockets and Lakers saying he enjoyed the fight because he thinks people are tired of refs letting James Harden get away with things.
ESPN Fantasy Football promo

Manage your squad in the Premier League, Champions League, La Liga and Liga MX.

John Walton/PA Images via Getty Images

In association with Rolex, ESPN takes a look at the history and innovation of golf's greatest rivalry ahead of the 42nd Ryder Cup in Paris.

ESPN

Time is running out for the UK to secure a post-Brexit deal, and there could be huge ramifications for Premier League clubs in the transfer market.

ESPN Illustration

Ten years ago, Sheikh Mansour of Abu Dhabi bought Man City, transforming the club from Premier League punchline to a dynasty in the making.

Getty

Updated tables from the Premier League, Champions League, La Liga, English Football League and more.

Getty

Keep track of all the important upcoming fixtures in the Premier League, Champions League, La Liga, English Football League and more.

Getty

Results and scores from the Premier League, Champions League, La Liga, English Football League and more.
Customise ESPN