Punches thrown, Rondo, CP3 and Ingram tossed
James Harden gets shoved by Brandon Ingram going up for a basket, leading to Rajon Rondo, Chris Paul and Ingram throwing punches, with all three ejected.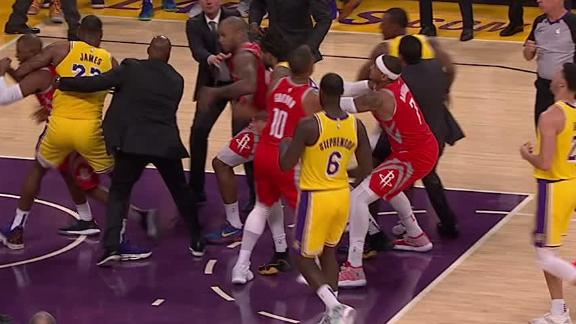 D'Antoni on scuffle: 'I wasn't getting in there'
Mike D'Antoni explains his perspective during the Rockets-Lakers fight and says he is going to let the NBA handle that.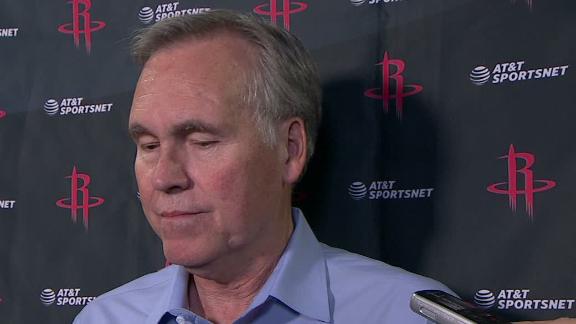 Harden says he trusts in his teammates to make big shots
James Harden reacts to the scuffle between Bandon Ingram, Chris Paul and Rajon Rondo and breaks down the Rockets' first win of the season.
LeBron's home debut ends in defeat
LeBron James makes his much-anticipated debut at the Staples Center, scoring 24 points in the Lakers' 124-115 loss to the Rockets.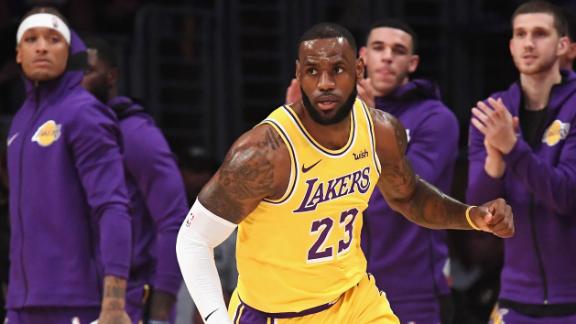 Walton says he didn't see the scuffle escalating
Luke Walton explains how he looked away when the referees stepped in and then when he looked back up, there was "mayhem going on."
Gordon seals the Rockets' win with a layup
Eric Gordon drives straight to the bucket and puts in the layup to seal the Rockets' win over the Lakers.
Lonzo perfectly sets up McGee on the alley-oop
Lonzo Ball drives baseline and lobs a pass up to JaVale McGee, who finishes with a two-handed jam.
LeBron muscles in for and-1
LeBron James powers his way towards the bucket and drains the layup while drawing contact.
Gordon drives for tough and-1
Eric Gordon flies right to the bucket for a layup while drawing a foul.
CP3 shakes off Rondo for floater
Chris Paul uses his handles to shake off Rajon Rondo and then knocks down the floater.
Gasol turns back the clock
Pau Gasol drives the lane for a two-handed dunk and follows it up with a 3-pointer.
Harden breezes past LeBron for dunk
James Harden drives right past LeBron James and throws down a powerful one-handed dunk.
Towns hits the Nowitzki-esque fadeaway in Dallas
Karl-Anthony Towns hits the fadeaway jumper made famous by Dirk Nowitzki against the Mavericks.
Stephenson drains layup, gets Harden a technical
Lance Stephenson drives baseline for a layup and then instigates James Harden, who shoves Stephenson and gets called for a technical foul.
Doncic drops 26 points in home debut
Luka Doncic leads the Mavericks with 26 points on 8-of-16 shooting in a victory against the Timberwolves.
Smith drills game-winning jumper
With the game tied in the final seconds, Dennis Smith Jr. hits a pull-up jumper to put Dallas up for good.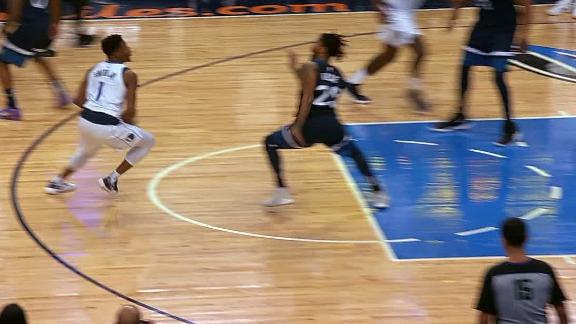 Hart sinks layups on back-to-back possessions
Josh Hart drives straight to the bucket for a layup and then comes up with a steal and breaks away for another layup.
Tatum hits turnaround jumper over Hardaway
Jayson Tatum backs down Tim Hardaway Jr. and hits a fadeaway with Hardaway's hand in his face.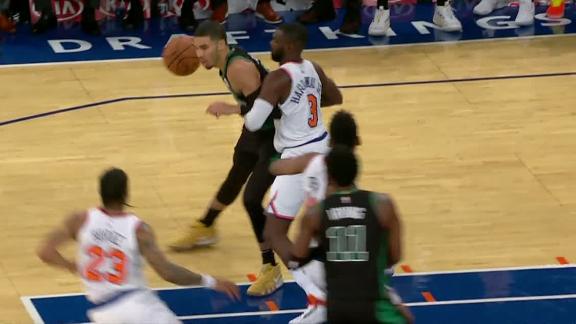 Carmelo beats buzzer with turnaround jumper
Carmelo Anthony gets the inbounds pass and drains a jumper to beat the first-quarter buzzer.
Lillard drains long 3
Damian Lillard hits a 3-pointer from near the Blazers logo at half court.
Carmelo knocks down 3-pointer from top of the key
Carmelo Anthony pulls up from beyond the arc and drains the 3-pointer.
Dodgers clinch 2nd consecutive World Series trip
Clayton Kershaw strikes out Mike Moustakas to send the Dodgers to their second World Series in two years.
Puig animated after breaking game open with HR
Yasiel Puig is fired up as he rounds the bases for hitting a 3-run home run to put the Dodgers up 5-1 in Game 7.
Roberts reflects on winning NLCS and facing his former team
Dave Roberts joins SportsCenter after the Dodgers Game 7 win and looks ahead to facing the Red Sox in the World Series.
Kershaw on Dodgers 2018 turn around
After sitting in 3rd place as late as September, Clayton Kershaw explains the feeling of the Dodgers making it to their second straight World Series.
Puig looks for continued success vs. Boston
After a successful NLDS and NLCS, Yasiel Puig looks to carry his momentum into the World Series against Boston.
Bellinger calls making 2nd World Series 'pretty special'
Cody Bellinger reflects on his second straight trip to the World Series in only his 2nd year in the MLB.
Dodgers head back to World Series after Game 7 win
The Dodgers advance to the World Series for the second year in a row after defeating the Brewers in Game 7 of the NLCS.
Puig drenches reporter with water
Yasiel Puig douses ESPN Deportes Reporter Enrique Rojas with a water-filled garbage can, then grabs the mic to act as the interviewer.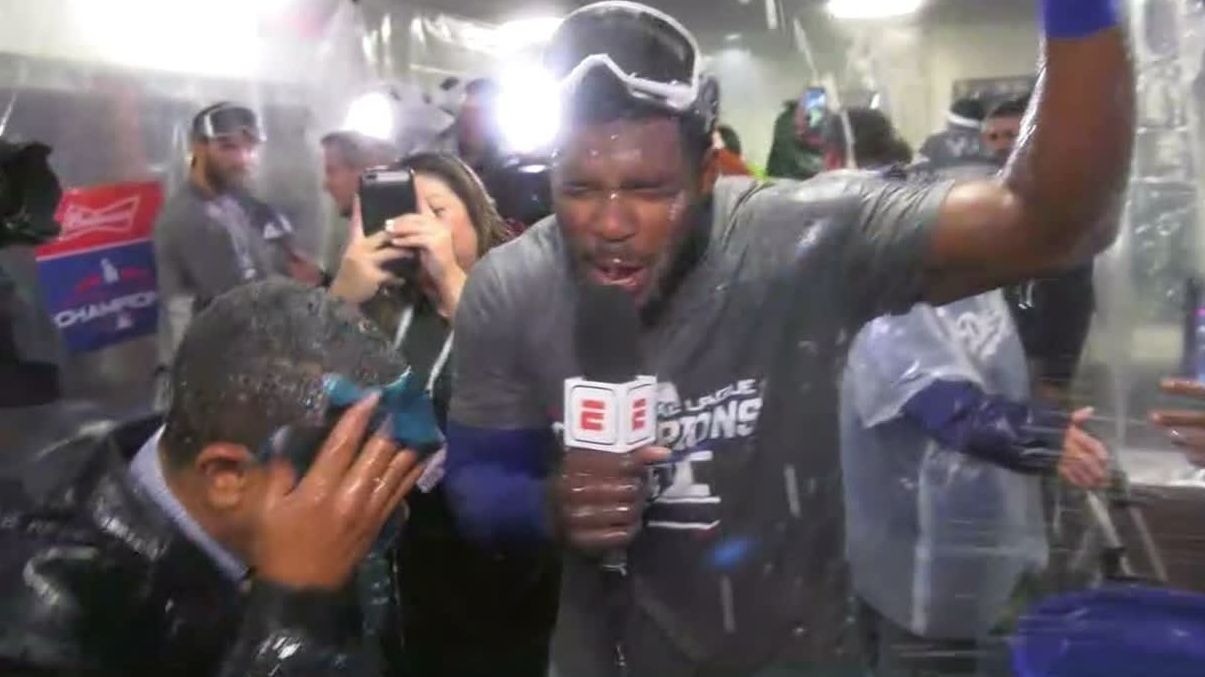 Dodgers celebrate in the locker room
The Dodgers celebrate wining National League Pennant in the locker room, with the Red Sox up next.
ESPN Fantasy Football promo

Manage your squad in the Premier League, Champions League, La Liga and Liga MX.

John Walton/PA Images via Getty Images

In association with Rolex, ESPN takes a look at the history and innovation of golf's greatest rivalry ahead of the 42nd Ryder Cup in Paris.

ESPN

Time is running out for the UK to secure a post-Brexit deal, and there could be huge ramifications for Premier League clubs in the transfer market.

ESPN Illustration

Ten years ago, Sheikh Mansour of Abu Dhabi bought Man City, transforming the club from Premier League punchline to a dynasty in the making.

Getty

Updated tables from the Premier League, Champions League, La Liga, English Football League and more.

Getty

Keep track of all the important upcoming fixtures in the Premier League, Champions League, La Liga, English Football League and more.

Getty

Results and scores from the Premier League, Champions League, La Liga, English Football League and more.
Customise ESPN