England 2-1 Croatia: Three Lions roar to semifinals
Jesse Lingard and Harry Kane each scored to seal England's 2-1 comeback win over Croatia to reach the UEFA Nations League semifinals.
Kane's sliding finish gives England the lead
UEFA Nations League: Harry Kane (85') England 2-1 Croatia
Lingard taps in England's equalizer
UEFA Nations League: Jesse Lingard (78') England 1-1 Croatia
Kramaric's deflected shot puts Croatia in front
UEFA Nations League: Andrej Kramaric (57') England 0-1 Croatia
Kane: Nations League a great chance to win a trophy with England
England striker Harry Kane is already looking ahead to the UEFA Nations League semi-final stage, highlighting the fact they are only two games away from winning a trophy.
Dalic: Football's coming home, very soon
Croatia's Zlatko Dalic believes a young England side are on the verge of winning something special after they beat his side 2-1 to reach the UEFA Nations League semi-finals.
Marcotti: 'Relentless positivity' from fans lifts England
Gab Marcotti says the current England team has a connection with the fans that hasn't been seen in the country in decades.
Bears' defense wreaks havoc in win over Vikings
The Bears' defense causes two sacks and three turnovers, including a pick-6, in their 25-20 win over the Vikings at Soldier Field.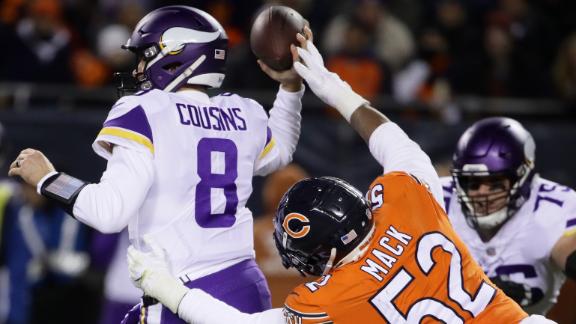 Jackson intercepts Cousins, takes it to the house
Kirk Cousins is off the mark on his pass to Laquon Treadwell, and Eddie Jackson picks it off, taking it all the way back to make it 22-6 Bears.
Jackson talks the importance of turnovers
Bears safety Eddie Jackson breaks down his pick-6 vs. the Vikings and explains why the Bears are looking to build off the victory.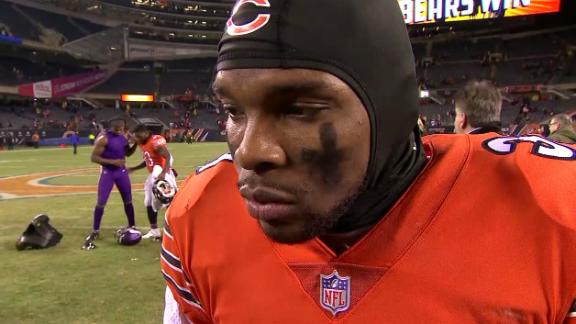 Mack calls Nagy an 'evil genius' after Bears' win
Khalil Mack praises Matt Nagy after Chicago's stellar defensive performance against the Vikings, saying that his head coach understands his players.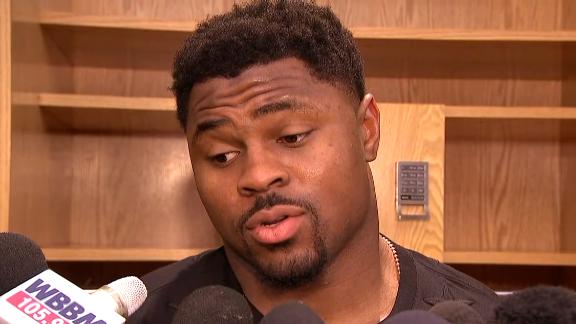 Clark on Cousins: 'He just was not good enough'
Ryan Clark explains that the Vikings' defense needs to get more turnovers and Kirk Cousins must perform at franchise-quarterback level to make a run in the playoffs.
Zimmer, Cousins sum up Vikings' shortcomings in loss
Mike Zimmer and Kirk Cousins break down some of the reasons the Vikings couldn't pull things together to defeat the Bears.
Trubisky: Bears must 'stay hungry, stay humble'
Mitchell Trubisky reflects on the Bears' 25-20 win over the Vikings, and breaks down what his team has to do down the stretch of the playoff hunt.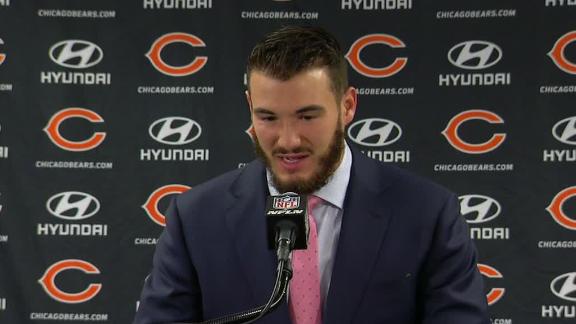 Amos caps off 1st half with INT
Kirk Cousins makes an errant throw, and Adrian Amos makes the easy interception to keep it 14-0 Bears at the break.
Miller goes low to scoop up 18-yard TD pass
Mitchell Trubisky throws to the end zone for Anthony Miller, who makes a sliding catch to make it 11-0 Bears following the 2-point conversion.
LeBron's 51 points lift Lakers to victory
LeBron James catches fire early on as he leads the Lakers to a 113-97 win over his former team the Miami Heat.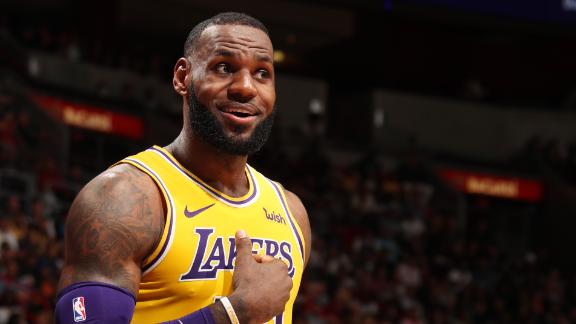 DeRozan's long pass sets up Mills for layup
DeMar DeRozan grabs the rebound and lobs a full-court pass to Patty Mills, who cruises for an easy layup.
Gasol leads Grizzlies to win over Timberwolves
Marc Gasol had a day as he was 4-for-7 from deep and had 26 points in the Grizzlies' 100-87 win over the Timberwolves.
LeBron drops 19 in the first against Heat
LeBron James gets the Lakers off to a hot start with 19 points in the first quarter against his former team the Miami Heat.
Gordon drops 20 in 1st quarter vs. Knicks
Aaron Gordon puts in serious work early against the Knicks dropping 20 points
Kanter puts Isaac on a poster
Enes Kanter executes a nice spin move and rises up for a powerful jam on Jonathan Isaac.
Magic go 10-for-10 to start game vs. Knicks
The Orlando Magic started out hot against the New York Knicks by hitting their first 10 shots from the field.
LeBron rises up for the one-handed jam
LeBron James misses a deep 3-pointer, but makes up for it with a running, one-handed hammer.
Wall's teardrop floater beats buzzer
John Wall speeds up the floor and drops a floater over Zach Collins as the first-quarter buzzer sounds.
Whiteside beats LeBron, throws down oop
Hassan Whiteside positions himself in front of LeBron James and picks up the lob from Rodney McGruder for an alley-oop.
Wiggins puts Green through spin cycle, throws down dunk
Andrew Wiggins spins around JaMychal Green and puts down a massive one-handed dunk.
Bears' defense wreaks havoc in win over Vikings
The Bears' defense causes two sacks and three turnovers, including a pick-6, in their 25-20 win over the Vikings at Soldier Field.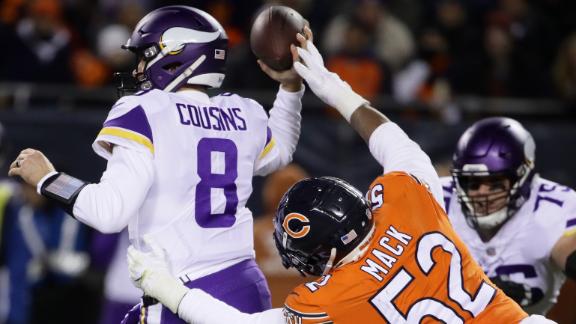 Broncos edge Chargers to snap 6-game winning streak
With three seconds on the clock, Brandon McManus hits a 36-yard game-winning field goal to give the Broncos a 23-22 win over the Chargers.
Brees tosses 4 TDs in Saints' drubbing of Eagles
Drew Brees throws for 363 yards and four touchdown passes as the Saints win their 9th straight and demolish the Eagles 48-7.
Rosen and Fitzgerald connect in loss to Raiders
Josh Rosen throws a trio of touchdowns, including two to Larry Fitzgerald in a 23-21 loss to the Raiders.
Kamara gets in on the action in 4th
Drew Brees lofts a perfect pass to Alvin Kamara on the sideline for a 37-yard touchdown to add onto the Saints' lead over the Eagles.
Lindsay drives in a 3-yard touchdown
Phillip Lindsay bounces outside and runs in a 4-yard touchdown to give the Broncos a 20-19 lead early in the fourth.
Carlson's FG wins it for Raiders
Raiders kicker Daniel Carlson puts the kick directly through the uprights giving the Raiders a 23-21 win.
Gruden says Smith fractured tibia, fibula
Jay Gruden announces that Alex Smith is done for the season after breaking in his tibia and fibula.
Zeke: Cowboys have 'good momentum' heading into Thanksgiving
Ezekiel Elliott talks about the Cowboys' 22-19 win over the Falcons and looks ahead to the division rival Washington Redskins.
Cowboys beat Falcons on last-second FG
Brett Maher's walk-off field goal gives Dallas the 22-19 win over the Atlanta Falcons.
Smith carted off following gruesome leg injury
Alex Smith gets carted off the field in a boot after suffering a serious leg injury on a sack from J.J. Watt.
Alex Collins fights his way into the end zone
Alex Collins rushes for a 7-yard touchdown to give the Ravens a 7-0 lead over the Bengals.
Mariner: Pulisic should stay away from Chelsea
Former England international thinks that working under Jurgen Klopp at Liverpool would be better for Pulisic, should he decide to move from Dortmund.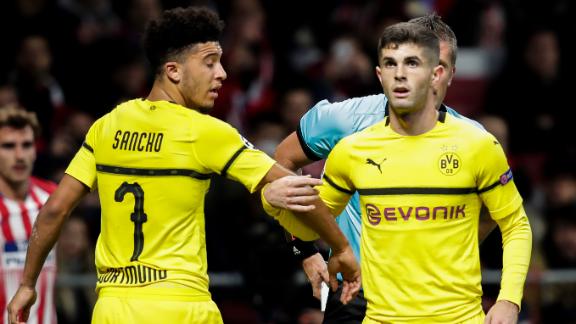 Zverev humbled after winning 'biggest title' of his career
Alexander Zverev says he's thankful to Novak Djokovic after beating the world No. 1 6-4, 6-3 at the ATP Finals to close out the season.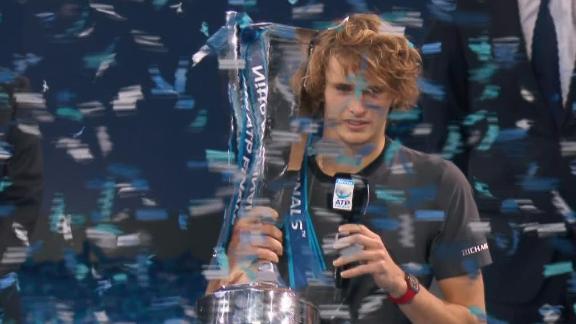 ESPN Fantasy Football promo

Manage your squad in the Premier League, Champions League, La Liga and Liga MX.

ESPN

Time is running out for the UK to secure a post-Brexit deal, and there could be huge ramifications for Premier League clubs in the transfer market.

ESPN Illustration

Ten years ago, Sheikh Mansour of Abu Dhabi bought Man City, transforming the club from Premier League punchline to a dynasty in the making.

Getty

Updated tables from the Premier League, Champions League, La Liga, English Football League and more.

Getty

Keep track of all the important upcoming fixtures in the Premier League, Champions League, La Liga, English Football League and more.

Getty

Results and scores from the Premier League, Champions League, La Liga, English Football League and more.
Customise ESPN