LeBron scores 26 in debut with Lakers
LeBron's first basket with the Lakers is a dunk and finishes with 26 points along with 12 rebounds in a loss to the Blazers.
LeBron throws down first points as Laker
LeBron James takes the steal and takes it coast-to-coast, slamming down his first bucket in a Los Angeles Laker uniform.
LeBron: 'It's gonna take patience'
LeBron James harps on patience and development after the Lakers' 128-119 opening night loss to the Blazers.
Stephen A.: Lakers need to improve 3-point shooting
Stephen A. Smith breaks down the Lakers' weaknesses and how they can improve their starting lineup.
LeBron's 1st dunk as a Laker looks familiar
With a steal and one-handed jam on the break, LeBron's first dunk in his 16th season resembles his first-ever NBA slam in 2003.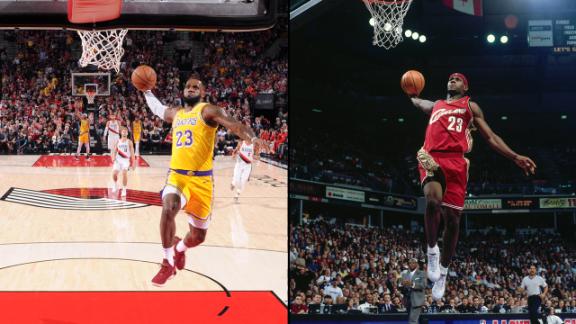 Lakers still finding their way with LeBron
Tim Legler breaks down plays from the Lakers' loss to the Blazers where other Lakers will need to step up for them to be successful.
Stauskas nails five 3s in Blazers' win
Fifteen of Nik Stauskas' 24 points come via the 3-ball as the Blazers take down the Lakers 128-119 to spoil LeBron James' Laker debut.
Lillard converts dagger 3-point play
Damian Lillard splits the defense and finishes through contact to give the Blazers a 124-114 lead with just over a minute to play.
Ball hits first 3 of season
Lonzo Ball sizes up Damian Lillard and swishes a 3-pointer to narrow the Lakers' deficit to 101-100.
Benintendi's catch sends Red Sox to World Series
Devers takes Verlander deep for 3-run homer
Rafael Devers hits a ball that keeps carrying to left field for a 3-run dinger in the sixth inning.
Red Sox let the champagne flow in locker room
The Red Sox celebrate in the locker room after winning the ALCS in five games against the Astros.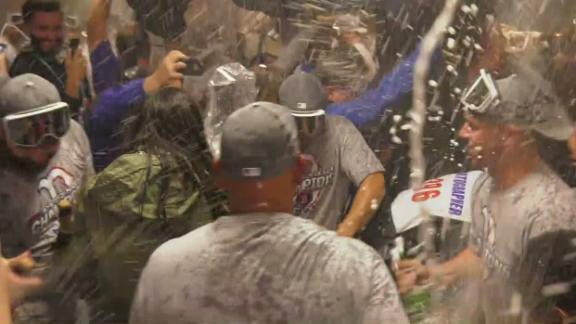 Price shuts down Astros through 6 innings
David Price surrenders three hits and strikes out nine over six scoreless innings for the Red Sox in Game 5.
Bradley calls winning ALCS MVP 'amazing'
After being named ALCS MVP, Jackie Bradley Jr. discusses what it took to get the World Series and what he's looking forward to next.
Price: Getting Boston to World Series 'means a lot to me'
David Price says he found something in the bullpen in Game 4 that carried into Game 5 and discusses what it means to get to the World Series.
Martinez on winning ALCS: 'This is awesome'
J.D. Martinez praises David Price's Game 5 performance and gives his thoughts on making it to the World Series.
Hinch tips his hat to the Red Sox
A.J. Hinch congratulates Boston, reflects on the Astro's season and discusses Jose Altuve's dedication playing through an injury.
Teixeira: 'Red Sox are destined to win a World Series'
Mark Teixeira breaks down David Price's Game 5 performance and how their two-strike hits were devastating for the Astros bullpen.
Gonzalez gets Astros on the board with homer
Marwin Gonzalez smacks a solo home run to left field off Matt Barnes to inch the Astros closer in the seventh inning.
Harris records second pick-6 of 1st quarter
Chris Harris Jr. picks off Josh Rosen and takes it back 53 yards for a touchdown.
Miller says comments were meant to motivate team
Von Miller says that the Broncos were lacking confidence and hoped his message would help, and wants to keep the same mentality each week.
Rosen knows he needs to do better
Josh Rosen talks about left his toe injury and how he can bounce back next game after a tough loss to the Broncos.
Broncos fool Cardinals as Sanders tosses TD
Emmanuel Sanders gets the ball on a reverse and throws a deep ball to Courtland Sutton for a 28-yard score.
Broncos back Miller's bold prediction
Earlier in the week, Von Miller predicted the domination the Broncos would levy on the Cardinals, with two interception returns for a touchdown.
Fitzgerald tackles Warner in pregame, catches short TD
Larry Fitzgerald catches 4-yard catch for a score after tackling his former teammate Kurt Warner before the game started.
Rosen throws pick-6 on Cardinals' second play
Josh Rosen's pass gets deflected and picked off by Todd Davis, who returns it 20 yards for a touchdown.
Sanders front flips into the end zone after 64-yard TD
Case Keenum and Emmanuel Sanders hook up for a 64-yard touchdown putting the Broncos up 28-3.
Transfer Rater: Conte to Real Madrid? Giroud to West Ham?
ESPN FC's Steve Nicol sifts through the latest rumours involving Antonio Conte, Neymar, Olivier Giroud and more.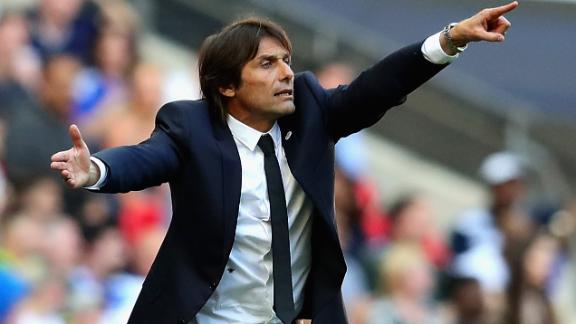 ESPN Fantasy Football promo

Manage your squad in the Premier League, Champions League, La Liga and Liga MX.

John Walton/PA Images via Getty Images

In association with Rolex, ESPN takes a look at the history and innovation of golf's greatest rivalry ahead of the 42nd Ryder Cup in Paris.

ESPN

Time is running out for the UK to secure a post-Brexit deal, and there could be huge ramifications for Premier League clubs in the transfer market.

ESPN Illustration

Ten years ago, Sheikh Mansour of Abu Dhabi bought Man City, transforming the club from Premier League punchline to a dynasty in the making.

Getty

Updated tables from the Premier League, Champions League, La Liga, English Football League and more.

Getty

Keep track of all the important upcoming fixtures in the Premier League, Champions League, La Liga, English Football League and more.

Getty

Results and scores from the Premier League, Champions League, La Liga, English Football League and more.
Customise ESPN