Crystal Palace 0-2 Liverpool: Milner, Mane lead Liverpool
James Milner converted a penalty kick moments before half time and Sadio Mane scored late to secure Liverpool's 2-0 win over Crystal Palace.
Milner: Liverpool could have controlled the game better
James Milner breaks down Liverpool's victory at Crystal Palace and evaluates the performance of his club's defence.
Mane secures win with late goal
English Premier League: Sadio Mane (90+2') Crystal Palace 0-2 Liverpool
Salah draws pen, Milner converts
English Premier League: James Milner (45' PEN) Crystal Palace 0-1 Liverpool
Early returns show Liverpool's investments paying off
The FC guys are already seeing improvements in Liverpool's defence and ability to close out games following their victory over Crystal Palace.
Klopp 'absolutely fine' with Liverpool's display at Palace
Jurgen Klopp wants Liverpool to play better than they did at Crystal Palace, but he's willing to look past it after getting the win.
Wan-Bissaka sent off for fouling Salah on breakaway
English Premier League: Aaron Wan-Bissaka (75') Crystal Palace 0-1 Liverpool
Examining the disconnect between Mourinho and Man United
Alejandro Moreno and Shaka Hislop delve into Man United's performance against Brighton and Paul Pogba's post-match comments regarding his attitude.
Mourinho: United lacked confidence in Brighton defeat
Manchester United's Jose Mourinho feels 'smaller' teams are harder to beat as they have more ambition when they face the top teams after their 3-2 loss to Brighton.
Premier League Team of the Weekend: Week 2
Gab Marcotti defends his selections and omissions in the second team of the weekend of the Premier League season.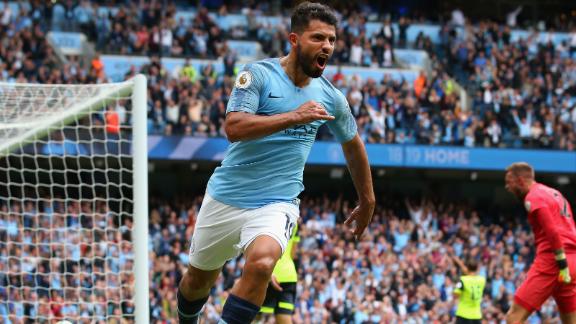 Rumour Rater: Alderweireld, Moura, Marchisio & more
ESPN FC's Stewart Robson delves into the rumours surrounding Toby Alderweireld, Lucas Moura, Claudio Marchisio and many more in Rumour Rater.
Luck throws a pick in the red zone
After the Colts recover the ball deep in Ravens territory, Andrew Luck gives it right back with an interception to Anthony Levine Sr.
Jackson throws TD pass on the run
Lamar Jackson rolls to his right, then lofts one to Chris Moore in the end zone for the Ravens' touchdown.
Jackson not happy with his preseason play
Lamar Jackson is critical of his play during the preseason saying he doesn't believe he's performed at a high level.
Luck: 'Tough to come out positive' after Colts' struggles
Andrew Luck points to a red zone turnover and missed throws as clear negatives in his second preseason game.
Witten saw some good, some bad from Luck
Jason Witten recaps Andrew Luck's performance on Monday Night Football and if Luck is back to his old form.
Colts score on their own fumble
Colts RB Jordan Wilkins coughs the ball up, but it goes right to Chester Rogers who picks up the ball in the end zone for a touchdown.
Ravens score on Brown's excellent effort
Joe Flacco fires a pass to John Brown, who juggles the ball then drags his feet in the back of the end zone for the touchdown.
Vinatieri drills field goal from 57 yards out
Adam Vinatieri gets a roar from the Indianapolis crowd after he nails a 57-yard field goal to open the scoring.
McKinnie thinks Peterson is still a great RB
Former Minnesota Viking and Adrian Peterson teammate Bryant McKinnie and LZ Granderson weigh in on what the RB back can bring to the Redskins.
Redskins giving Peterson 1-year deal
Adam Schefter, Louis Riddick and John Fox break down Washington's decision to sign Adrian Peterson.
Fury predicts easy win over Wilder
After beating Franceso Pianeta, Tyson Fury predicted an easy win when he meets WBC champ Deontay Wilder.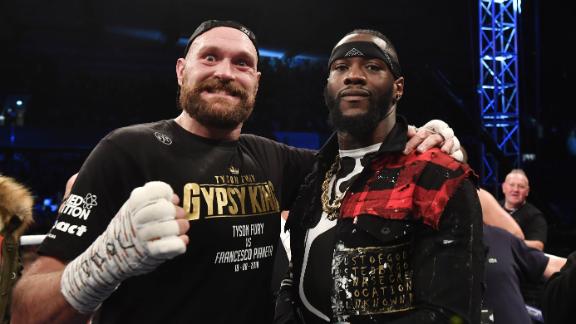 Bolt arrives in Sydney
Usain Bolt has touched down in Sydney ahead of his trial with the Central Coast Mariners.
Marvel

It might not be part of the traditional comic book universe, but Marvel is lacing up its boots to bring you the epic stories in Russia this summer.

Paul Lacolley

ESPN FC commissioned illustrator Paul Lacolley to create team posters for some of the nations competing at the 2018 World Cup in Russia.

Gian Galang

They battle in the forest, soccer gang against soccer gang. They are the underground fighters the World Cup host doesn't want you to see.

David Merrell

Top-class football is changing before our eyes: The "storming" era of the game is leaving the likes of Jose Mourinho and Arsene Wenger behind.

Dave Merrill

"I never walk out of games early but in these circumstances, staying seemed like a form of self-harm." Nick Hornby on the last days of Wenger.

Trey Ingram

Our intrepid writer suffers -- and suffers some more -- through a player medical at Everton.

Getty

The summer transfer window is well and truly open. Check out the completed moves from all the major leagues.

Dave Flanagan

The world's top soccer players, ranked by position.

Brian Konnick

We select the best players under 21 who are primed to rule the football galaxy.

Brian Konnick

Andrea Pirlo, football's undisputed King of Cool, has officially retired. So who will take over the mantle? We pick four compelling candidates.

Aaron Dana

Cristiano Ronaldo isn't just one of the greatest on the pitch; he's the G.O.A.T. off it, too. Take a trip inside the mad world of CR7's brands.

EPA/FERNANDO BIZERRA JR

In November 2016, Brazilian underdogs Chapecoense boarded a plane to play in the game of their lives. Instead, their biggest moment turned into a tragedy no one can forget.

Getty

Keep track of all the important upcoming fixtures in the Premier League, Champions League, La Liga, English Football League and more.

Getty

Results and scores from the Premier League, Champions League, La Liga, English Football League and more.

Getty

Updated tables from the Premier League, Champions League, La Liga, English Football League and more.

ESPN

MLS Rivalry Week is full of contentious clashes. Here are some of the best in unique video game format. Ready ... FIGHT!
Customise ESPN