How the relationship between Ozil and Germany broke down
Julien Laurens reacts to Mesut Ozil's decision to retire from international football for Germany due to a feeling of "racism and disrespect."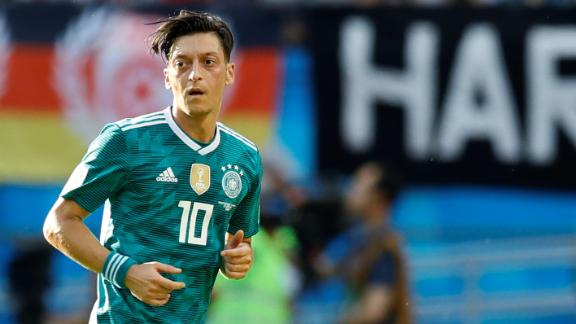 Sarri: Club to decide Courtois, Hazard and Willian futures
Maurizio Sarri says the futures of Thibaut Courtois, Eden Hazard and Willian will be decided when they return to training at the end of July.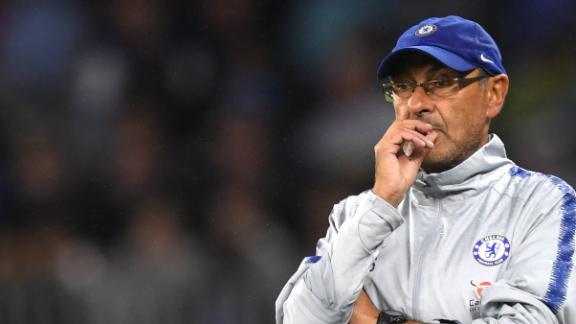 Collins: Golf goes from good to great when Tiger's involved
Michael Collins explains how the energy is back with Tiger Woods in contention to win The Open on Sunday.
Tiger compares his tough loss to Serena's
Tiger Woods says he'll reach out to Serena Williams after faltering late at the Open and explains the emotions of having his kids watch him compete.
McIlroy: Nice to be competing with Woods, Molinari
Rory McIlroy said he had no regrets after his tied-second finish at the Open Championship, and is already looking forward to the next major.
Rose feeling 'renewed love for the Open'
Justin Rose came away from the Open Championship reenergized after his second place finish at Carnoustie.
OSU's alumni team wins TBT game on alley-oop slam
Ohio State's alumni team reaches 82 points to win Sunday's TBT game against Texas Tech's alumni team with a fast-break alley-oop slam.
Bronny leads team to national title with LeBron on sideline
LeBron James Jr. leads his Blue Chips squad to the USBA national championship in overtime with his dad coaching.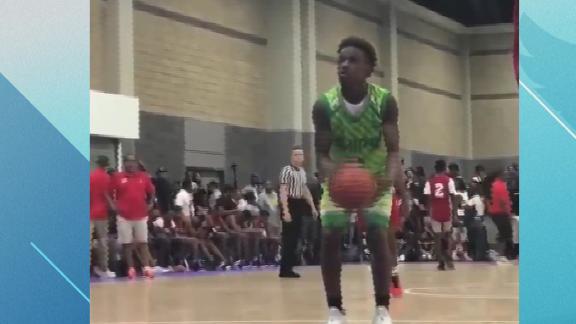 KAT sends Internet star flying with wicked crossover
Karl-Anthony Towns gets free with a crafty stepback and then goes to the hoop for the layup against YouTube sensation LNU.
Howard says LeBron-Durant hanging out not a big deal
Dwight Howard tells Cari Champion that LeBron James and Kevin Durant being spotted out together is not a big deal.
Jane Barlow/PA Wire/PA Images

In partnership with Rolex, ESPN takes a look at the history and evolution at Carnoustie, the host of the most famous golf tournament in the world this July.
Marvel

It might not be part of the traditional comic book universe, but Marvel is lacing up its boots to bring you the epic stories in Russia this summer.

Paul Lacolley

ESPN FC commissioned illustrator Paul Lacolley to create team posters for some of the nations competing at the 2018 World Cup in Russia.

Gian Galang

They battle in the forest, soccer gang against soccer gang. They are the underground fighters the World Cup host doesn't want you to see.

David Merrell

Top-class football is changing before our eyes: The "storming" era of the game is leaving the likes of Jose Mourinho and Arsene Wenger behind.

Dave Merrill

"I never walk out of games early but in these circumstances, staying seemed like a form of self-harm." Nick Hornby on the last days of Wenger.

Trey Ingram

Our intrepid writer suffers -- and suffers some more -- through a player medical at Everton.

Getty

The summer transfer window is well and truly open. Check out the completed moves from all the major leagues.

Dave Flanagan

The world's top soccer players, ranked by position.

Brian Konnick

We select the best players under 21 who are primed to rule the football galaxy.

Brian Konnick

Andrea Pirlo, football's undisputed King of Cool, has officially retired. So who will take over the mantle? We pick four compelling candidates.

Aaron Dana

Cristiano Ronaldo isn't just one of the greatest on the pitch; he's the G.O.A.T. off it, too. Take a trip inside the mad world of CR7's brands.

EPA/FERNANDO BIZERRA JR

In November 2016, Brazilian underdogs Chapecoense boarded a plane to play in the game of their lives. Instead, their biggest moment turned into a tragedy no one can forget.

Michael Steele/Getty Images

Keep track of all the important upcoming fixtures in the Premier League, Champions League, La Liga, English Football League and more.

Darren Walsh/Chelsea FC via Getty Images

Results and scores from the Premier League, Champions League, La Liga, English Football League and more.

AP Photo/Paul White

Updated tables from the Premier League, Champions League, La Liga, English Football League and more.

ESPN

MLS Rivalry Week is full of contentious clashes. Here are some of the best in unique video game format. Ready ... FIGHT!
Customise ESPN