Chelsea 3-2 Arsenal: Alonso seals derby win
Marcos Alonso scored the winner for Chelsea in a back-and-forth London derby against Arsenal, who paid the price for their missed chances.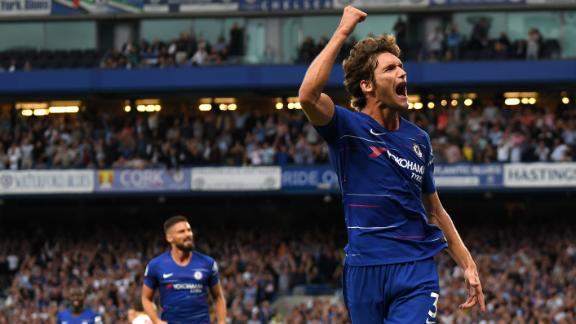 Alonso restores Chelsea's lead
English Premier League: Marcos Alonso (81') Chelsea 3-2 Arsenal
Iwobi brings Arsenal level
English Premier League: Alex Iwobi (41') Chelsea 2-2 Arsenal
Mkhitaryan gets the Gunners on the board
English Premier League: Henrikh Mkhitaryan (37') Chelsea 2-1 Arsenal
What Chelsea's win over Arsenal revealed about Sarri
Craig Burley explains why Maurizio Sarri may face a difficult decision in Chelsea's midfield as the FC crew discuss the Blues' win over Arsenal.
Burley: Emery has inherited a £300,000-a-week nightmare
Craig Burley and Paul Mariner don't hold back on their criticism of Mesut Ozil and question how Unai Emery will handle his involvement in the squad.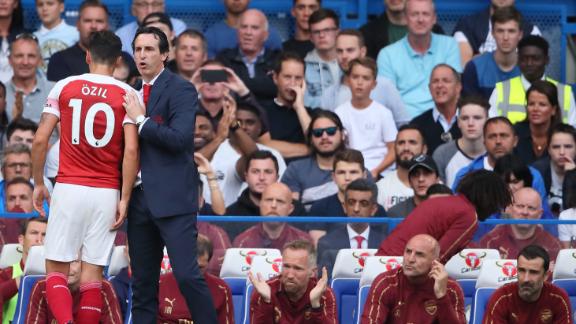 Burley: Same old, same old for Arsenal
ESPN FC's Craig Burley breaks down the defensive struggles that plagued both Chelsea and Arsenal in a game littered with goals.
Morata puts Chelsea up 2-0
English Premier League: Alvaro Morata (20') Chelsea 2-0 Arsenal
Pedro scores first for Chelsea
English Premier League: Pedro (9') Chelsea 1-0 Arsenal
Ings scores for Southampton
English Premier League: Danny Ings (54') Everton 2-1 Southampton
Cook takes Bournemouth into the lead vs. West Ham
English Premier League: Steve Cook (66') West Ham 1-2 Bournemouth
Mitrovic brings Fulham level
English Premier League: Aleksandar Mitrovic (52') Tottenham 1-1 Fulham
Maddison slots Leicester in front 2-0
English Premier League: James Maddison (45') Leicester 2-0 Wolverhampton
Richarlison's header doubles Everton's lead
English Premier League: Richarlison (31') Everton 2-0 Southampton
Cardiff 0-0 Newcastle: Etheridge the hero in stoppage time
Neil Etheridge came up big for Cardiff as he denied Newcastle's Kenedy in the last minute of stoppage time to secure a point in Wales.
Premier League Predictor: Week 2
With the Premier League back in action, Shaka Hislop and Mark Donaldson predict all of the fixtures ahead of week 2.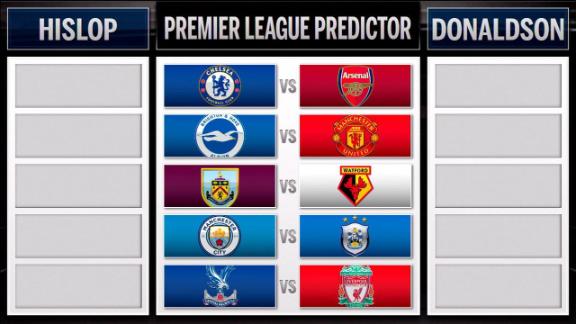 Watch Serie A on ESPN
Watch Cristiano Ronaldo and the stars of Serie A all season long, with every match from the Italian top flight available on ESPN and ESPN+.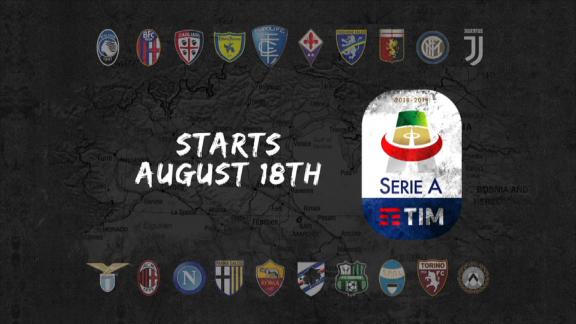 Chievo 2-3 Juventus: Ronaldo's debut a dramatic win
Juventus trailed early in the second half of Cristiano Ronaldo's Serie A debut, but the Bianconeri fought back to earn a late win at Chievo Verona.
Is there a siege mentality to shut down Ronaldo & Juventus?
The FC guys delve into the theory Serie A clubs are out to prove they can do what other leagues could not; slow down Cristiano Ronaldo.
Horncastle: Juventus have a superiority complex
FC's James Horncastle discusses whether or not Cristiano Ronaldo's first game at Juventus lived up to all the hype.
Burley: The goals will come for Ronaldo at Juventus
FC's Craig Burley compliments Juventus' depth and Cristiano Ronaldo's link-up play despite not scoring in his Serie A debut.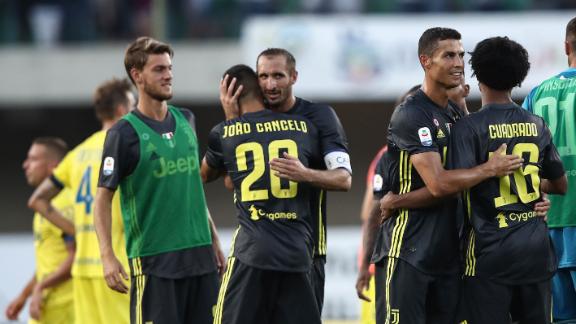 Ronaldo denied a scoring debut for Juventus
The Cristiano Ronaldo era at Juventus begins with a dramatic last-gasp winner from Federico Bernardeschi.
Bernardeschi's dramatic late winner for Juventus
Italian Serie A: Federico Bernardeschi (90'+3) Chievo 2-3 Juventus
Juventus levels on own goal
Leonardo Bonucci thought he got credit for the game-tying goal vs. Chievo in the 75th minute but it was deemed an own goal.
Giaccherini's penalty kick puts Chievo in front
Italian Serie A: Emanuele Giaccherini (56') Chievo 2-1 Juventus
Chopra: Kohli's 97 may turn out to be more valuable than a hundred
Aakash Chopra praises a 'commanding and dominating' innings from the India captain
Harmison: India would be the happier team at stumps
Steve Harmison praises India's patient approach with the bat on the first day at Trent Bridge
Disciplined openers key to India's performance - Bangar
India batting coach Sanjay Bangar praises Shikhar Dhawan and KL Rahul for setting a solid platform for the rest of the line-up to capitalise on
#PoliteEnquiries: How long before Rashid is Kohli's bunny?
George Dobell and Melinda Farrell answer your questions on Rashid, reviews and the unfortunate signs of ageing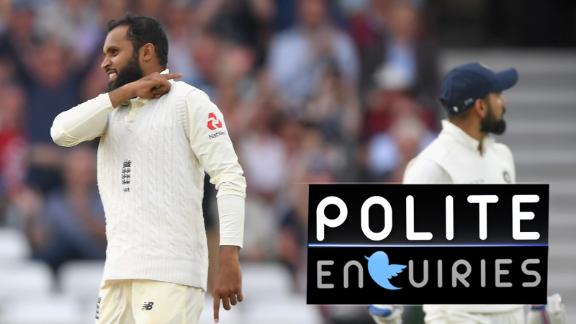 India left the ball better than they have done - Woakes
England allrounder Chris Woakes admits that despite the movement on offer, England struggled to create chances against the patient Indian batting line-up at Trent Bridge
Rumour Rater: Alderweireld, Moura, Marchisio & more
ESPN FC's Stewart Robson delves into the rumours surrounding Toby Alderweireld, Lucas Moura, Claudio Marchisio and many more in Rumour Rater.
Love knew LeBron's decision was between Lakers and Cavs
Kevin Love understands LeBron James leaving Cleveland for Los Angeles to begin a new chapter.
Stephen A.: McCollum is 'a frustrated individual'
Stephen A. Smith understands CJ McCollum's frustrations with NBA superteams.
Simmons: I knew LeBron already picked the Lakers
76ers point-guard Ben Simmons spoke at the unveiling of his NBA 2K19 Australia cover.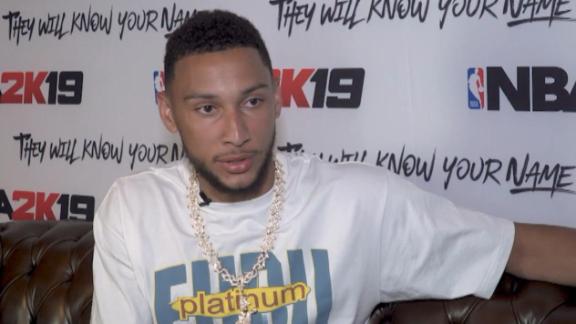 Drummond blocks camper's shot with his head
Andre Drummond dominates campers with several blocked shots, followed by a crossover that sets up a jam.
Marvel

It might not be part of the traditional comic book universe, but Marvel is lacing up its boots to bring you the epic stories in Russia this summer.

Paul Lacolley

ESPN FC commissioned illustrator Paul Lacolley to create team posters for some of the nations competing at the 2018 World Cup in Russia.

Gian Galang

They battle in the forest, soccer gang against soccer gang. They are the underground fighters the World Cup host doesn't want you to see.

David Merrell

Top-class football is changing before our eyes: The "storming" era of the game is leaving the likes of Jose Mourinho and Arsene Wenger behind.

Dave Merrill

"I never walk out of games early but in these circumstances, staying seemed like a form of self-harm." Nick Hornby on the last days of Wenger.

Trey Ingram

Our intrepid writer suffers -- and suffers some more -- through a player medical at Everton.

Getty

The summer transfer window is well and truly open. Check out the completed moves from all the major leagues.

Dave Flanagan

The world's top soccer players, ranked by position.

Brian Konnick

We select the best players under 21 who are primed to rule the football galaxy.

Brian Konnick

Andrea Pirlo, football's undisputed King of Cool, has officially retired. So who will take over the mantle? We pick four compelling candidates.

Aaron Dana

Cristiano Ronaldo isn't just one of the greatest on the pitch; he's the G.O.A.T. off it, too. Take a trip inside the mad world of CR7's brands.

EPA/FERNANDO BIZERRA JR

In November 2016, Brazilian underdogs Chapecoense boarded a plane to play in the game of their lives. Instead, their biggest moment turned into a tragedy no one can forget.

Getty

Keep track of all the important upcoming fixtures in the Premier League, Champions League, La Liga, English Football League and more.

Getty

Results and scores from the Premier League, Champions League, La Liga, English Football League and more.

Getty

Updated tables from the Premier League, Champions League, La Liga, English Football League and more.

ESPN

MLS Rivalry Week is full of contentious clashes. Here are some of the best in unique video game format. Ready ... FIGHT!
Customise ESPN