Now
FiveThirtyEight
@FiveThirtyEight
Our 2019 MLB Predictions: 53eig.ht/2Y94qrr
Buster Olney
@Buster_ESPN
Podcast es.pn/31JAQL0 Xander Bogaerts, about his season and learning to not put pressure on himself; Hunt… twitter.com/i/web/status/1…
Buster Olney
@Buster_ESPN
The Nationals have won 16 of their last 23, and they've moved ahead of the Mets in the NL East. espn.com/mlb/team/sched…
Buster Olney
@Buster_ESPN
From @MosesMassena16: Los Angeles Angels Since May 7th, the day that Shohei Ohtani rejoined their lineup:… twitter.com/i/web/status/1…
Jesse Rogers
ESPN Staff Writer
The Cubs are calling up a top pitching prospect as righty Adbert Alzolay will take the place of Tim Collins who was designated for assignment. The Cubs believe Alzolay is on top of his game right now as Theo Epstein said recently his curveball was the best he's seen from him. Fellow Venezuelan and Cubs catcher Willson Contreras had this to say: "I hear really good stuff about him. Really good fastball command. Good spin rate. He's striking people out, he's throwing hard and it makes me proud. I know where he comes from, how hard he works every day to be here and finally his day has come." A home grown pitcher has been a rare sight at Wrigley Field under Epstein. Alzolay could pitch in relief as soon as Thursday night.
Jesse Rogers
ESPN Staff Writer
Watch Willson Contreras discuss his 2 homer night including his first grand slam since the last time he faced the White Sox.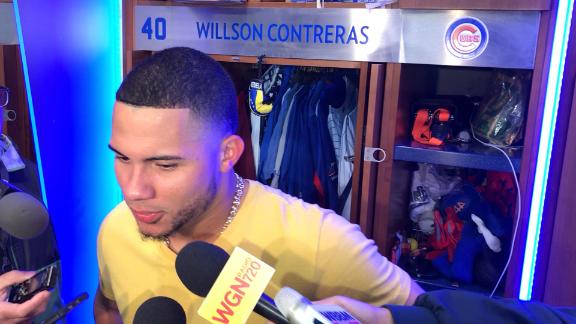 Buster Olney
@Buster_ESPN
Mike Trout at 5.1 WAR already and is right behind Cody Bellinger now in this category. He is on track to have the b… twitter.com/i/web/status/1…
Bradford Doolittle
ESPN Staff Writer
Things are looking dire for the White Sox tonight, down three runs with one out to go. But we did get our first glimpse at catcher Zack Collins, who made his MLB debut with a pinch-hitting appearance against the Cubs' Steve Cishek in the ninth. Collins walked, which is appropriate given his scoring report. More importantly, tomorrow he will have big league ID codes at Baseball Reference and Fangraphs.
Bucci Mane
@Buccigross
CC Sabathia: 14th pitcher in MLB history with 250 wins and 3,000 strikeouts. 12 of the previous 13 are Hall-of-Fame… twitter.com/i/web/status/1…
Bucci Mane
@Buccigross
Hunter Renfroe and Franmil Reyes are the first Padres teammates to hit 20+ HR before the All-Star Break. pic.twitter.com/YAamF0Az1R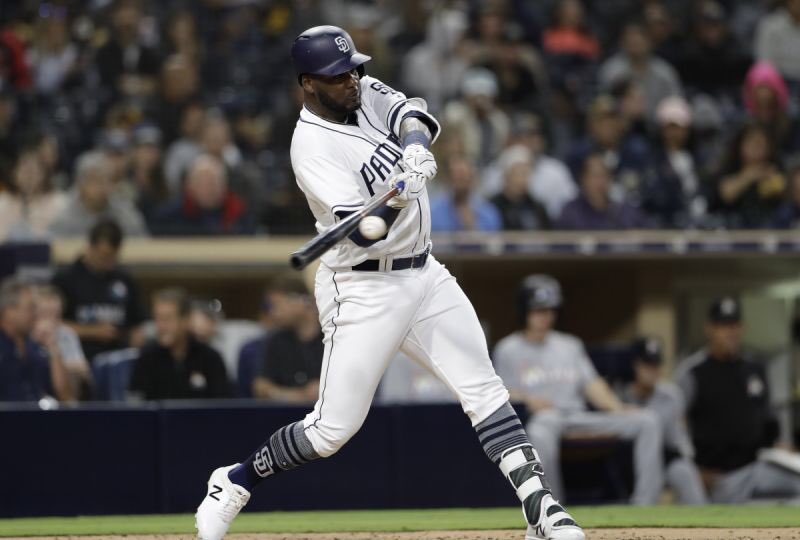 Buster Olney
@Buster_ESPN
Dodgers' Hill (left forearm) to IL; MRI on Thurs. espn.com/mlb/story/_/id…
Bucci Mane
@Buccigross
Atlanta Braves: 14-4 in June, best record in MLB (12 of the wins vs. Tigers, Pirates, Marlins, Mets).. Freddie Free… twitter.com/i/web/status/1…
Bucci Mane
@Buccigross
Mike Trout: 3-6, 2 HR(22), 7 RBI (career high); Trout is 6-9, 18 RBI (MLB best) with bases loaded this season. OBP:… twitter.com/i/web/status/1…
Bucci Mane
@Buccigross
Albert Pujols returns to Busch Stadium for the first time since he signed with the Angels in December of 2011. Puj… twitter.com/i/web/status/1…
Bucci Mane
@Buccigross
Dodgers: have 50 wins in first 75 games of a season for the first time since 1977.. Cody Bellinger: 24th HR this se… twitter.com/i/web/status/1…