2016 Summer Olympics - Athletes
100m, 200m, 4x100m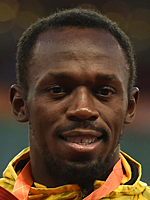 Usain Bolt
Date of birth

1986-08-21
Birthplace

Trelawny
Height

196 cm
Weight

93.0 kg
World records
Olympic Games (6 medals: 6 gold)
100m: 1st (2008, 2012)
200m: 1st (2008, 2012)
4x100m: 1st (2008, 2012)
World Championships (13 medals: 11 gold, 2 silver)
100m: 1st (2009, 2013, 2015)
200m: 1st (2009, 2011, 2013, 2015), 2nd (2007)
4x100m: 1st (2009, 2011, 2013, 2015), 2nd (2007)
"Lightning Bolt" ready to strike again
Athletics superstar Usain Bolt is hoping to round out his remarkable Olympic career with another triple (100m, 200m, 4x100m), and confirm his status as the greatest sprinter of all time.
After his stunning feats in Beijing and London (6 gold medals, 4 world records), all eyes will once again be on "Lightning Bolt" in Rio.
In 2015, his star was said to be on the wane, but the Jamaican silenced the doubters with another triple at the world championships in Beijing (taking his tally to 11 golds).
At nearly 30, the world's fastest man will travel to Rio looking to create more Olympic history. And another triumph for Bolt would no doubt be a blessing for the sport of athletics, which has been rocked by doping scandals in recent months.
Results
| | | |
| --- | --- | --- |
| | Men's 100m | 9.81 |
| 4 | Men's 100m, Round 1 | 10.07 Q |
| 1 | Men's 100m, Round 1, Heat 7 | 10.07 Q |
| 1 | Men's 100m, Semifinal | 9.86 Q |
| 1 | Men's 100m, Semifinal, Semifinal 2 | 9.86 Q |
| 1 | Men's 100m, Final | 9.81 |
| | | |
| --- | --- | --- |
| | Men's 200m | 19.78 |
| 15 | Men's 200m, Round 1 | 20.28 Q |
| 1 | Men's 200m, Round 1, Heat 9 | 20.28 Q |
| 1 | Men's 200m, Semifinal | 19.78 Q |
| 1 | Men's 200m, Semifinal, Semifinal 2 | 19.78 Q |
| 1 | Men's 200m, Final | 19.78 |
| | | |
| --- | --- | --- |
| | Men's 4 x 100m Relay | 37.27 |
| 1 | Men's 4 x 100m Relay, Final | 37.27 |
Total Medal Leaders
Gold

46

USA

| | |
| --- | --- |
| GBR | 27 |
| CHN | 26 |

Silver

37

USA

| | |
| --- | --- |
| GBR | 23 |
| CHN | 18 |

Bronze

38

USA

| | |
| --- | --- |
| CHN | 26 |
| JPN | 21 |
Total Medal Leaders
Gold

5

Phelps

| | |
| --- | --- |
| Ledecky | 4 |
| Biles | 4 |

Silver

3

Hammer

| | |
| --- | --- |
| Manuel | 2 |
| McKeon | 2 |

Bronze

2

Adrian

| | |
| --- | --- |
| Oleksiak | 2 |
| Chalmers | 2 |