2016 Summer Olympics - Athletes
Shot put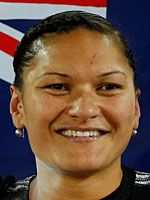 Valerie Adams
Date of birth

1984-10-06
Birthplace

Rotorua
Height

193 cm
Weight

120.0 kg
Olympic Games (2 medals: 2 gold)
Shot put : 1st (2008, 2012)
World Championships (5 medals: 4 gold, 1 silver)
Shot put : 1st (2007, 2009, 2011, 2013), 2nd (2005)
World Indoor Championships (5 medals: 3 gold, 1 silver, 1 bronze)
Shot put: 1st (2008, 2012, 2014), 2nd (2010), 3rd (2016)
Bouncing back
Two-time Olympic champion (2008, 2012), four-time world champion, and undefeated between August 2010 and July 2016, New Zealander Valerie Adams will be hot favourite in the shot put in Rio.
Brought up by her Tongan mother after her English father had abandoned the family, she took up the shot put aged 13. With her imposing frame (1.93m, 120kg) and impeccable technique, she soon established herself as one of the stars of the discipline.
Adams had a difficult 2015, as injury forced her out of the world championships in Beijing. Rio is her chance to bounce back and make shot put history, by becoming the first woman to win 3 successive Olympic titles.
Results
| | | |
| --- | --- | --- |
| | Women's Shot Put | 20.42 |
| 1 | Women's Shot Put, Qualification | 19.74 Q |
| 1 | Women's Shot Put, Qualification, Group A | 19.74 Q |
| 2 | Women's Shot Put, Final | 20.42 |
Total Medal Leaders
Gold

46

USA

| | |
| --- | --- |
| GBR | 27 |
| CHN | 26 |

Silver

37

USA

| | |
| --- | --- |
| GBR | 23 |
| CHN | 18 |

Bronze

38

USA

| | |
| --- | --- |
| CHN | 26 |
| JPN | 21 |
Total Medal Leaders
Gold

5

Phelps

| | |
| --- | --- |
| Ledecky | 4 |
| Biles | 4 |

Silver

3

Hammer

| | |
| --- | --- |
| Manuel | 2 |
| McKeon | 2 |

Bronze

2

Adrian

| | |
| --- | --- |
| Oleksiak | 2 |
| Chalmers | 2 |