2016 Summer Olympics - Athletes
track (sprint, keirin, 500m time trial)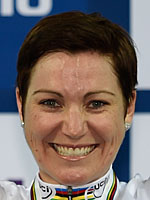 Anna Meares
Date of birth

1983-09-21
Birthplace

Blackwater
Height

165 cm
Weight

72.0 kg
Olympic Games (5 medals: 2 gold, 1 silver, 2 bronze)
500m time trial: 1st (2004)
Sprint: 1st (2012), 2nd (2008), 3rd (2004)
Team sprint: 3rd (2012)
World Championships (26 medals: 11 gold, 9 silver, 6 bronze)
500m time trial: 1st (2004, 2007, 2010, 2012), 2nd (2005, 2009, 2014, 2015)
Keirin: 1st (2011, 2012, 2015), 2nd (2003, 2014, 2016), 3rd (2007)
Sprint: 1st (2011), 2nd (2004), 3rd (2005, 2007, 2012)
Team sprint: 1st (2009, 2010, 2011), 2nd (2012), 3rd (2007, 2015)
Going for gold again
Double Olympic champion in 2004 (500m time trial) and 2012 (sprint), track cyclist Anna Meares is gunning for gold again in Rio.
At 32, the Australian boasts a phenomenal record, having conquered a record 11 world titles between 2004 and 2015 (4 in the 500m time trial, 3 in the keirin, 1 in the sprint and 3 in the team sprint).
The first woman to go below 33 seconds in the 500m (in 2013), Meares made an astonishing comeback from a terrible accident in 2008, when she broke her neck at the World Cup.
The pressure has sometimes taken its toll - and no more so than at London 2012, where she beat home favourite Victoria Pendleton to sprint gold: "At the time, I was tearing my hair out," Meares admits. "It was just super stressful."
Results
| | | |
| --- | --- | --- |
| 4 | Women's Team Sprint | 32.658 |
| 4 | Women's Team Sprint, Qualification | 32.881 Q |
| 3 | Women's Team Sprint, 1st Round | 32.636 |
| 1 | Women's Team Sprint, 1st Round, Heat 1 | 32.636 |
| 2 | Women's Team Sprint, Final 3-4 | 32.658 |
| | | |
| --- | --- | --- |
| 5 | Women's Keirin, 1st Round | Q |
| 2 | Women's Keirin, 1st Round, Heat 1 | Q |
| 1 | Women's Keirin, 2nd Round | Q |
| 1 | Women's Keirin, 2nd Round, Heat 2 | Q |
| | | |
| --- | --- | --- |
| 9 | Women's Sprint, Qualification | 10.947 Q |
| 1 | Women's Sprint, Repechage Round 1 | Q |
| 1 | Women's Sprint, Repechage Round 1, Heat 1 | Q |
Total Medal Leaders
Gold

46

USA

| | |
| --- | --- |
| GBR | 27 |
| CHN | 26 |

Silver

37

USA

| | |
| --- | --- |
| GBR | 23 |
| CHN | 18 |

Bronze

38

USA

| | |
| --- | --- |
| CHN | 26 |
| JPN | 21 |
Total Medal Leaders
Gold

5

Phelps

| | |
| --- | --- |
| Ledecky | 4 |
| Biles | 4 |

Silver

3

Hammer

| | |
| --- | --- |
| Manuel | 2 |
| McKeon | 2 |

Bronze

2

Adrian

| | |
| --- | --- |
| Oleksiak | 2 |
| Chalmers | 2 |