2016 Summer Olympics - Athletes
200m, 400m, 4x100m relay, 4x400m relay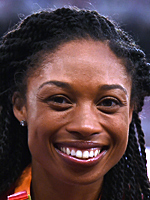 Allyson Felix
Date of birth

1985-11-18
Birthplace

Los Angeles
Height

168 cm
Weight

55.0 kg
World records
Olympic Games (6 medals: 4 gold, 2 silver)
200m: 1st (2012), 2nd (2004, 2008)
4x100m relay: 1st (2012)
4x400m relay: 1st (2008, 2012)
World Championships (13 medals: 9 gold, 3 silver, 1 bronze)
200m: 1st (2005, 2007, 2009), 3rd (2011)
400m: 1st (2015), 2nd (2011)
4x100m relay: 1st (2007, 2011), 2nd (2015)
4x400m relay: 1st (2007, 2009, 2011), 2nd (2015)
World Indoor Championships (1 medal: 1 gold)
Pan American Games (2 medals: 1 gold, 1 bronze)
200m: 3rd (2003)
4x100m relay: 1st (2003)
Eyeing up a golden double
One of the stars of London 2012, with 3 gold medals (200m, 4x100m, 4x400m), Allyson Felix is determined to make history in Rio, and become just the third woman to do the 200-400m double at the same Olympics.
The American had to wait nearly a decade to get her hands on 200m Olympic gold, after being forced to settle for silver behind Jamaica's Veronica Campbell-Brown in 2004 and 2008.
She finally managed it in London, becoming the first American woman since 1988 to win 3 golds in athletics. The 30-year-old also boasts 9 world championship titles, including 3 in the 200m (2005, 2007, 2009) and 1 in the 400m (2015). She looks well-placed to add to her impressive medal haul in Rio.
Results
| | | |
| --- | --- | --- |
| | Women's 400m | 49.51 |
| 6 | Women's 400m, Round 1 | 51.24 Q |
| 1 | Women's 400m, Round 1, Heat 2 | 51.24 Q |
| 1 | Women's 400m, Semifinal | 49.67 Q |
| 1 | Women's 400m, Semifinal, Semifinal 3 | 49.67 Q |
| 2 | Women's 400m, Final | 49.51 |
| | | |
| --- | --- | --- |
| | Women's 4 x 100m Relay | 41.01 |
| 1 | Women's 4 x 100m Relay, Round 1 | 41.77 Q |
| 1 | Women's 4 x 100m Relay, Round 1, Heat 3 | 41.77 |
| 1 | Women's 4 x 100m Relay, Final | 41.01 |
| | | |
| --- | --- | --- |
| | Women's 4 x 400m Relay | 3:19.06 |
| 1 | Women's 4 x 400m Relay, Final | 3:19.06 |
Total Medal Leaders
Gold

46

USA

| | |
| --- | --- |
| GBR | 27 |
| CHN | 26 |

Silver

37

USA

| | |
| --- | --- |
| GBR | 23 |
| CHN | 18 |

Bronze

38

USA

| | |
| --- | --- |
| CHN | 26 |
| JPN | 21 |
Total Medal Leaders
Gold

5

Phelps

| | |
| --- | --- |
| Ledecky | 4 |
| Biles | 4 |

Silver

3

Hammer

| | |
| --- | --- |
| Manuel | 2 |
| McKeon | 2 |

Bronze

2

Adrian

| | |
| --- | --- |
| Oleksiak | 2 |
| Chalmers | 2 |