2016 Summer Olympics - Athletes
100m, 200m, 4x100m relay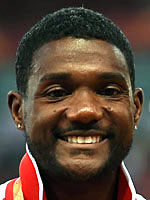 Justin Gatlin
Date of birth

1982-02-10
Birthplace

New York
Height

185 cm
Weight

83.0 kg
World records

1 (100m - 12/05/2006) - cancelled for doping
Olympic Games (4 medals: 1 gold, 1 silver, 2 bronze)
100m: 1st (2004), 3rd (2012)
200m: 3rd (2004)
4x100m relay : 2nd (2004)
World Championships (6 medals: 2 gold, 4 silver)
100m: 1st (2005), 2nd (2013, 2015)
200m: 1st (2005), 2nd (2015)
4x100m relay: 2nd (2013)
World Indoor Championships (2 medals: 2 gold)
The pantomime villain seeking redemption
12 years after taking 100m gold in Athens, 34-year-old Justin Gatlin is targeting more Olympic glory in Rio, although the American's reputation has been significantly tainted after a series of doping scandals.
In 2001, he was banned for 2 years after testing positive for amphetamines, and he was suspended again in 2006, for 4 years, after suspected testosterone use.
Bronze medallist at London 2012, Gatlin has returned to his best in recent years, although he is regularly cast as the pantomime villain to the golden boy of athletics, Usain Bolt. Still, with personal bests of 9.74 seconds (100m) and 19.57 seconds (200m), the American could well be the man to finally topple the Jamaican in Brazil.
Results
| | | |
| --- | --- | --- |
| | Men's 100m | 9.89 |
| 1 | Men's 100m, Round 1 | 10.01 Q |
| 1 | Men's 100m, Round 1, Heat 2 | 10.01 Q |
| 3 | Men's 100m, Semifinal | 9.94 Q |
| 1 | Men's 100m, Semifinal, Semifinal 3 | 9.94 Q |
| 2 | Men's 100m, Final | 9.89 |
| | | |
| --- | --- | --- |
| 9 | Men's 200m | 20.13 |
| 25 | Men's 200m, Round 1 | 20.42 Q |
| 1 | Men's 200m, Round 1, Heat 5 | 20.42 Q |
| 9 | Men's 200m, Semifinal | 20.13 |
| 3 | Men's 200m, Semifinal, Semifinal 3 | 20.13 |
Total Medal Leaders
Gold

46

USA

| | |
| --- | --- |
| GBR | 27 |
| CHN | 26 |

Silver

37

USA

| | |
| --- | --- |
| GBR | 23 |
| CHN | 18 |

Bronze

38

USA

| | |
| --- | --- |
| CHN | 26 |
| JPN | 21 |
Total Medal Leaders
Gold

5

Phelps

| | |
| --- | --- |
| Ledecky | 4 |
| Biles | 4 |

Silver

3

Hammer

| | |
| --- | --- |
| Manuel | 2 |
| McKeon | 2 |

Bronze

2

Adrian

| | |
| --- | --- |
| Oleksiak | 2 |
| Chalmers | 2 |