2016 Summer Olympics - Athletes
Tennis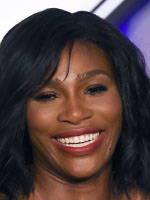 Serena Williams
Date of birth

1981-09-26
Birthplace

Saginaw
Height

175 cm
Weight

70.0 kg
Grand Slam titles

21 (singles), 13 (doubles), 2 (mixed doubles) - up to 25/05/2016
WTA tournament titles

70 (singles), 22 (doubles) - up to 25/05/2016
Best year-end WTA world ranking

1st (2002, 2009, 2014, 2015)
Olympic Games (4 medals: 4 gold)
Singles: 1st (2012)
Doubles: 1st (2000, 2008 and 2012/with Venus Williams)
Grand Slam tournaments (singles)
6 Australian Open titles (2003, 2005, 2007, 2009, 2010, 2015), 1 final (2016)
3 French Open titles (2002, 2013, 2015), 1 semi-final (2003)
6 Wimbledon titles (2002, 2003, 2009, 2010, 2012, 2015), 2 finals (2004, 2008), 1 semi-final (2000)
6 US Open titles (1999, 2002, 2008, 2012, 2013, 2014), 2 finals (2001, 2011), 2 semi-finals (2009, 2015)
Grand Slam tournaments (doubles)
4 Australian Open titles (2001, 2003, 2009, 2010/with Venus Williams)
2 French Open titles (1999, 2010/with Venus Williams)
5 Wimbledon titles (2000, 2002, 2008, 2009, 2012/with Venus Williams)
2 US Open titles (1999, 2009/with Venus Williams)
Grand Slam tournaments (mixed doubles)
1 Wimbledon title (1998/with Max Mirnyi)
1 US Open title (1998/with Max Mirnyi)
Other victories
5 WTA Tour Championships titles (2001, 2009, 2012, 2013, 2014), 2 semi-finals (2002, 2004)
1 Fed Cup title (1999)
Gunning for another double in Rio
World number 1 Serena Williams travels to Rio this summer ready to defend her Olympic titles in the women's singles (2012) and doubles, with her sister Venus (2000, 2008, 2012).
The American enjoyed a magnificent 2015, completing a "Serena Slam" with victories at the Australian Open, the French Open and Wimbledon. She narrowly missed out on a first calendar Grand Slam since Steffi Graf in 1988, as she lost to Roberta Vinci in the US Open semi-finals.
At 34, Williams has won it all. Her unquenchable thirst for victory makes her the favourite again in Rio, even after a surprise defeat to Angelique Kerber in the 2016 Australian Open final. A 21-time Grand Slam winner should never be taken lightly!
Results
| | | |
| --- | --- | --- |
| 1 | Women's Singles, Round 1, S. Williams v Gavrilova | 2 (6-4 6-2) |
| 1 | Women's Singles, Round 2, S. Williams v Cornet | 2 (7-6(5) 6-2) |
| 2 | Women's Singles, Round 3, S. Williams v Svitolina | 0 (4-6 3-6) |
| | | |
| --- | --- | --- |
| 2 | Women's Doubles, Round 1, V. Williams/S. Williams v Strýcová/Šafárová | 0 (3-6 4-6) |
Total Medal Leaders
Gold

46

USA

| | |
| --- | --- |
| GBR | 27 |
| CHN | 26 |

Silver

37

USA

| | |
| --- | --- |
| GBR | 23 |
| CHN | 18 |

Bronze

38

USA

| | |
| --- | --- |
| CHN | 26 |
| JPN | 21 |
Total Medal Leaders
Gold

5

Phelps

| | |
| --- | --- |
| Ledecky | 4 |
| Biles | 4 |

Silver

3

Hammer

| | |
| --- | --- |
| Manuel | 2 |
| McKeon | 2 |

Bronze

2

Adrian

| | |
| --- | --- |
| Oleksiak | 2 |
| Chalmers | 2 |