2016 Summer Olympics - Athletes
freestyle, butterfly, medley, relays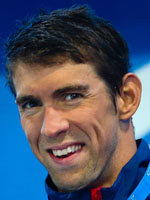 Michael Phelps
Date of birth

1985-06-30
Birthplace

Baltimore
Height

193 cm
Weight

88.0 kg
World records

39 (200m freestyle, 100m and 200m butterfly, 200m and 400m medley, 4x100m freestyle relay, 4x100m medley relay, 4x200m freestyle relay - long course; 4x100m medley relay, 4x100m freestyle relay - short course) - up to 29/04/16
Olympic Games (22 medals: 18 gold, 2 silver, 2 bronze)
200m freestyle: 1st (2008), 3rd (2004)
100m butterfly: 1st (2004, 2008, 2012)
200m butterfly: 1st (2004, 2008), 2nd (2012)
200m medley: 1st (2004, 2008, 2012)
400m medley: 1st (2004, 2008)
4x100m freestyle relay: 1st (2008), 2nd (2012), 3rd (2004)
4x200m freestyle relay: 1st (2004, 2008, 2012)
4x100m medley relay: 1st (2004/did not participate in the final, 2008, 2012)
World Championships (33 medals: 26 gold, 6 silver, 1 bronze)
200m freestyle : 1st (2005, 2007), 2nd (2009, 2011)
100m butterfly: 1st (2007, 2009, 2011), 2nd (2003, 2005)
200m butterfly: 1st (2001, 2003, 2007, 2009, 2011)
200m medley: 1st (2003, 2005, 2007), 2nd (2011)
400m medley: 1st (2003, 2007)
4x100m freestyle relay: 1st (2005, 2007, 2009), 3rd (2011)
4x200m freestyle relay: 1st (2005, 2007, 2009, 2011), 2nd (2003)
4x100m medley relay: 1st (2003 and 2005 did not participate in the finals, 2009, 2011)
World Short Course Championships (1 medal: 1 gold)
200m freestyle: 1st (2004)
Pan Pacific Championships (21 medals: 16 gold, 5 silver)
200m backstroke : 2nd (2006)
100m butterfly: 1st (2010, 2014)
200m butterfly: 1st (2006, 2010), 2nd (2002)
200m medley: 1st (2002, 2006), 2nd (2014)
400m medley: 1st (2002, 2006)
4x100 m freestyle relay: 1st (2006, 2010), 2nd (2014)
4x200m freestyle relay: 1st (2006, 2010, 2014), 2nd (2002)
4x100m medley relay: 1st (2002, 2010, 2014)
22 medals and counting...
Michael Phelps, the most decorated Olympian of all time (22 medals), will travel to Rio looking to create more sporting history.
The American swimming sensation retired after London 2012, but made his comeback in 2014.
He missed out on the world championships in Kazan after being suspended by USA Swimming, following an arrest for drink driving. But he returned in some style at the 2015 US National Championships, with a superb performance in the 200m butterfly (1:52.94).
Now aged 31, and with 18 Olympic golds to his name, Phelps is gunning for more glory in Rio. Still coached by Bob Bowman, the "Baltimore Bullet" remains a solitary figure, who is "happy to let his swimming do the talking". His rivals have been warned.
Results
| | | |
| --- | --- | --- |
| | Men's 4 x 100m Freestyle Relay | 3:09.92 |
| 1 | Men's 4 x 100m Freestyle Relay, Final | 3:09.92 |
| | | |
| --- | --- | --- |
| | Men's 200m Butterfly | 1:53.36 |
| 5 | Men's 200m Butterfly, Heats | 1:55.73 Q |
| 3 | Men's 200m Butterfly, Heats, Heat 3 | 1:55.73 |
| 2 | Men's 200m Butterfly, Semifinal | 1:54.12 Q |
| 2 | Men's 200m Butterfly, Semifinal, Semifinal 2 | 1:54.12 |
| 1 | Men's 200m Butterfly, Final | 1:53.36 |
| | | |
| --- | --- | --- |
| | Men's 4 x 200m Freestyle Relay | 7:00.66 |
| 1 | Men's 4 x 200m Freestyle Relay, Final | 7:00.66 |
| | | |
| --- | --- | --- |
| | Men's 200m Individual Medley | 1:54.66 |
| 3 | Men's 200m Individual Medley, Heats | 1:58.41 Q |
| 1 | Men's 200m Individual Medley, Heats, Heat 4 | 1:58.41 |
| 1 | Men's 200m Individual Medley, Semifinal | 1:55.78 Q |
| 1 | Men's 200m Individual Medley, Semifinal, Semifinal 2 | 1:55.78 |
| 1 | Men's 200m Individual Medley, Final | 1:54.66 |
| | | |
| --- | --- | --- |
| | Men's 100m Butterfly | 51.14 |
| 4 | Men's 100m Butterfly, Heats | 51.60 Q |
| 2 | Men's 100m Butterfly, Heats, Heat 6 | 51.60 |
| 5 | Men's 100m Butterfly, Semifinal | 51.58 Q |
| 2 | Men's 100m Butterfly, Semifinal, Semifinal 1 | 51.58 |
| 2 | Men's 100m Butterfly, Final | 51.14 |
| | | |
| --- | --- | --- |
| | Men's 4 x 100m Medley Relay | 3:27.95 OR |
| 1 | Men's 4 x 100m Medley Relay, Final | 3:27.95 OR |
Total Medal Leaders
Gold

46

USA

| | |
| --- | --- |
| GBR | 27 |
| CHN | 26 |

Silver

37

USA

| | |
| --- | --- |
| GBR | 23 |
| CHN | 18 |

Bronze

38

USA

| | |
| --- | --- |
| CHN | 26 |
| JPN | 21 |
Total Medal Leaders
Gold

5

Phelps

| | |
| --- | --- |
| Ledecky | 4 |
| Biles | 4 |

Silver

3

Hammer

| | |
| --- | --- |
| Manuel | 2 |
| McKeon | 2 |

Bronze

2

Adrian

| | |
| --- | --- |
| Oleksiak | 2 |
| Chalmers | 2 |