2016 Summer Olympics - Athletes
200m medley, relays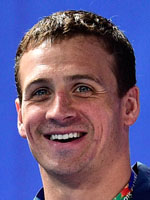 Ryan Lochte
Date of birth

1984-08-03
Birthplace

Canandaigua
Height

188 cm
Weight

88.0 kg
World records
18 / 14 individual (long course: 200m backstroke, 200m medley, 4x200m freestyle - short course: 100m, 200m backstroke, 100m, 200m, 400m medley, 4x100m freestyle) - up to 15/01/2016
Olympic Games (11 medals: 5 gold, 3 silver, 3 bronze)
200m backstroke: 1st (2008), 3rd (2012)
200m medley: 2nd (2004, 2012), 3rd (2008)
400m medley: 1st (2012), 3rd (2008)
4x100m freestyle relay: 2nd (2012)
4x200m freestyle relay: 1st (2004, 2008, 2012)
World Championships (27 medals: 18 gold, 5 silver, 4 bronze)
200m freestyle: 1st (2011)
100m backstroke: 2nd (2007)
200m backstroke: 1st (2007, 2011, 2013), 3rd (2005, 2009)
200m medley: 1st (2009, 2011, 2013, 2015), 2nd (2007), 3rd (2005)
400m medley: 1st (2009, 2011), 2nd (2007)
4x100m freestyle relay: 1st (2009), 2nd (2013), 3rd (2011)
4x200m freestyle relay: 1st (2005, 2007, 2009, 2011, 2013), 2nd (2015)
4x100m medley relay: 1st (2015)
4x100m mixed freestyle relay: 1st (2015)
World Short Course Championships (38 medals: 21 gold, 10 silver, 7 bronze)
200m freestyle: 1st (2010, 2012), 3rd (2004, 2014)
200m backstroke: 1st (2006, 2010), 2nd (2008, 2012, 2014)
100m butterfly: 3rd (2012)
100m medley: 1st (2008, 2010, 2012), 3rd (2014)
200m medley: 1st (2006, 2008, 2010, 2012), 2nd (2004, 2014)
400m medley: 1st (2006, 2008, 2010)
4x50m freestyle relay: 2nd (2014)
4x100m freestyle relay: 1st (2008, 2012, 2014), 3rd (2006, 2014)
4x200m freestyle relay: 1st (2004, 2012), 2nd (2010), 3rd (2006)
4x100m medley relay: 1st (2010, 2012), 2nd (2006, 2008, 2014)
Pan Pacific Championships (12 medals: 8 gold, 4 silver)
100m backstroke: 2nd (2006)
100m butterfly: 2nd (2014)
200m freestyle: 1st (2010)
200m backstroke: 1st (2010)
200m medley: 1st (2010), 2nd (2006)
400m medley: 1st (2010)
4x100m freestyle relay: 1st (2010), 2nd (2014)
4x200m freestyle relay: 1st (2006, 2010, 2014)
The medal man
At 32 years of age, Ryan Lochte has amassed a remarkable collection of medals. The American is a 5-time Olympic champion and a 39-time world champion (long and short course).
His record would no doubt be even more impressive were it not for the sheer dominance of his rival Michael Phelps.
Lochte took gold in the 400m medley and the 4x200m freestyle at London 2012, and in Rio he will be looking to add to his haul of 11 Olympic medals (5 gold, 3 silver, 3 bronze).
A versatile champion, boasting world titles in medley, backstroke and 200m freestyle, he is one of just 2 swimmers, along with Australia's Grant Hackett, to have won the same event at 4 consecutive world championships: the 200m medley, between 2009 and 2015.
Results
| | | |
| --- | --- | --- |
| | Men's 4 x 200m Freestyle Relay | 7:00.66 |
| 2 | Men's 4 x 200m Freestyle Relay, Heats | 7:06.74 Q |
| 1 | Men's 4 x 200m Freestyle Relay, Heats, Heat 1 | 7:06.74 |
| 1 | Men's 4 x 200m Freestyle Relay, Final | 7:00.66 |
| | | |
| --- | --- | --- |
| 5 | Men's 200m Individual Medley | 1:57.47 |
| 1 | Men's 200m Individual Medley, Heats | 1:57.38 Q |
| 1 | Men's 200m Individual Medley, Heats, Heat 2 | 1:57.38 |
| 2 | Men's 200m Individual Medley, Semifinal | 1:56.28 Q |
| 2 | Men's 200m Individual Medley, Semifinal, Semifinal 2 | 1:56.28 |
| 5 | Men's 200m Individual Medley, Final | 1:57.47 |
Total Medal Leaders
Gold

46

USA

| | |
| --- | --- |
| GBR | 27 |
| CHN | 26 |

Silver

37

USA

| | |
| --- | --- |
| GBR | 23 |
| CHN | 18 |

Bronze

38

USA

| | |
| --- | --- |
| CHN | 26 |
| JPN | 21 |
Total Medal Leaders
Gold

5

Phelps

| | |
| --- | --- |
| Ledecky | 4 |
| Biles | 4 |

Silver

3

Hammer

| | |
| --- | --- |
| Manuel | 2 |
| McKeon | 2 |

Bronze

2

Adrian

| | |
| --- | --- |
| Oleksiak | 2 |
| Chalmers | 2 |