2016 Summer Olympics - Athletes
Gymnastics - Artistic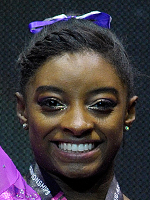 Simone Biles
Date of birth

1997-03-14
Birthplace

Columbus
Height

143 cm
Weight

47.0 kg
World Championships (14 medals: 10 gold, 2 silver, 2 bronze)
All-around: 1st (2013, 2014, 2015)
Team event: 1st (2014, 2015)
Floor: 1st (2013, 2014, 2015)
Balance beam: 1st (2014, 2015), 3rd (2013)
Vault: 2nd (2013, 2014), 3rd (2015)
A superstar in the making
At just 19 years of age, Simone Biles has already won 14 world championship medals, including 10 golds. And the American prodigy is determined to add to her impressive haul at the Rio Olympics.
Biles could even pull off another hat-trick of individual golds, just as she did at the worlds in Glasgow (all-around, balance beam and floor).
Powerful and exceptionally talented, the American will be one of the hot favourites in Rio - especially in the all-around event, where she has won 3 successive world titles. "Simone's just in her own league," jokes US team-mate Alexandra Raisman, double Olympic champion in 2012 (team, floor). "Whoever gets second place, that's the winner."
Results
| | | |
| --- | --- | --- |
| | Women's Beam | 14.733 |
| 1 | Women's Beam, Qualification | 15.633 Q |
| | | |
| --- | --- | --- |
| | Women's Floor Exercise | 15.966 |
| 1 | Women's Floor Exercise, Qualification | 15.733 Q |
| | | |
| --- | --- | --- |
| | Women's Individual All-Around | 62.198 |
| 1 | Women's Individual All-Around, Qualification | 62.366 Q |
| 1 | Women's Individual All-Around, Qualification, Beam | 15.633 |
| 1 | Women's Individual All-Around, Qualification, Floor Exercise | 15.733 |
| 10 | Women's Individual All-Around, Qualification, Uneven Bars | 15.000 |
| 1 | Women's Individual All-Around, Qualification, Vault | 16.000 |
| | | |
| --- | --- | --- |
| | Women's Team | 184.897 |
| 1 | Women's Team, Qualification | 185.238 Q |
| 1 | Women's Team, Qualification, Beam - Team | 45.832 |
| 1 | Women's Team, Qualification, Floor Exercise - Team | 45.808 |
| 2 | Women's Team, Qualification, Uneven Bars - Team | 46.632 |
| 1 | Women's Team, Qualification, Vault - Team | 46.966 |
| 1 | Women's Team, Final | 184.897 |
| 1 | Women's Team, Final, Beam - Team | 45.533 |
| 1 | Women's Team, Final, Floor Exercise - Team | 45.999 |
| 1 | Women's Team, Final, Uneven Bars - Team | 46.499 |
| 1 | Women's Team, Final, Vault - Team | 46.866 |
| | | |
| --- | --- | --- |
| 14 | Women's Uneven Bars | 15.000 |
| 14 | Women's Uneven Bars, Qualification | 15.000 |
| | | |
| --- | --- | --- |
| | Women's Vault | 15.966 |
| 1 | Women's Vault, Qualification | 16.050 Q |
Total Medal Leaders
Gold

46

USA

| | |
| --- | --- |
| GBR | 27 |
| CHN | 26 |

Silver

37

USA

| | |
| --- | --- |
| GBR | 23 |
| CHN | 18 |

Bronze

38

USA

| | |
| --- | --- |
| CHN | 26 |
| JPN | 21 |
Total Medal Leaders
Gold

5

Phelps

| | |
| --- | --- |
| Ledecky | 4 |
| Biles | 4 |

Silver

3

Hammer

| | |
| --- | --- |
| Manuel | 2 |
| McKeon | 2 |

Bronze

2

Adrian

| | |
| --- | --- |
| Oleksiak | 2 |
| Chalmers | 2 |