2016 Summer Olympics - Athletes
Golf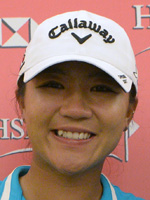 Lydia Ko
Date of birth

1997-04-24
Birthplace

Seoul (South Korea)
Height

165 cm
LPGA Tour victories

12 (up to 24/05/2016)
Best career ranking

1 (February 2015)
LPGA Major Championships
Women's PGA Championship: 3rd (2014)
Women's British Open: Tied for 3rd (2015)
Evian Championship: Winner (2015)
ANA Inspiration: Winner (2016)
Inspiring a generation
In 2015, at the age of just 17, Lydia Ko became the youngest world number 1 in professional golf. The New Zealander's precocious success and impact on women's sport has made her a global superstar, to the extent that she was named one of Time magazine's 100 most influential people in 2014.
Born in South Korea, Ko moved to New Zealand with her parents at the age of 4, just a year before taking up golf. At 14, she became the youngest person to win a professional tour event, the NSW Open.
After turning pro in October 2013, more success followed, notably 2 major titles: the Evian Championship (2015) and the ANA Inspiration (2016). Ko now dreams of cementing her status as the biggest name in women's golf by becoming the sport's first Olympic champion since 1900.
Results
| | | |
| --- | --- | --- |
| | Women's Individual | -11 273 |
| 11 | Women's Individual, Round 1 | -2 18 |
| 31 | Women's Individual, Round 2 | -1 18 |
| 1 | Women's Individual, Round 3 | -6 18 |
| 12 | Women's Individual, Round 4 | -2 18 |
Total Medal Leaders
Gold

46

USA

| | |
| --- | --- |
| GBR | 27 |
| CHN | 26 |

Silver

37

USA

| | |
| --- | --- |
| GBR | 23 |
| CHN | 18 |

Bronze

38

USA

| | |
| --- | --- |
| CHN | 26 |
| JPN | 21 |
Total Medal Leaders
Gold

5

Phelps

| | |
| --- | --- |
| Ledecky | 4 |
| Biles | 4 |

Silver

3

Hammer

| | |
| --- | --- |
| Manuel | 2 |
| McKeon | 2 |

Bronze

2

Adrian

| | |
| --- | --- |
| Oleksiak | 2 |
| Chalmers | 2 |