2016 Summer Olympics - Athletes
50m, 100m and 200m freestyle, relays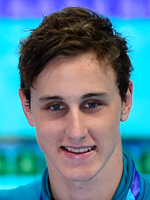 Cameron Mcevoy
Date of birth

1994-05-13
Birthplace

Gold Coast
Height

185 cm
Weight

85.0 kg
World Championships (4 medals: 3 silver, 1 bronze)
100m freestyle: 2nd (2015)
4x200m freestyle relay: 3rd (2015)
4x100m medley relay: 2nd (2013, 2015)
Pan Pacific Championships (5 medals: 2 gold, 3 bronze)
100m freestyle: 1st (2014)
200m freestyle: 3rd (2014)
4x100m freestyle relay: 1st (2014)
4x200m freestyle relay: 3rd (2014)
4x100m medley relay: 3rd (2014)
"The Professor" chasing an Olympic triple
After a historic triple in the 50-100-200m freestyle at the 2016 Australian Championships (including a remarkable 47.04 in the 100m), Cameron McEvoy has his eye on an Olympic hat-trick in Rio.
Only 2 swimmers have managed to win a medal in the 3 sprint events at the same Games: the American Matt Biondi (Seoul 1988) and the Dutchman Pieter van den Hoogenband (Sydney 2000).
Nicknamed "the Professor", McEvoy is also a physics and mathematics student. The 22-year-old burst onto the international scene at the 2011 World Junior Championships, with a double in the 50-100m freestyle. At London 2012, he took part in heats for the freestyle relays, but he travels to Rio as Australia's biggest star.
Results
| | | |
| --- | --- | --- |
| | Men's 4 x 100m Freestyle Relay | 3:11.37 |
| 3 | Men's 4 x 100m Freestyle Relay, Final | 3:11.37 |
| | | |
| --- | --- | --- |
| 7 | Men's 100m Freestyle | 48.12 |
| 4 | Men's 100m Freestyle, Heats | 48.12 Q |
| 1 | Men's 100m Freestyle, Heats, Heat 8 | 48.12 |
| 3 | Men's 100m Freestyle, Semifinal | 47.93 Q |
| 2 | Men's 100m Freestyle, Semifinal, Semifinal 1 | 47.93 |
| 7 | Men's 100m Freestyle, Final | 48.12 |
| | | |
| --- | --- | --- |
| 11 | Men's 50m Freestyle | 21.89 |
| 5 | Men's 50m Freestyle, Heats | 21.80 Q |
| 1 | Men's 50m Freestyle, Heats, Heat 9 | 21.80 |
| 11 | Men's 50m Freestyle, Semifinal | 21.89 |
| 7 | Men's 50m Freestyle, Semifinal, Semifinal 2 | 21.89 |
| | | |
| --- | --- | --- |
| | Men's 4 x 100m Medley Relay | 3:29.93 |
| 4 | Men's 4 x 100m Medley Relay, Heats | 3:32.57 Q |
| 2 | Men's 4 x 100m Medley Relay, Heats, Heat 1 | 3:32.57 |
Total Medal Leaders
Gold

46

USA

| | |
| --- | --- |
| GBR | 27 |
| CHN | 26 |

Silver

37

USA

| | |
| --- | --- |
| GBR | 23 |
| CHN | 18 |

Bronze

38

USA

| | |
| --- | --- |
| CHN | 26 |
| JPN | 21 |
Total Medal Leaders
Gold

5

Phelps

| | |
| --- | --- |
| Ledecky | 4 |
| Biles | 4 |

Silver

3

Hammer

| | |
| --- | --- |
| Manuel | 2 |
| McKeon | 2 |

Bronze

2

Adrian

| | |
| --- | --- |
| Oleksiak | 2 |
| Chalmers | 2 |