2016 Summer Olympics - Athletes
200m and 400m medley, 200m and 400m freestyle, relays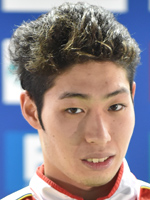 Kosuke Hagino
Date of birth

1994-08-15
Birthplace

Tochigi
Height

175 cm
Weight

68.0 kg
Olympic Games (1 medal: 1 bronze)
World Championships (2 medals: 2 silver)
200m medley: 2nd (2013)
400m freestyle: 2nd (2013)
World Short Course Championships (2 medals: 1 gold, 1 silver)
200m medley: 1st (2014)
400m medley: 2nd (2014)
Pan Pacific Championships (5 medals: 2 gold, 3 silver)
200m medley: 1st (2014)
400m medley: 1st (2014)
200m freestyle: 2nd (2014)
400m freestyle: 2nd (2014)
4x200m freestyle relay: 2nd (2014)
Asian Games (7 medals: 4 gold, 1 silver, 2 bronze)
200m freestyle: 1st (2014)
200m medley: 1st (2014)
400m medley: 1st (2014)
4x200m freestyle relay: 1st (2014)
400m freestyle: 2nd (2014)
100m backstroke: 3rd (2014)
200m backstroke: 3rd (2014)
"The Japanese Phelps"
Kosuke Hagino has made no secret of his intentions in Rio: he will be targeting gold medals in the 200m and 400m medley.
"I have a chance to medal in the 200m freestyle too, and the 4x200m relay," adds the man they call "the Japanese Phelps".
At 22, Hagino does look like a serious rival for Michael Phelps, his boyhood hero, and Ryan Lochte.
The fractured elbow which ruled him out of the 2015 world championships is now a distant memory, and Hagino insists that it made him "stronger mentally".
In spite of his dimunitive stature (1.75m), he says there will be no excuses if he fails to bring home a medal: "I was lucky to finish with a medal in London, but this time there will be no luck involved."
Results
| | | |
| --- | --- | --- |
| | Men's 400m Individual Medley | 4:06.05 |
| 3 | Men's 400m Individual Medley, Heats | 4:10.00 Q |
| 1 | Men's 400m Individual Medley, Heats, Heat 3 | 4:10.00 |
| 1 | Men's 400m Individual Medley, Final | 4:06.05 |
| | | |
| --- | --- | --- |
| 7 | Men's 200m Freestyle | 1:45.90 |
| 7 | Men's 200m Freestyle, Heats | 1:46.19 Q |
| 3 | Men's 200m Freestyle, Heats, Heat 6 | 1:46.19 |
| 2 | Men's 200m Freestyle, Semifinal | 1:45.45 Q |
| 2 | Men's 200m Freestyle, Semifinal, Semifinal 2 | 1:45.45 |
| 7 | Men's 200m Freestyle, Final | 1:45.90 |
| | | |
| --- | --- | --- |
| | Men's 4 x 200m Freestyle Relay | 7:03.50 |
| 5 | Men's 4 x 200m Freestyle Relay, Heats | 7:07.68 Q |
| 4 | Men's 4 x 200m Freestyle Relay, Heats, Heat 2 | 7:07.68 |
| 3 | Men's 4 x 200m Freestyle Relay, Final | 7:03.50 |
| | | |
| --- | --- | --- |
| | Men's 200m Individual Medley | 1:56.61 |
| 6 | Men's 200m Individual Medley, Heats | 1:58.79 Q |
| 1 | Men's 200m Individual Medley, Heats, Heat 3 | 1:58.79 |
| 4 | Men's 200m Individual Medley, Semifinal | 1:57.38 Q |
| 1 | Men's 200m Individual Medley, Semifinal, Semifinal 1 | 1:57.38 |
| 2 | Men's 200m Individual Medley, Final | 1:56.61 |
Total Medal Leaders
Gold

46

USA

| | |
| --- | --- |
| GBR | 27 |
| CHN | 26 |

Silver

37

USA

| | |
| --- | --- |
| GBR | 23 |
| CHN | 18 |

Bronze

38

USA

| | |
| --- | --- |
| CHN | 26 |
| JPN | 21 |
Total Medal Leaders
Gold

5

Phelps

| | |
| --- | --- |
| Ledecky | 4 |
| Biles | 4 |

Silver

3

Hammer

| | |
| --- | --- |
| Manuel | 2 |
| McKeon | 2 |

Bronze

2

Adrian

| | |
| --- | --- |
| Oleksiak | 2 |
| Chalmers | 2 |