2016 Summer Olympics - Athletes
100m, 200m, 4x100m relay, heptathlon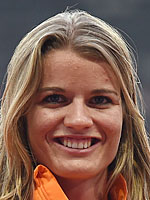 Dafne Schippers
Date of birth

1992-06-15
Birthplace

Utrecht
Height

179 cm
Weight

65.0 kg
World Championships (3 medals: 1 gold, 1 silver, 1 bronze)
100m: 2nd (2015)
200m: 1st (2015)
Heptathlon: 3rd (2013)
World Indoor Championships (1 medal: 1 silver)
European Championships (3 medals: 2 gold, 1 silver)
100m: 1st (2014)
200m: 1st (2014)
4x100m relay: 2nd (2012)
European Indoor Championships (1 medal: 1 gold)
The Dutch pretender
European Athlete of the Year in 2014 and 2015, Dafne Schippers looks set to be one of the stars of the Rio Games.
The 24-year-old Dutchwoman enjoyed a stellar 2015, storming to 200m world championship gold in a European record of 21.63 seconds, the third-fastest time in history. She also took 100m silver in 10.81 seconds, a national record.
Schippers began her career as a heptathlete, winning the world junior title in 2010. After coming 12th at the London Olympics, she claimed bronze at the 2013 worlds.
Now though, the flying Dutchwoman has her eyes on a bigger prize: the sprint double. She'll be looking to upset the favourites - Allyson Felix of the United States and Jamaica's Shelly-Ann Fraser-Pryce.
Results
| | | |
| --- | --- | --- |
| 5 | Women's 100m | 10.90 |
| 7 | Women's 100m, Round 1 | 11.16 Q |
| 1 | Women's 100m, Round 1, Heat 2 | 11.16 Q |
| 3 | Women's 100m, Semifinal | 10.90 Q |
| 2 | Women's 100m, Semifinal, Semifinal 2 | 10.90 Q |
| 5 | Women's 100m, Final | 10.90 |
| | | |
| --- | --- | --- |
| 1 | Women's 200m, Round 1, Heat 1 | 22.51 Q |
| | Women's 200m | 21.88 |
| 5 | Women's 200m, Round 1 | 22.51 Q |
| 1 | Women's 200m, Semifinal | 21.96 Q |
| 1 | Women's 200m, Semifinal, Semifinal 1 | 21.96 Q |
| 2 | Women's 200m, Final | 21.88 |
| | | |
| --- | --- | --- |
| 10 | Women's 4 x 100m Relay | 42.88 |
| 10 | Women's 4 x 100m Relay, Round 1 | 42.88 |
| 6 | Women's 4 x 100m Relay, Round 1, Heat 1 | 42.88 |
Total Medal Leaders
Gold

46

USA

| | |
| --- | --- |
| GBR | 27 |
| CHN | 26 |

Silver

37

USA

| | |
| --- | --- |
| GBR | 23 |
| CHN | 18 |

Bronze

38

USA

| | |
| --- | --- |
| CHN | 26 |
| JPN | 21 |
Total Medal Leaders
Gold

5

Phelps

| | |
| --- | --- |
| Ledecky | 4 |
| Biles | 4 |

Silver

3

Hammer

| | |
| --- | --- |
| Manuel | 2 |
| McKeon | 2 |

Bronze

2

Adrian

| | |
| --- | --- |
| Oleksiak | 2 |
| Chalmers | 2 |