2016 Summer Olympics - Athletes
Triple jump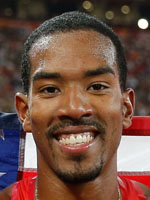 Christian Taylor
Date of birth

1990-06-18
Birthplace

Fayetteville
Height

188 cm
Weight

79.0 kg
Olympic Games (1 medal: 1 gold)
World Championships (2 medals: 2 gold)
Triple jump: 1st (2011, 2015)
World Indoor Championships (1 medal: 1 silver)
Aiming for a double in the triple
When he took gold at the 2015 world championships with an enormous leap of 18.21m, Olympic champion Christian Taylor moved a step closer to breaking the fabled triple jump world record (18.29m), held by Great Britain's Jonathan Edwards since 1995.
"I'm so close to it, and I would hate to end my career and be so close and not take it," the 26-year-old admits. "It's been 20 years since the record has stood. At the Olympic Games, why not make it something the viewers can remember?"
Gold medallist at London 2012 (17.81m) and a 2-time world champion (2011, 2015), Taylor is bidding to become the first triple jumper to win at successive Games since the legendary Soviet Viktor Saneyev (1968-1972-1976).
Results
| | | |
| --- | --- | --- |
| | Men's Triple Jump | 17.86 |
| 1 | Men's Triple Jump, Qualification | 17.24 Q |
| 1 | Men's Triple Jump, Qualification, Group B | 17.24 |
| 1 | Men's Triple Jump, Final | 17.86 /17.77/x/17.77/x/x |
Total Medal Leaders
Gold

46

USA

| | |
| --- | --- |
| GBR | 27 |
| CHN | 26 |

Silver

37

USA

| | |
| --- | --- |
| GBR | 23 |
| CHN | 18 |

Bronze

38

USA

| | |
| --- | --- |
| CHN | 26 |
| JPN | 21 |
Total Medal Leaders
Gold

5

Phelps

| | |
| --- | --- |
| Ledecky | 4 |
| Biles | 4 |

Silver

3

Hammer

| | |
| --- | --- |
| Manuel | 2 |
| McKeon | 2 |

Bronze

2

Adrian

| | |
| --- | --- |
| Oleksiak | 2 |
| Chalmers | 2 |