2016 Summer Olympics - Athletes
butterfly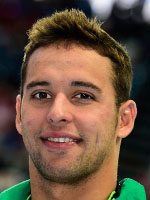 Chad Le Clos
Date of birth

1992-04-12
Birthplace

Durban
Height

188 cm
Weight

84.0 kg
World records

3 (100 and 200m butterfly short course) up to 15/01/2016
Olympic Games (2 medals: 1 gold, 1 silver)
100m butterfly: 2nd (2012)
200m butterfly: 1st (2012)
World Championships (4 medals: 3 gold, 1 silver)
100m butterfly: 1st (2013, 2015)
200m butterfly: 1st (2013), 2nd (2015)
World Short Course Championships (7 medals: 6 gold, 1 silver)
200m freestyle: 1st (2014)
50m butterfly: 1st (2014), 2nd (2012)
100m butterfly: 1st (2012, 2014)
200m butterfly: 1st (2010, 2014)
Gunning for gold, world records... and Phelps
In Rio, Chad Le Clos will enjoy another showdown with his hero-turned-rival Michael Phelps, the record 18-time Olympic champion.
The South African and the American legend both picked up butterfly gold at London 2012, with Le Clos triumphing in the 200m race and Phelps in the 100m.
Age is certainly on the South African's side: he will be 24 in Rio, Phelps 31.
"I'm not afraid of Michael Phelps," insists Le Clos, who is eyeing up a golden double in the butterfly (100 and 200m), and is hoping to break Phelps's world records in both events.
Double world champion in the 100m butterfly, Le Clos is expecting sparks to fly: "It's going to be like a heavyweight title fight."
Results
| | | |
| --- | --- | --- |
| | Men's 200m Freestyle | 1:45.20 |
| 3 | Men's 200m Freestyle, Heats | 1:45.89 Q |
| 2 | Men's 200m Freestyle, Heats, Heat 5 | 1:45.89 |
| 7 | Men's 200m Freestyle, Semifinal | 1:45.94 Q |
| 5 | Men's 200m Freestyle, Semifinal, Semifinal 2 | 1:45.94 |
| 2 | Men's 200m Freestyle, Final | 1:45.20 |
| | | |
| --- | --- | --- |
| 4 | Men's 200m Butterfly | 1:54.06 |
| 3 | Men's 200m Butterfly, Heats | 1:55.57 Q |
| 1 | Men's 200m Butterfly, Heats, Heat 2 | 1:55.57 |
| 4 | Men's 200m Butterfly, Semifinal | 1:55.19 Q |
| 3 | Men's 200m Butterfly, Semifinal, Semifinal 2 | 1:55.19 |
| 4 | Men's 200m Butterfly, Final | 1:54.06 |
| | | |
| --- | --- | --- |
| | Men's 100m Butterfly | 51.14 |
| 7 | Men's 100m Butterfly, Heats | 51.75 Q |
| 3 | Men's 100m Butterfly, Heats, Heat 5 | 51.75 |
| 2 | Men's 100m Butterfly, Semifinal | 51.43 Q |
| 2 | Men's 100m Butterfly, Semifinal, Semifinal 2 | 51.43 |
| 2 | Men's 100m Butterfly, Final | 51.14 |
Total Medal Leaders
Gold

46

USA

| | |
| --- | --- |
| GBR | 27 |
| CHN | 26 |

Silver

37

USA

| | |
| --- | --- |
| GBR | 23 |
| CHN | 18 |

Bronze

38

USA

| | |
| --- | --- |
| CHN | 26 |
| JPN | 21 |
Total Medal Leaders
Gold

5

Phelps

| | |
| --- | --- |
| Ledecky | 4 |
| Biles | 4 |

Silver

3

Hammer

| | |
| --- | --- |
| Manuel | 2 |
| McKeon | 2 |

Bronze

2

Adrian

| | |
| --- | --- |
| Oleksiak | 2 |
| Chalmers | 2 |