2016 Summer Olympics - Athletes
Decathlon, heptathlon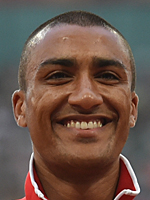 Ashton Eaton
Date of birth

1988-01-21
Birthplace

Portland
Height

185 cm
Weight

82.0 kg
World records

5 (decathlon, heptathlon)
Olympic Games (1 medal: 1 gold)
World Championships (3 medals: 2 gold, 1 silver)
Decathlon: 1st (2013, 2015), 2nd (2011)
World Indoor Championships (3 medals: 3 gold)
Heptathlon: 1st (2012, 2014, 2016)
The king of the decathlon
Reigning Olympic and two-time defending world champion (2013, 2015), Ashton Eaton is the undisputed king of the decathlon.
At 28, the American world record holder (9,045 points) is widely considered the greatest combined-event athlete of all time. It is hard to see anyone denying him another gold in Rio.
As a youngster, Eaton tried his hand at various sports before settling on athletics. He began to compete in the decathlon in 2008, although his records in long jump (8.23m) and 400m (45.00) prove that he could have excelled in individual disciplines.
In March 2016, Eaton (heptathlon) and his wife Brianne Theisen-Eaton (pentathlon) became the first married couple to win golds at the same world championships, in his home city of Portland, Oregon.
Results
| | | |
| --- | --- | --- |
| | Men's Decathlon | 8893 |
| 2 | Men's Decathlon, 100m | 10.46 |
| 2 | Men's Decathlon, 100m, Heat 4 | 10.46 |
| 1 | Men's Decathlon, Long Jump | 7.94 |
| 1 | Men's Decathlon, Long Jump, Group A | 7.94 |
| 10 | Men's Decathlon, Shot Put | 14.73 |
| 6 | Men's Decathlon, Shot Put, Group A | 14.73 |
| 18 | Men's Decathlon, High Jump | 2.01 |
| 6 | Men's Decathlon, High Jump, Group B | 2.01 |
| 1 | Men's Decathlon, 400m | 46.07 |
| 1 | Men's Decathlon, 400m, Heat 4 | 46.07 |
| 2 | Men's Decathlon, 110m Hurdles | 13.80 |
| 2 | Men's Decathlon, 110m Hurdles, Heat 4 | 13.80 |
| 8 | Men's Decathlon, Discus Throw | 45.49 |
| 3 | Men's Decathlon, Discus Throw, Group B | 45.49 |
| 4 | Men's Decathlon, Pole Vault | 5.20 |
| 4 | Men's Decathlon, Pole Vault, Group A | 5.20 |
| 18 | Men's Decathlon, Javelin Throw | 59.77 |
| 11 | Men's Decathlon, Javelin Throw, Group B | 59.77 |
| 4 | Men's Decathlon, 1500m | 4:23.33 |
| 3 | Men's Decathlon, 1500m, Heat 2 | 4:23.33 |
Total Medal Leaders
Gold

46

USA

| | |
| --- | --- |
| GBR | 27 |
| CHN | 26 |

Silver

37

USA

| | |
| --- | --- |
| GBR | 23 |
| CHN | 18 |

Bronze

38

USA

| | |
| --- | --- |
| CHN | 26 |
| JPN | 21 |
Total Medal Leaders
Gold

5

Phelps

| | |
| --- | --- |
| Ledecky | 4 |
| Biles | 4 |

Silver

3

Hammer

| | |
| --- | --- |
| Manuel | 2 |
| McKeon | 2 |

Bronze

2

Adrian

| | |
| --- | --- |
| Oleksiak | 2 |
| Chalmers | 2 |