2016 Summer Olympics - Athletes
200m medley, 400m medley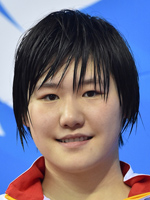 Ye Shiwen
Date of birth

1996-01-01
Birthplace

Hangzhou
Height

173 cm
Weight

64.0 kg
Olympic Games (2 medals: 2 gold)
200m medley: 1st (2012)
400m medley: 1st (2012)
World Championships (1 medal: 1 gold)
World Short Course Championships (4 medals: 1 gold, 3 silver)
200m medley: 1st (2012), 2nd (2010)
400m medley: 2nd (2010, 2012)
Asian Games (5 medals: 5 gold)
200m medley: 1st (2010, 2014)
400m medley: 1st (2010, 2014)
4x100m freestyle relay: 1st (2014)
Ye hoping to find her form before Rio
Ye Shiwen sent shockwaves through the world of swimming at London 2012, as she stormed to gold in the 400m medley in world-record time - going quicker than men's champion Ryan Lochte over the final 50m. The performance sparked controversy, but the Chinese prodigy, then 16, repeatedly tested clean for banned substances.
However, Ye has struggled for form and fitness since her incredible medley double in London (200m and 400m), failing to win a medal at the 2013 world championships.
In spite of a hat-trick of golds at the 2014 Asian Games, she may miss the chance to defend her 400m medley title in Rio, having finished just 7th at Chinese Olympic qualifying in April 2016 (22 seconds off her world record time).
Results
| | | |
| --- | --- | --- |
| 27 | Women's 400m Individual Medley | 4:45.86 |
| 27 | Women's 400m Individual Medley, Heats | 4:45.86 |
| 7 | Women's 400m Individual Medley, Heats, Heat 4 | 4:45.86 |
| | | |
| --- | --- | --- |
| 8 | Women's 200m Individual Medley | 2:13.56 |
| 7 | Women's 200m Individual Medley, Heats | 2:10.56 Q |
| 3 | Women's 200m Individual Medley, Heats, Heat 3 | 2:10.56 |
| 4 | Women's 200m Individual Medley, Semifinal | 2:09.33 Q |
| 2 | Women's 200m Individual Medley, Semifinal, Semifinal 2 | 2:09.33 |
| 8 | Women's 200m Individual Medley, Final | 2:13.56 |
Total Medal Leaders
Gold

46

USA

| | |
| --- | --- |
| GBR | 27 |
| CHN | 26 |

Silver

37

USA

| | |
| --- | --- |
| GBR | 23 |
| CHN | 18 |

Bronze

38

USA

| | |
| --- | --- |
| CHN | 26 |
| JPN | 21 |
Total Medal Leaders
Gold

5

Phelps

| | |
| --- | --- |
| Ledecky | 4 |
| Biles | 4 |

Silver

3

Hammer

| | |
| --- | --- |
| Manuel | 2 |
| McKeon | 2 |

Bronze

2

Adrian

| | |
| --- | --- |
| Oleksiak | 2 |
| Chalmers | 2 |