2016 Summer Olympics - Athletes
men's singles, men's doubles, team competition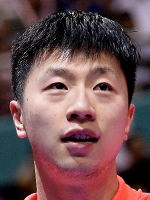 Ma Long
Date of birth

1988-10-20
Birthplace

Liaoning
Height

175 cm
Weight

72.0 kg
Olympic Games (1 medal: 1 gold)
World Championships (12 medals: 8 gold, 1 silver, 3 bronze)
Singles: 1st (2015), 3rd (2009, 2011, 2013)
Doubles: 1st (2011), 2nd (2009)
Team: 1st (2006, 2008, 2010, 2012, 2014, 2016)
Asian Games (6 medals: 5 gold, 1 bronze)
Singles: 1st (2010)
Doubles: 1st (2014), 3rd (2006)
Team: 1st (2006, 2010, 2014)
World Cup (10 medals: 7 gold, 1 silver, 2 bronze)
Singles: 1st (2012, 2015), 2nd (2014), 3rd (2008, 2009)
Team: 1st (2009, 2010, 2011, 2013, 2015)
Longing for singles success in Rio
At 27, China's Ma Long is dreaming of adding the Olympic men's singles title to his already phenomenal haul. The table tennis star has a chance to become just the 5th male player to complete a Grand Slam (holding the Olympic, world championship and World Cup singles crowns).
Long has dominated the sport in recent years, and no more so than in 2015. He became singles world champion, won the World Cup (singles and team) and the World Tour Grand Finals (singles), losing just 1 game in international competition and 5 overall.
An 8-time world champion, who won team gold with China at London 2012, Long has been world number 1 since March 2015. Singles gold in Rio will guarantee his status as one of the all-time greats.
Results
| | | |
| --- | --- | --- |
| 1 | Men's Singles, 3rd Round, Ma Long v Groth | 4 (11-3 11-2 11-3 11-9) |
| 1 | Men's Singles, 4th Round, Ma Long v Jeoung Y S | 4 (6-11 10-12 11-5 11-1 13-11 13-11) |
| 1 | Men's Singles, Quarterfinal, Ma Long v Aruna | 4 (11-4 11-2 11-6 11-7) |
| 1 | Men's Singles, Semifinal, Ma Long v Mizutani | 4 (11-5 11-5 11-5 7-11 10-12 11-5) |
| | Men's Singles, Final, Ma Long v Zhang J | 4 (14-12 11-5 11-4 11-4) |
Total Medal Leaders
Gold

46

USA

| | |
| --- | --- |
| GBR | 27 |
| CHN | 26 |

Silver

37

USA

| | |
| --- | --- |
| GBR | 23 |
| CHN | 18 |

Bronze

38

USA

| | |
| --- | --- |
| CHN | 26 |
| JPN | 21 |
Total Medal Leaders
Gold

5

Phelps

| | |
| --- | --- |
| Ledecky | 4 |
| Biles | 4 |

Silver

3

Hammer

| | |
| --- | --- |
| Manuel | 2 |
| McKeon | 2 |

Bronze

2

Adrian

| | |
| --- | --- |
| Oleksiak | 2 |
| Chalmers | 2 |