2016 Summer Olympics - Athletes
50m, 100m freestyle, 4x100m freestyle relay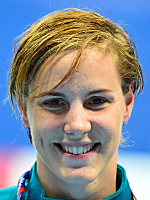 Bronte Campbell
Date of birth

1994-05-14
Birthplace

Blantyre (Malawi)
Height

179 cm
Weight

58.0 kg
World Championships (4 medals: 3 gold, 1 silver)
50m freestyle: 1st (2015)
100m freestyle: 1st (2015)
4x100m freestyle relay: 1st (2015), 2nd (2013)
Pan Pacific Championships (3 medals: 1 gold, 2 silver)
50m freestyle: 2nd (2014)
100m freestyle: 2nd (2014)
4x100m freestyle relay: 1st (2014)
Keeping it in the family
After a remarkable performance at the 2015 world championships, where she stormed to 3 freestyle golds (50m, 100m, 4x100m), Bronte Campbell is hoping to be one of the stars of the pool in Rio.
The 22-year-old Australian will attempt the 50-100m freestyle double in Brazil, but she will have to contend with older sister Cate (100m freestyle world champion in 2013), who has also qualified for the two sprint events.
Born in Malawi, the Campbell sisters moved to Australia as children, and discovered swimming during the 2000 Games in Sydney. 16 years on, they are dreaming of a place in the history books, as they look to become the first siblings to win gold and silver in swimming's most prized event, the Olympic 100m freestyle.
Results
| | | |
| --- | --- | --- |
| | Women's 4 x 100m Freestyle Relay | 3:30.65 |
| 1 | Women's 4 x 100m Freestyle Relay, Heats | 3:32.39 Q |
| 1 | Women's 4 x 100m Freestyle Relay, Heats, Heat 2 | 3:32.39 |
| 1 | Women's 4 x 100m Freestyle Relay, Final | 3:30.65 |
| | | |
| --- | --- | --- |
| 4 | Women's 100m Freestyle | 53.04 |
| 8 | Women's 100m Freestyle, Heats | 53.71 Q |
| 3 | Women's 100m Freestyle, Heats, Heat 6 | 53.71 |
| 5 | Women's 100m Freestyle, Semifinal | 53.29 Q |
| 2 | Women's 100m Freestyle, Semifinal, Semifinal 1 | 53.29 |
| 4 | Women's 100m Freestyle, Final | 53.04 |
| | | |
| --- | --- | --- |
| 7 | Women's 50m Freestyle | 24.42 |
| 4 | Women's 50m Freestyle, Heats | 24.45 Q |
| 2 | Women's 50m Freestyle, Heats, Heat 12 | 24.45 |
| 5 | Women's 50m Freestyle, Semifinal | 24.43 Q |
| 2 | Women's 50m Freestyle, Semifinal, Semifinal 1 | 24.43 |
| 7 | Women's 50m Freestyle, Final | 24.42 |
Total Medal Leaders
Gold

46

USA

| | |
| --- | --- |
| GBR | 27 |
| CHN | 26 |

Silver

37

USA

| | |
| --- | --- |
| GBR | 23 |
| CHN | 18 |

Bronze

38

USA

| | |
| --- | --- |
| CHN | 26 |
| JPN | 21 |
Total Medal Leaders
Gold

5

Phelps

| | |
| --- | --- |
| Ledecky | 4 |
| Biles | 4 |

Silver

3

Hammer

| | |
| --- | --- |
| Manuel | 2 |
| McKeon | 2 |

Bronze

2

Adrian

| | |
| --- | --- |
| Oleksiak | 2 |
| Chalmers | 2 |