2016 Summer Olympics - Athletes
200m, 400m, 800m, 1500m and 4x200m freestyle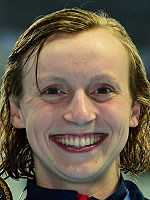 Katie Ledecky
Date of birth

1997-03-17
Birthplace

Washington
Height

178 cm
Weight

65.0 kg
World records

11, all long course (400, 800 and 1500m) up to 15/01/2016
Olympic Games (1 medal: 1 gold)
World Championships (9 medals: 9 gold)
200m freestyle: 1st (2015)
400m freestyle: 1st (2013, 2015)
800m freestyle: 1st (2013, 2015)
1500m freestyle: 1st (2013, 2015)
4x200m freestyle relay: 1st (2013, 2015)
Pan Pacific Championships (5 medals: 5 gold)
200m freestyle: 1st (2014)
400m freestyle: 1st (2014)
800m freestyle: 1st (2014)
1500m freestyle: 1st (2014)
4x200m freestyle relay: 1st (2014)
Gearing up for another golden summer
Since bursting onto the scene at London 2012, where she was crowned Olympic champion in the 800m freestyle at the age of just 15, Katie Ledecky has taken the world of swimming by storm.
After picking up 4 gold medals at the world championships in 2013 (400m, 800m, 1500m and 4x200m freestyle), the American sensation went one better in 2015, defending all of her titles - and adding the 200m free!
Her unprecedented success has made her one of the hot favourites for the Rio Games, with Team USA swimming coach Bob Bowman describing her as "otherworldly". Now 19, and world record holder in the 400m, 800m and 1500m, Ledecky looks set for another golden summer in Brazil.
Results
| | | |
| --- | --- | --- |
| | Women's 4 x 100m Freestyle Relay | 3:31.89 |
| 2 | Women's 4 x 100m Freestyle Relay, Heats | 3:33.59 Q |
| 2 | Women's 4 x 100m Freestyle Relay, Heats, Heat 2 | 3:33.59 |
| 2 | Women's 4 x 100m Freestyle Relay, Final | 3:31.89 |
| | | |
| --- | --- | --- |
| | Women's 400m Freestyle | 3:56.46 |
| 1 | Women's 400m Freestyle, Heats | 3:58.71 Q |
| 1 | Women's 400m Freestyle, Heats, Heat 4 | 3:58.71 |
| 1 | Women's 400m Freestyle, Final | 3:56.46 |
| | | |
| --- | --- | --- |
| | Women's 200m Freestyle | 1:53.73 |
| 1 | Women's 200m Freestyle, Heats | 1:55.01 Q |
| 1 | Women's 200m Freestyle, Heats, Heat 5 | 1:55.01 |
| 2 | Women's 200m Freestyle, Semifinal | 1:54.81 Q |
| 2 | Women's 200m Freestyle, Semifinal, Semifinal 2 | 1:54.81 |
| 1 | Women's 200m Freestyle, Final | 1:53.73 |
| | | |
| --- | --- | --- |
| | Women's 4 x 200m Freestyle Relay | 7:43.03 |
| 1 | Women's 4 x 200m Freestyle Relay, Final | 7:43.03 |
| | | |
| --- | --- | --- |
| | Women's 800m Freestyle | 8:04.79 |
| 1 | Women's 800m Freestyle, Heats | 8:12.86 Q |
| 1 | Women's 800m Freestyle, Heats, Heat 4 | 8:12.86 |
| 1 | Women's 800m Freestyle, Final | 8:04.79 |
Total Medal Leaders
Gold

46

USA

| | |
| --- | --- |
| GBR | 27 |
| CHN | 26 |

Silver

37

USA

| | |
| --- | --- |
| GBR | 23 |
| CHN | 18 |

Bronze

38

USA

| | |
| --- | --- |
| CHN | 26 |
| JPN | 21 |
Total Medal Leaders
Gold

5

Phelps

| | |
| --- | --- |
| Ledecky | 4 |
| Biles | 4 |

Silver

3

Hammer

| | |
| --- | --- |
| Manuel | 2 |
| McKeon | 2 |

Bronze

2

Adrian

| | |
| --- | --- |
| Oleksiak | 2 |
| Chalmers | 2 |