2016 Summer Olympics - Athletes
100m, 200m, 4x100m relay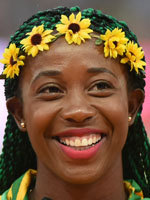 Shelly-Ann Fraser-Pryce
Date of birth

1986-12-27
Birthplace

Kingston
Height

152 cm
Weight

57.0 kg
Olympic Games (4 medals: 2 gold, 2 silver)
100m: 1st (2008, 2012)
200m : 2nd (2012)
4x100m relay: 2nd (2012)
World Championships (9 medals: 7 gold, 2 silver)
100m: 1st (2009, 2013, 2015)
200m: 1st (2013)
4x100m relay: 1st (2009, 2013, 2015), 2nd (2007, 2011)
World Indoor Championships (1 medal: 1 gold)
Third time's a charm
Two-time reigning Olympic champion in the women's 100m, Jamaican Shelly-Ann Fraser-Pryce will be going for an unprecedented triple in Rio.
Another gold medal would see the 29-year-old surpass American duo Wyomia Tyus (1964-1968) and Gail Devers (1992-1996), the only other women to manage successive titles in the most prestigious of sprint events.
Also a triple world champion in the 100m (2009, 2013, 2015), the diminutive Fraser-Pryce (1.52m) grew up in a deprived area of Kingston; it was a difficult childhood which shaped her character, and gave her an iron will to succeed. "You have a talent," she was told by her mother Maxine, "go and use it". Mission accomplished.
Results
| | | |
| --- | --- | --- |
| | Women's 100m | 10.86 |
| 1 | Women's 100m, Round 1 | 10.96 Q |
| 1 | Women's 100m, Round 1, Heat 4 | 10.96 Q |
| 1 | Women's 100m, Semifinal | 10.88 Q |
| 1 | Women's 100m, Semifinal, Semifinal 2 | 10.88 Q |
| 3 | Women's 100m, Final | 10.86 |
| | | |
| --- | --- | --- |
| | Women's 4 x 100m Relay | 41.36 |
| 2 | Women's 4 x 100m Relay, Round 1 | 41.79 Q |
| 1 | Women's 4 x 100m Relay, Round 1, Heat 1 | 41.79 Q |
| 2 | Women's 4 x 100m Relay, Final | 41.36 |
Total Medal Leaders
Gold

46

USA

| | |
| --- | --- |
| GBR | 27 |
| CHN | 26 |

Silver

37

USA

| | |
| --- | --- |
| GBR | 23 |
| CHN | 18 |

Bronze

38

USA

| | |
| --- | --- |
| CHN | 26 |
| JPN | 21 |
Total Medal Leaders
Gold

5

Phelps

| | |
| --- | --- |
| Ledecky | 4 |
| Biles | 4 |

Silver

3

Hammer

| | |
| --- | --- |
| Manuel | 2 |
| McKeon | 2 |

Bronze

2

Adrian

| | |
| --- | --- |
| Oleksiak | 2 |
| Chalmers | 2 |