2016 Summer Olympics - Athletes
800m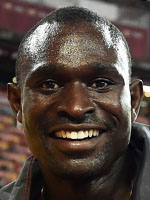 David Rudisha
Date of birth

1988-12-17
Birthplace

Kilgoris
Height

190 cm
Weight

72.0 kg
World records
Olympic Games (1 medal: 1 gold)
World Championships (2 medals: 2 gold)
The return of the Maasai warrior
After nearly 2 years out with a knee injury, David Rudisha looks to be back at his best. After storming to 800m gold at London 2012, in a world record time of 1:40.91, he added the world championship title in 2015.
The 27-year-old Kenyan, who has run 6 of the 8 fastest times in the 800m, is now looking to become the 4th athlete to win back-to-back Olympic crowns in the event, after Douglas Lowe (Great Britain, 1924-1928), Mal Whitfield (USA, 1948-1952) and Peter Snell (New Zealand, 1960-1964).
Dubbed the "Pride of Africa", Rudisha will be counting on his devastating sprint finish to get the better of his rivals in Rio - notably Botswana's Nijel Amos, who had to settle for silver in London.
Results
| | | |
| --- | --- | --- |
| | Men's 800m | 1:42.15 |
| 1 | Men's 800m, Round 1 | 1:45.09 Q |
| 1 | Men's 800m, Round 1, Heat 3 | 1:45.09 Q |
| 3 | Men's 800m, Semifinal | 1:43.88 Q |
| 1 | Men's 800m, Semifinal, Semifinal 3 | 1:43.88 Q |
| 1 | Men's 800m, Final | 1:42.15 |
Total Medal Leaders
Gold

46

USA

| | |
| --- | --- |
| GBR | 27 |
| CHN | 26 |

Silver

37

USA

| | |
| --- | --- |
| GBR | 23 |
| CHN | 18 |

Bronze

38

USA

| | |
| --- | --- |
| CHN | 26 |
| JPN | 21 |
Total Medal Leaders
Gold

5

Phelps

| | |
| --- | --- |
| Ledecky | 4 |
| Biles | 4 |

Silver

3

Hammer

| | |
| --- | --- |
| Manuel | 2 |
| McKeon | 2 |

Bronze

2

Adrian

| | |
| --- | --- |
| Oleksiak | 2 |
| Chalmers | 2 |