2016 Summer Olympics - Athletes
200m, 400m, 800m and 1500m freestyle, relays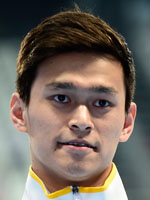 Sun Yang
Date of birth

1991-12-01
Birthplace

Hangzhou
Height

198 cm
Weight

89.0 kg
World records

2 (1500m) - up to 15/01/2016
Olympic Games (4 medals: 2 gold, 1 silver, 1 bronze)
200m freestyle: 2nd (2012)
400m freestyle: 1st (2012)
1500m freestyle: 1st (2012)
4x200m freestyle relay: 3rd (2012)
World Championships (12 medals: 7 gold, 2 silver, 3 bronze)
200m freestyle: 2nd (2015)
400m freestyle: 1st (2013, 2015), 2nd (2011)
800m freestyle: 1st (2011, 2013, 2015)
1500m freestyle: 1st (2011, 2013), 3rd (2009)
4x200m freestyle relay: 3rd (2011, 2013)
Sun hoping to shine in Rio
Double Olympic champion (400m and 1500m freestyle), 7-time world champion (400m, 800m and 1500m freestyle), and world record holder to boot (1500m), Sun Yang will be one of the men to beat in Rio.
In spite of making the headlines for the wrong reasons in 2015 (doping allegations, injuries, clash with a Brazilian female swimmer, shock absence from the world 1500m final in Kazan), the Chinese remains one of the top favourites for the long-distance events in Rio.
At 24, Sun is preparing for already his 3rd Olympics, and will be hoping to add to his 4 medals from London 2012 (2 gold, 1 silver, 1 bronze). Having dreamt of being a pop star in his youth, he'll look to give the Chinese fans something to sing about in Brazil.
Results
| | | |
| --- | --- | --- |
| | Men's 400m Freestyle | 3:41.68 |
| 4 | Men's 400m Freestyle, Heats | 3:44.23 Q |
| 1 | Men's 400m Freestyle, Heats, Heat 6 | 3:44.23 |
| 2 | Men's 400m Freestyle, Final | 3:41.68 |
| | | |
| --- | --- | --- |
| | Men's 200m Freestyle | 1:44.65 |
| 1 | Men's 200m Freestyle, Heats | 1:45.75 Q |
| 1 | Men's 200m Freestyle, Heats, Heat 5 | 1:45.75 |
| 1 | Men's 200m Freestyle, Semifinal | 1:44.63 Q |
| 1 | Men's 200m Freestyle, Semifinal, Semifinal 2 | 1:44.63 |
| 1 | Men's 200m Freestyle, Final | 1:44.65 |
| | | |
| --- | --- | --- |
| 16 | Men's 1500m Freestyle | 15:01.97 |
| 16 | Men's 1500m Freestyle, Heats | 15:01.97 |
| 7 | Men's 1500m Freestyle, Heats, Heat 5 | 15:01.97 |
Total Medal Leaders
Gold

46

USA

| | |
| --- | --- |
| GBR | 27 |
| CHN | 26 |

Silver

37

USA

| | |
| --- | --- |
| GBR | 23 |
| CHN | 18 |

Bronze

38

USA

| | |
| --- | --- |
| CHN | 26 |
| JPN | 21 |
Total Medal Leaders
Gold

5

Phelps

| | |
| --- | --- |
| Ledecky | 4 |
| Biles | 4 |

Silver

3

Hammer

| | |
| --- | --- |
| Manuel | 2 |
| McKeon | 2 |

Bronze

2

Adrian

| | |
| --- | --- |
| Oleksiak | 2 |
| Chalmers | 2 |