2016 Summer Olympics - Athletes
Badminton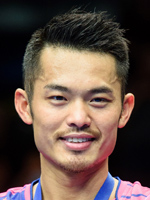 Lin Dan
Date of birth

1983-10-14
Birthplace

Longyan
Height

176 cm
Weight

68.0 kg
Olympic Games (2 medals: 2 gold)
Singles: 1st (2008, 2012)
World Championships (6 medals: 5 gold, 1 silver)
Singles: 1st (2006, 2007, 2009, 2011, 2013), 2nd (2005)
Thomas Cup / World Team Championships (7 medals: 5 gold, 2 bronze)
Team: 1st (2004, 2006, 2008, 2010, 2012), 3rd (2002, 2014)
Asian Games (7 medals: 4 gold, 2 silver, 1 bronze)
Singles: 1st (2010, 2014), 2nd (2006)
Team: 1st (2006, 2010), 2nd (2014), 3rd (2002)
Asian Championships (7 medals: 4 gold, 1 silver, 2 bronze)
Singles: 1st (2010, 2011, 2014, 2015), 2nd (2001), 3rd (2008, 2012)
"Super Dan" targeting an unprecedented triple
Lin Dan has a chance to underline his status as the greatest badminton player of all time as he bids for a third straight Olympic title in Rio.
"Super Dan" is the only player to have won all 9 major badminton titles, including 2 Olympic golds (2008, 2012) and 5 world championship crowns.
After becoming the first man to successfully defend the men's singles title, at London 2012, the Chinese star battled with injury, slipping out of the world's top 100 by 2014.
But with Rio on the horizon, the 32-year-old looks back at his best. In April 2016, he beat compatriot Chen Long - the 2-time reigning world champion and world number 1 - to win the China Masters. Bring on the Games.
Results
| | | |
| --- | --- | --- |
| 1 | Men's Singles, Group Stage, Group E, Lin D v Obernosterer | 2 (21-5 21-11) |
| 1 | Men's Singles, Group Stage, Group E, Lin D v Malkov | 2 (21-18 21-7) |
| 1 | Men's Singles, Group Stage, Group E, Lin D v T.M. Nguyen | 2 (21-7 21-12) |
| 1 | Men's Singles, Quarterfinal, Lin D v Kidambi | 2 (21-6 11-21 21-18) |
| 2 | Men's Singles, Semifinal, C.W. Lee v Lin D | 1 (21-15 11-21 20-22) |
| 2 | Men's Singles, Bronze medal match, Lin D v Axelsen | 1 (21-15 10-21 17-21) |
Total Medal Leaders
Gold

46

USA

| | |
| --- | --- |
| GBR | 27 |
| CHN | 26 |

Silver

37

USA

| | |
| --- | --- |
| GBR | 23 |
| CHN | 18 |

Bronze

38

USA

| | |
| --- | --- |
| CHN | 26 |
| JPN | 21 |
Total Medal Leaders
Gold

5

Phelps

| | |
| --- | --- |
| Ledecky | 4 |
| Biles | 4 |

Silver

3

Hammer

| | |
| --- | --- |
| Manuel | 2 |
| McKeon | 2 |

Bronze

2

Adrian

| | |
| --- | --- |
| Oleksiak | 2 |
| Chalmers | 2 |