2016 Summer Olympics - Athletes
freestyle, medley, backstroke, butterfly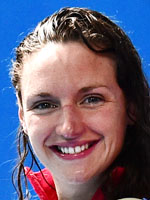 Katinka Hosszu
Date of birth

1989-05-03
Birthplace

Pecs
Height

170 cm
Weight

60.0 kg
Individual world records

18 - 1 long course, 17 short course (100m, 200m and 400m medley, 100m et 200m backstroke) - up to 15/01/2016
World Championships (9 medals: 5 gold, 4 bronze)
200m backstroke: 3rd (2015)
200m butterfly: 3rd (2009, 2013)
200m medley: 1st (2013, 2015), 3rd (2009)
400m medley: 1st (2009, 2013, 2015)
World Short Course Championships (13 medals: 6 gold, 5 silver, 2 bronze)
200m freestyle: 2nd (2012, 2014)
50m backstroke: 3rd (2014)
100m backstroke: 1st (2014)
200m backstroke: 1st (2014)
200m butterfly: 1st (2012), 2nd (2014)
100m medley: 1st (2012, 2014)
200m medley: 1st (2014), 2nd (2012)
400m medley: 2nd (2014), 3rd (2012)
European Championsips (20 medals: 13 gold, 5 silver, 2 bronze)
200m freestyle: 2nd (2014)
100m backstroke: 1st (2014), 2nd (2016)
200m backstroke: 1st (2016)
200m butterfly: 1st (2010, 2012), 3rd (2014)
200m medley: 1st (2010, 2012, 2014, 2016)
400m medley: 1st (2012, 2014, 2016), 2nd (2008, 2010)
4x200m freestyle relay: 1st (2010, 2016), 2nd (2012), 3rd (2014)
European Short Course Championships (16 medals: 10 gold, 4 silver, 2 bronze)
400m freestyle: 2nd (2015)
50m backstroke: 1st (2015)
100m backstroke: 1st (2015)
200m backstroke: 1st (2015), 3rd (2013)
200m butterfly: 1st (2012)
100m medley: 1st (2012, 2015), 2nd (2013)
200m medley: 1st (2012, 2013, 2015)
400m medley : 1st (2015), 2nd (2012, 2013), 3rd (2004)
The Iron Lady gunning for gold
4th in the 400m medley at the London Olympics, in spite of leading for part of the race, Katinka Hosszu will be out for revenge in Rio.
The 27-year-old Hungarian has learned from her mistakes, and recovered from something close to depression after the disappointment of London.
Since 2012, the "Iron Lady" has dominated the world and European championships, both short and long course, racking up medals and world records in the medley, as well as freestyle, backstroke and butterfly.
With 11 world championship titles and 23 European titles to her name, Hosszu is now chasing the only thing missing from her phenomenal collection: Olympic gold.
Results
No results
Total Medal Leaders
Gold

46

USA

| | |
| --- | --- |
| GBR | 27 |
| CHN | 26 |

Silver

37

USA

| | |
| --- | --- |
| GBR | 23 |
| CHN | 18 |

Bronze

38

USA

| | |
| --- | --- |
| CHN | 26 |
| JPN | 21 |
Total Medal Leaders
Gold

5

Phelps

| | |
| --- | --- |
| Ledecky | 4 |
| Biles | 4 |

Silver

3

Hammer

| | |
| --- | --- |
| Manuel | 2 |
| McKeon | 2 |

Bronze

2

Adrian

| | |
| --- | --- |
| Oleksiak | 2 |
| Chalmers | 2 |