2016 Summer Olympics - Athletes
freestyle, butterfly, relays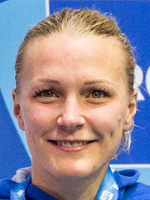 Sarah Sjoestroem
Date of birth

1993-08-17
Birthplace

Roenninge
Height

183 cm
Weight

70.0 kg
World records
5 (50m and 100m butterfly - long course, 200m freestyle and 100m butterfly - short course)
World Championships (8 medals: 4 gold, 3 silver, 1 bronze)
50m freestyle: 3rd (2015)
100m freestyle: 2nd (2013, 2015)
50m butterfly: 1st (2015)
100m butterfly: 1st (2009, 2013, 2015)
4x100m medley relay: 2nd (2015)
European Championships (18 medals: 10 gold, 6 silver, 2 bronze)
50m freestyle: 2nd (2014)
100m freestyle: 1st (2012, 2014, 2016)
50m butterfly: 1st (2012, 2014, 2016)
100m butterfly: 1st (2008, 2010, 2016), 2nd (2014)
4x100m freestyle relay: 1st (2014), 2nd (2012), 3rd (2010, 2016)
4x200m freestyle relay: 2nd (2014)
4x100m medlay relay: 2nd (2010, 2014)
World Short Course Championships (4 medals: 3 gold, 1 silver)
100m freestyle: 2nd (2014)
200m freestyle: 1st (2014)
50m butterfly: 1st (2014)
100m butterfly: 1st (2014)
European Short Course Championships (14 medals: 5 gold, 9 silver)
50m freestyle: 2nd (2013, 2015)
100m freestyle: 1st (2015), 2nd (2013)
50m butterfly: 1st (2013, 2015)
100m butterfly: 1st (2013, 2015)
4x50m freestyle relay: 2nd (2008, 2009, 2013)
4x50m medley relay: 2nd (2009, 2015, 2016)
Sjoestroem hoping to make Swedish history
At just 22, Sarah Sjoestroem already has an impressive record. After winning 7 world titles and 15 European crowns (long and short course), the Swede will be hoping to finally get her hands on an Olympic medal in Rio.
Sjoestroem was just 14 when she took gold in the 100m butterfly at the 2008 European championships. She went on to become the world record holder in the discipline (55.64), which represents perhaps her best chance of medal success in Brazil.
Sjoestroem is determined to improve on London 2012, where she finished 4th in the 100m butterfly and reached the semi-finals of the 50m, 100m and 200m freestyle. She also dreams of becoming the first Swedish woman to win an Olympic swimming gold medal.
Results
No results
Total Medal Leaders
Gold

46

USA

| | |
| --- | --- |
| GBR | 27 |
| CHN | 26 |

Silver

37

USA

| | |
| --- | --- |
| GBR | 23 |
| CHN | 18 |

Bronze

38

USA

| | |
| --- | --- |
| CHN | 26 |
| JPN | 21 |
Total Medal Leaders
Gold

5

Phelps

| | |
| --- | --- |
| Ledecky | 4 |
| Biles | 4 |

Silver

3

Hammer

| | |
| --- | --- |
| Manuel | 2 |
| McKeon | 2 |

Bronze

2

Adrian

| | |
| --- | --- |
| Oleksiak | 2 |
| Chalmers | 2 |