2016 Summer Olympics - Athletes
Tennis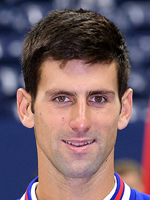 Novak Djokovic
Date of birth

1987-05-22
Birthplace

Belgrade (Yugoslavia)
Height

188 cm
Weight

80.0 kg
Grand Slam victories

11 (up to 25/05/2016)
Tournament victories

64 (singles), 1 (doubles) - up to 25/05/2016
Best year-end ATP world ranking

1st (2011, 2012, 2014, 2015)
Grand Slam record
6 Australian Open titles (2008, 2011, 2012, 2013, 2015, 2016)
French Open: 3 finals (2012, 2014, 2015), 4 semi-finals (2007, 2008, 2011, 2013)
3 Wimbledon titles (2011, 2014, 2015), 3 semi-finals (2007, 2010, 2012)
2 US Open titles (2011, 2015), 4 finals (2007, 2010, 2012, 2013), 3 semi-finals (2008, 2009, 2014)
Other honours
5 World Tour Finals titles (2008, 2012, 2013, 2014, 2015)
1 Davis Cup (2010), 1 final (2013)
1 Olympic bronze medal (2008)
Dreaming of a Golden Slam
Currently dominating the world of men's tennis, and winner of 4 of the last 5 Grand Slam tournaments, world number 1 Novak Djokovic will be the overwhelming favourite to win the men's singles tournament in Rio.
The Serb has made no secret of the fact that an Olympic gold medal is his "top priority" for 2016. Having won his 6th Australian Open in January, the 11-time Major winner could even become the first male tennis player to achieve a Golden Slam.
Djokovic is certainly confident that he can improve on his bronze medal from London 2012. "The way the last couple of seasons have gone for me," he says, "I feel I can do very well in Rio."
At 29, the Serb is at the top of his game - and few would bet against him in Brazil.
Results
| | | |
| --- | --- | --- |
| 1 | Men's Doubles, Round 1, Cilic/Draganja v Zimonjic/Djokovic | 2 (6-2 6-2) |
| 2 | Men's Doubles, Round 2, Melo/Soares v Djokovic/Zimonjic | 0 (4-6 4-6) |
| | | |
| --- | --- | --- |
| 2 | Men's Singles, Round 1, Djokovic v Del Potro | 0 (6-7(4) 6-7(2)) |
Total Medal Leaders
Gold

46

USA

| | |
| --- | --- |
| GBR | 27 |
| CHN | 26 |

Silver

37

USA

| | |
| --- | --- |
| GBR | 23 |
| CHN | 18 |

Bronze

38

USA

| | |
| --- | --- |
| CHN | 26 |
| JPN | 21 |
Total Medal Leaders
Gold

5

Phelps

| | |
| --- | --- |
| Ledecky | 4 |
| Biles | 4 |

Silver

3

Hammer

| | |
| --- | --- |
| Manuel | 2 |
| McKeon | 2 |

Bronze

2

Adrian

| | |
| --- | --- |
| Oleksiak | 2 |
| Chalmers | 2 |