2016 Summer Olympics - Athletes
Team Handball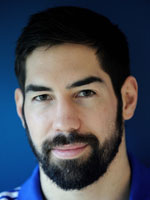 Nikola Karabatic
Date of birth

1984-04-11
Birthplace

Nis (Serbia and Montenegro)
Height

196 cm
Weight

102.0 kg
Clubs

Montpellier (2000-2005), Kiel (2005-2009), Montpellier (2009-2013), Aix (Feb-June 2013), Barcelona (2013-2015), Paris Saint-Germain (2015-)
Olympic Games (2 medals: 2 gold)
World Championships (5 medals: 3 gold, 2 bronze)
1st (2009, 2011, 2015), 3rd (2003, 2005)
European Championships (4 medals: 3 gold, 1 bronze)
1st (2006, 2010, 2014), 3rd (2008)
Champions League
Winner (Montpellier 2003, Kiel 2007, Barcelona 2015)
French Championship
Winner (2002, 2003, 2004, 2005, 2010, 2011, 2012)
German Championship
Winner (2006, 2007, 2008, 2009)
Spanish Championship
Going for the hat-trick
French handball star Nikola Karabatic has won it all. But even after 2 Olympic gold medals (2008, 2012), 3 world championship titles (2009, 2011, 2015) and 3 European crowns (2006, 2010, 2014), the two-time World Player of the Year is as hungry for success as ever.
"This year," he insisted in early 2016, "the Olympics are the main objective."
A few alarm bells sounded in January, just 7 months before Rio, as France finished a disappointing 5th at the Euro in Poland.
But their star centre-back, who plays alongside brother Luka at PSG (their father was also a professional handball player), is ready to step up again, as "Les Experts" target an unprecedented 3rd successive Olympic title.
Results
No results
Total Medal Leaders
Gold

46

USA

| | |
| --- | --- |
| GBR | 27 |
| CHN | 26 |

Silver

37

USA

| | |
| --- | --- |
| GBR | 23 |
| CHN | 18 |

Bronze

38

USA

| | |
| --- | --- |
| CHN | 26 |
| JPN | 21 |
Total Medal Leaders
Gold

5

Phelps

| | |
| --- | --- |
| Ledecky | 4 |
| Biles | 4 |

Silver

3

Hammer

| | |
| --- | --- |
| Manuel | 2 |
| McKeon | 2 |

Bronze

2

Adrian

| | |
| --- | --- |
| Oleksiak | 2 |
| Chalmers | 2 |