2016 Summer Olympics - Athletes
Tennis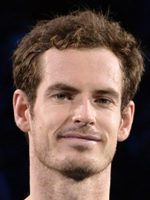 Andy Murray
Date of birth

1987-05-15
Birthplace

Glasgow (Scotland)
Height

191 cm
Weight

84.0 kg
Grand Slam titles

2 (up to 25/05/2016)
Victories in tournaments

36 (singles), 2 (doubles) - up to 25/05/2016
Highest ATP ranking (end of season)

2 (2015)
Olympic Games (2 medals: 1 gold, 1 silver)
Singles: 1st (2012)
Mixed doubles: 2nd (2012)
Grand Slam tournaments
Australian Open: 5 finals (2010, 2011, 2013, 2015, 2016), 1 semi-final (2012)
French Open: 3 semi-finals (2011, 2014, 2015)
1 Wimbledon title (2013), 1 final (2012), 4 semi-finals (2009, 2010, 2011, 2015)
1 US Open title (2012), 1 final (2008), 1 semi-final (2011)
Other honours
1 Davis Cup (2015)
World Tour Finals: 3 semi-finals (2008, 2010, 2012)
Murray out to defend his crown
Andy Murray will be looking to build on a stunning performance at London 2012 as he defends his Olympic tennis crown in Rio.
Four years ago, the British number 1 defeated Roger Federer to lift the Olympic title on home soil. He followed that up in 2013 by becoming the first British male in 77 years to win Wimbledon. It was the second Grand Slam victory of his career, after the 2012 US Open.
Murray, who also inspired Great Britain to Davis Cup victory in 2015, began 2016 with defeat to Novak Djokovic in the final of the Australian Open, just a week before the birth of his daughter Sophia.
Between fatherhood, a chance for more Grand Slam glory and his Olympic title defence, it's sure to be a memorable year for the Scot.
Results
| | | |
| --- | --- | --- |
| 1 | Men's Singles, Round 1, Troicki v A. Murray | 2 (6-3 6-2) |
| 1 | Men's Singles, Round 2, Mónaco v A. Murray | 2 (6-3 6-1) |
| 1 | Men's Singles, Round 3, Fognini v A. Murray | 2 (6-1 2-6 6-3) |
| 1 | Men's Singles, Quarterfinal, Johnson v A. Murray | 2 (6-0 4-6 7-6(2)) |
| 1 | Men's Singles, Semifinal, Nishikori v A. Murray | 2 (6-1 6-4) |
| | Men's Singles, Final, Del Potro v A. Murray | 3 (7-5 4-6 6-2 7-5) |
| | | |
| --- | --- | --- |
| 2 | Men's Doubles, Round 1, Sá/Bellucci v A. Murray/J. Murray | 0 (6-7(6) 6-7(14)) |
| | | |
| --- | --- | --- |
| 1 | Mixed Doubles, Round 1, Watson/A. Murray v Suárez/Ferrer | 2 (6-3 6-3) |
| 2 | Mixed Doubles, Quarterfinal, Watson/A. Murray v Mirza/Bopanna | 0 (4-6 4-6) |
Total Medal Leaders
Gold

46

USA

| | |
| --- | --- |
| GBR | 27 |
| CHN | 26 |

Silver

37

USA

| | |
| --- | --- |
| GBR | 23 |
| CHN | 18 |

Bronze

38

USA

| | |
| --- | --- |
| CHN | 26 |
| JPN | 21 |
Total Medal Leaders
Gold

5

Phelps

| | |
| --- | --- |
| Ledecky | 4 |
| Biles | 4 |

Silver

3

Hammer

| | |
| --- | --- |
| Manuel | 2 |
| McKeon | 2 |

Bronze

2

Adrian

| | |
| --- | --- |
| Oleksiak | 2 |
| Chalmers | 2 |