2016 Summer Olympics - Athletes
3000m, 5000m, 10,000m, cross-country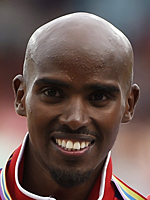 Mohamed Farah
Date of birth

1983-03-23
Birthplace

Mogadiscio (Somalia)
Height

171 cm
Weight

60.0 kg
Olympic Games (2 medals: 2 gold)
5000m: 1st (2012)
10,000m: 1st (2012)
World Championships (6 medals: 5 gold, 1 silver)
5000m: 1st (2011, 2013, 2015)
10,000m: 1st (2013, 2015), 2nd (2011)
European Championships (6 medals: 5 gold, 1 silver)
5000m: 1st (2010, 2012, 2014), 2nd (2006)
10,000m: 1st (2010, 2014)
European Indoor Championships (2 medals: 2 gold)
European Cross-Country Championships (3 medals: 1 gold, 2 silver)
Long course: 1st (2006), 2nd (2008, 2009)
Chasing a historic quadruple double
Since his 5000-10,000m double on home soil at London 2012, Mo Farah has become the man to beat in long-distance running.
In 2015, he completed a third successive golden double at the world championships. He will now be chasing an unprecedented "quadruple double" in Rio.
Born in Somalia, Farah moved to Britain at the age of 8, to escape the ravages of civil war. He was introduced to running by his physical education teacher, Alan Watkinson.
Since his first success at the 2001 European Junior Championships, Farah has gone from strength to strength. Even the investigation into his coach Alberto Salazar, over doping allegations, has done little to upset his rhythm.
Results
| | | |
| --- | --- | --- |
| | Men's 5000m | 13:03.30 |
| 15 | Men's 5000m, Round 1 | 13:25.25 Q |
| 3 | Men's 5000m, Round 1, Heat 1 | 13:25.25 Q |
| 1 | Men's 5000m, Final | 13:03.30 |
Total Medal Leaders
Gold

46

USA

| | |
| --- | --- |
| GBR | 27 |
| CHN | 26 |

Silver

37

USA

| | |
| --- | --- |
| GBR | 23 |
| CHN | 18 |

Bronze

38

USA

| | |
| --- | --- |
| CHN | 26 |
| JPN | 21 |
Total Medal Leaders
Gold

5

Phelps

| | |
| --- | --- |
| Ledecky | 4 |
| Biles | 4 |

Silver

3

Hammer

| | |
| --- | --- |
| Manuel | 2 |
| McKeon | 2 |

Bronze

2

Adrian

| | |
| --- | --- |
| Oleksiak | 2 |
| Chalmers | 2 |