2016 Summer Olympics - Athletes
50m, 100m freestyle, relays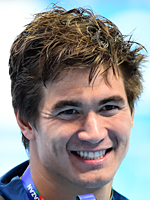 Nathan Adrian
Date of birth

1988-12-07
Birthplace

Bremerton
Height

198 cm
Weight

102.0 kg
World records

2 (4x100m freestyle relay and 4x100m short course freestyle relay)
Olympic Games (4 medals: 3 gold, 1 silver)
100m freestyle: 1st (2012)
4x100m freestyle relay: 1st (2008), 2nd (2012)
4x100m medley relay: 1st (2012)
World Championships (8 medals: 4 gold, 2 silver, 2 bronze)
50m freestyle: 2nd (2015)
100m freestyle: 3rd (2013)
4x100m freestyle relay: 1st (2009), 2nd (2013), 3rd (2011)
4x100m medley relay: 1st (2009, 2011)
4x100m mixed relay: 1st (2015)
World Short Course Championships (3 medals: 2 gold, 1 silver)
100m freestyle: 1st (2008)
4x100m freestyle relay: 1st (2008)
4x100m medley relay: 2nd (2008)
Pan Pacific Championships (8 medals: 5 gold, 2 silver, 1 bronze)
50m freestyle: 1st (2010), 3rd (2014)
100m freestyle: 1st (2010), 2nd (2014)
4x100m freestyle relay: 1st (2010), 2nd (2014)
4x100m medley relay: 1st (2010, 2014)
The king of the 100m
A three-time Olympic champion (4x100m freestyle in 2008, 100m freestyle and 4x100m medley in 2012), Nathan Adrian has every intention of adding to his medal collection in Rio.
The American is determined to remain the king of the 100m, but will also be looking to bounce back after a disappointing 2015. At the World Championships in Kazan, he was pipped to 50m gold by Florent Manaudou, before coming a disappointing 7th in the 100m final. The only bright spot was the relay, where he helped the USA take gold in the 4x100m mixed freestyle and 4x100m medley.
In Rio, 27-year-old Adrian will be dreaming of a first 50-100m freestyle double since Russia's Alexander Popov in 1996.
Results
| | | |
| --- | --- | --- |
| | Men's 4 x 100m Freestyle Relay | 3:09.92 |
| 1 | Men's 4 x 100m Freestyle Relay, Final | 3:09.92 |
| | | |
| --- | --- | --- |
| | Men's 100m Freestyle | 47.85 |
| 16 | Men's 100m Freestyle, Heats | 48.58 Q |
| 4 | Men's 100m Freestyle, Heats, Heat 7 | 48.58 |
| 1 | Men's 100m Freestyle, Semifinal | 47.83 Q |
| 1 | Men's 100m Freestyle, Semifinal, Semifinal 1 | 47.83 |
| 3 | Men's 100m Freestyle, Final | 47.85 |
| | | |
| --- | --- | --- |
| | Men's 50m Freestyle | 21.49 |
| 2 | Men's 50m Freestyle, Heats | 21.61 Q |
| 1 | Men's 50m Freestyle, Heats, Heat 10 | 21.61 |
| 4 | Men's 50m Freestyle, Semifinal | 21.47 Q |
| 2 | Men's 50m Freestyle, Semifinal, Semifinal 1 | 21.47 |
| 3 | Men's 50m Freestyle, Final | 21.49 |
| | | |
| --- | --- | --- |
| | Men's 4 x 100m Medley Relay | 3:27.95 OR |
| 1 | Men's 4 x 100m Medley Relay, Final | 3:27.95 OR |
Total Medal Leaders
Gold

46

USA

| | |
| --- | --- |
| GBR | 27 |
| CHN | 26 |

Silver

37

USA

| | |
| --- | --- |
| GBR | 23 |
| CHN | 18 |

Bronze

38

USA

| | |
| --- | --- |
| CHN | 26 |
| JPN | 21 |
Total Medal Leaders
Gold

5

Phelps

| | |
| --- | --- |
| Ledecky | 4 |
| Biles | 4 |

Silver

3

Hammer

| | |
| --- | --- |
| Manuel | 2 |
| McKeon | 2 |

Bronze

2

Adrian

| | |
| --- | --- |
| Oleksiak | 2 |
| Chalmers | 2 |