2016 Summer Olympics - Athletes
+100kg, open category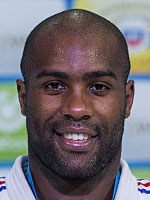 Teddy Riner
Date of birth

1989-04-07
Birthplace

Pointe-à-Pitre
Height

204 cm
Weight

131.0 kg
Olympic Games (2 medals: 1 gold, 1 bronze)
+100kg: 1st (2012), 3rd (2008)
World Championships (9 medals: 8 gold, 1 silver)
+100kg: 1st (2007, 2009, 2010, 2011, 2013, 2014, 2015)
Open category: 1st (2008), 2nd (2010)
European Championships (5 medals: 5 gold)
+100kg: 1st (2007, 2011, 2013, 2014, 2016)
Bestriding the judo world...
French colossus Teddy Riner (2.04m, 130kg) has dominated the sport of judo over the past decade, winning a record 8 world championship crowns and Olympic gold (+100kg) at London 2012.
One of the most popular sportspeople in France, the 27-year-old recently lent his voice to the animated Disney film, "Zootopia". But he remains, first and foremost, a born competitor. In April 2016, he won his 5th European championship title in Kazan.
After sweeping to gold at London 2012, Riner is now fully focused on defending his Olympic title. Success in Rio would guarantee him a place among the legends of the sport, alongside double Olympic champions Hitoshi Saito (1984-1988) and David Douillet (1996-2000).
Results
| | | |
| --- | --- | --- |
| 1 | Men's +100kg, Last 16, Riner v Tayeb | 100 |
| 1 | Men's +100kg, Quarterfinal, Riner v Silva | 010s1 |
| 1 | Men's +100kg, Semifinal, Riner v Sasson | 010s1 |
| | Men's +100kg, Final, Riner v Harasawa | 000s1 |
Total Medal Leaders
Gold

46

USA

| | |
| --- | --- |
| GBR | 27 |
| CHN | 26 |

Silver

37

USA

| | |
| --- | --- |
| GBR | 23 |
| CHN | 18 |

Bronze

38

USA

| | |
| --- | --- |
| CHN | 26 |
| JPN | 21 |
Total Medal Leaders
Gold

5

Phelps

| | |
| --- | --- |
| Ledecky | 4 |
| Biles | 4 |

Silver

3

Hammer

| | |
| --- | --- |
| Manuel | 2 |
| McKeon | 2 |

Bronze

2

Adrian

| | |
| --- | --- |
| Oleksiak | 2 |
| Chalmers | 2 |