2016 Summer Olympics - Athletes
Volleyball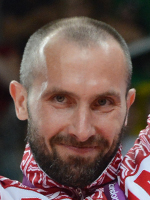 Sergey Tetyukhin
Date of birth

1975-09-23
Height

197 cm
Weight

89.0 kg
Clubs

Lokomotiv Belgorod (1992-1999), Maxicono Parma (1999-2001), Lokomotiv Belgorod (2001-2006), Dynamo Tattransgaz (2006-2008), Zenit Kazan (2009-2011), Lokomotiv Belgorod (2011-)
Olympic Games (4 medals: 1 gold, 1 silver, 2 bronze)
Volleyball: 1st (2012), 2nd (2000), 3rd (2004, 2008)
International honours
World Championships: runner-up (2002)
World Cup: winner (1999, 2011), runner-up (2007)
World League: winner (2002), runner-up (1998, 2000), 3rd (1996, 1997, 2001, 2006, 2008, 2009)
European Championships: runner-up (1999, 2005, 2007), 3rd (2001, 2003)
European League: runner-up (2004)
Club honours
CEV Champions League: winner (2003, 2004, 2008, 2014), runner-up (2011), 3rd (2005, 2006)
FIVB Club World Championship: winner (2014), 3rd (2009)
CEV Challenge Cup: winner (2009), runner-up (2002)
Going out with a bang
At 40 years of age, Sergey Tetyukhin is a living legend of volleyball.
The Russian's record for both club and country speaks for itself: 2 World Cups (1999, 2011), a World League title (2002) and 4 Champions League winners' medals (2003, 2004, 2008 and 2014). He has also found time to squeeze in 10 Russian Championships.
Tetyukhin's experience has seen him return to the national side as Russia prepare to defend their Olympic volleyball crown. The outside hitter (1.97m, 89kg) has an unparalleled record at the Games: gold in 2012, silver in 2000 and bronze in 2004 and 2008. And the doyen of Russian volleyball has every intention of rounding out his stellar career with more Olympic glory in Rio.
Results
No results
Total Medal Leaders
Gold

46

USA

| | |
| --- | --- |
| GBR | 27 |
| CHN | 26 |

Silver

37

USA

| | |
| --- | --- |
| GBR | 23 |
| CHN | 18 |

Bronze

38

USA

| | |
| --- | --- |
| CHN | 26 |
| JPN | 21 |
Total Medal Leaders
Gold

5

Phelps

| | |
| --- | --- |
| Ledecky | 4 |
| Biles | 4 |

Silver

3

Hammer

| | |
| --- | --- |
| Manuel | 2 |
| McKeon | 2 |

Bronze

2

Adrian

| | |
| --- | --- |
| Oleksiak | 2 |
| Chalmers | 2 |