Lewis Hamilton eases to French GP win, Sebastian Vettel fifth after first-lap drama
LE CASTELLET, France -- Lewis Hamilton scored a comfortable victory at the French Grand Prix as his championship rival Sebastian Vettel clashed with Valtteri Bottas at Turn 1 and finished fifth.
Hamilton's lead never looked under threat and the result saw him retake the lead in the championship by 14 points. Vettel, who was penalised five seconds for hitting Bottas at the start, dropped to the back of the field with front wing damage on lap one before slicing his way back through the field to a fifth-place finish.
Max Verstappen finished in second place, seven seconds off Hamilton, but never challenged the Mercedes despite being the first of the front runners to pit. Teammate Daniel Ricciardo had been in the running for third but lost a place to Kimi Raikkonen on lap 47 as the Ferrari driver charged back through the field from sixth on the grid using a faster strategy.
Bottas, who had to pit with a puncture after the collision with Vettel at the start, fought his way back to seventh place with a damaged car and finished just behind the Haas of Kevin Magnussen in sixth. Both cars inherited a position when Carlos Sainz, who had run as high as third at the start, dropped to eighth with a power unit issue.
The Spaniard still managed to finish one place ahead of Renault teammate Nico Hulkenberg in ninth, with Charles Leclerc completing another impressive drive to take the final point in tenth for Sauber.
How the race unfolded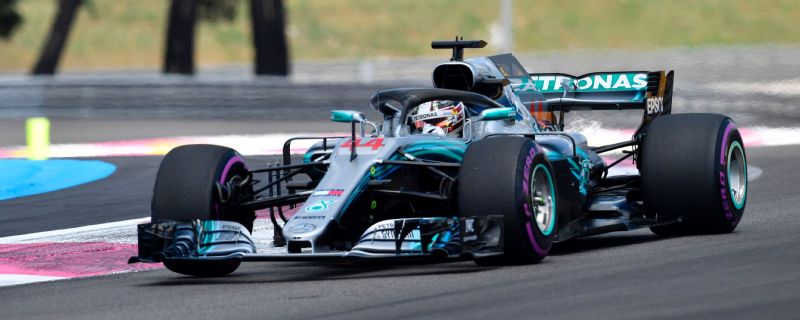 ---
Hamilton made a strong start from pole position but Vettel was the fastest of the top three off the line -- partly thanks to the softer compound tyres fitted to his car. On the long run down to Turn 1 he got his nose alongside Bottas but was boxed in by Hamilton ahead and should have backed out into the first corner. Instead he locked a front tyre, ran deep and collected Bottas, who had taken a wide line and left the Ferrari space on the inside.
The resulting collision decimated Vettel's front wing, punctured Bottas' left-rear tyre and saw chaos ensue behind. Verstappen took to the run-off area and found himself in second as he rejoined the track while Sainz stuck to the track and took third ahead of Ricciardo, Magnussen, Leclerc and Raikkonen. Pierre Gasly and Esteban Ocon collided at Turn 3, spraying even more debris across the track, and race control quickly took the decision to send out a Safety Car.
Vettel and Bottas both made it back to the pits for repairs and a fresh set of soft tyres, but while Vettel was able to take on a new front wing, Bottas' car had to be sent back out with significant damage to the floor. They rejoined at the back of the pack, but when racing got back underway on lap four Vettel made much faster work of the cars in front and was up to fifth by lap 20. Bottas was up to sixth place by lap 34 but made a slow second pit stop on lap 39 and dropped to eighth place before gaining one final position when Sainz had his engine issue.
At the front of the field, Verstappen was the first of the lead cars to pit on lap 25, exchanging a set of super-soft tyres for a set of softs. The timing of the Red Bull pit stop was as defensive as it was aggressive as he emerged just over a second ahead of Vettel, who Red Bull were concerned might attempt a one-stop and undercut him. Ricciardo, on the same strategy as his teammate, pitted three laps later and came out behind Vettel, but the tyre advantage of a fresh set of softs saw him breeze take the Ferrari on the inside at Turn 11.
But while Red Bull pitted relatively early for a second stint on the soft tyre compound to the flag, Ferrari kept Raikkonen out on ultra-soft tyres until lap 34. That gave him a fresh set of super-softs to attack on at the end and he made good use of them to haul in Ricciardo and pass him on lap 47 along the first part of the Mistral Straight.
That move left Hamilton, who had pitted on lap 33, in the lead ahead of Verstappen in second and Raikkonen in third. Ricciardo dropped to fourth but had a comfortable gap to Vettel at the flag as the Ferrari driver pitted a second time after Bottas had also made a second stop and dropped out of his pit window.
The win not only gives Hamilton a 14-point lead in the championship, it also sees a swing in relative performance back to Mercedes just two weeks after Ferrari looked like the team to beat in Canada. With two races coming up in the next two weeks, Ferrari will look to hit back at both the Red Bull Ring and Silverstone while Mercedes will be keen to hammer home their new-found advantage.