The 2019 Royal Rumble is the starting point for WrestleMania season. By the end of Sunday night we'll know at least two title challengers for the biggest WWE show of the year, and probably a great deal more than that.
Going into the main card, one title has already changed hands. Five more will be on the line over the course of the night, including the top four titles on Raw and SmackDown, but the most attention will be paid to the men's and women's Royal Rumble matches.
Tim Fiorvanti is live at Chase Field in Phoenix, with coverage supplemented by stats and insights from Sean Coyle and Matt Willis.
This story was updated in real time.
---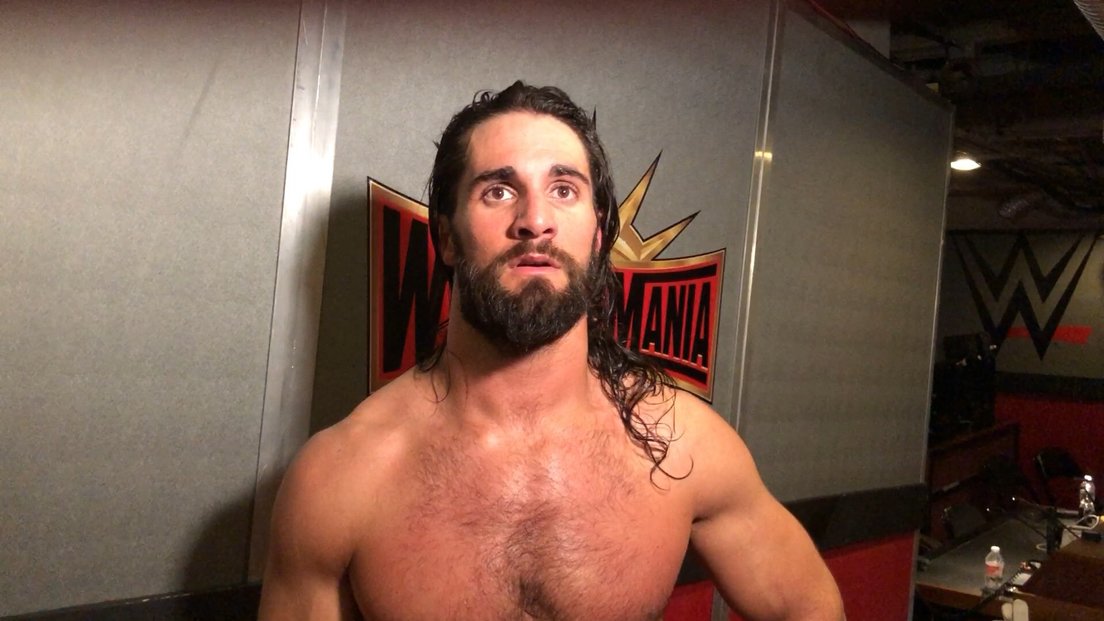 Seth Rollins' instant reaction after winning the 2019 men's Royal Rumble match.
The men's and women's Royal Rumble matches are two of the most exciting matches on the calendar year. Not only do surprise entrants create unexpected situations, but WrestleMania implications are tied directly to it as its winner earns a spot in a championship match at WrestleMania.
This year's men's version featured a number of potential scenarios on the road to WrestleMania with top tier names, including Seth Rollins, Drew McIntyre, Braun Strowman and Randy Orton all vying for a title opportunity.
Elias kicked things off as entrant No. 1 and the first surprise came right right out of the gate at No. 2. WWE Hall of Famer Jeff Jarrett returned to the Royal Rumble match for the first time since 1999. The two teased singing a duet, but Elias caught him with a cheap shot, cracked a guitar over his back and tossed him over the top rope right before last year's Rumble winner, Shinsuke Nakamura, entered at No. 3. Nakamura was followed by another Hall of Famer in Kurt Angle, who was eliminated by Nakamura five minutes later.
Another surprise came at number six when the new NXT North American champion Johnny Gargano entered the match. Gargano made quite an impact when he eliminated the number seven entrant and former WWE champion, Jinder Mahal.
Two favorites entered the match at Nos. 8 and 10 when Samoa Joe and Rollins made their entrances, respectively. Joe tossed out Big E in quick fashion while Rollins eliminated Elias.
Kofi Kingston arrived at No. 12 and it was only a matter of time before he added another athletic Royal Rumble achievement to his list. Dean Ambrose, who entered at No. 14, tossed Kingston over the top rope, but Kingston managed to keep his feet pressed against the ring apron. There was no replay, so it was possible both feet touched. Nevertheless, he proceeded to tumble himself toward the steel ring steps with his feet draped on the ring apron and re-enter the ring.
McIntyre entered at No. 16 and unleashed multiple Claymore kicks to quickly take control of the match. He then assisted with another Kingston moment as Xavier Woods made his way to the ring. McIntyre tossed Kingston onto Woods, who caught him in an odd sunset flip-type of position and carried him back to the ring. When they both re-entered, McIntyre instantly clotheslined them both out.
Three glimpses of the promising future of pro wrestling came at Nos. 18, 19 and 21 when WWE UK champion Pete Dunne, Andrade and Aleister Black arrived and all put together some nicely designed sequences with other members in the ring. Black made the biggest impact of the three when he eliminated Dean Ambrose.
Big names, including Jeff Hardy, Rey Mysterio and the Intercontinental champion Bobby Lashley, entered at Nos. 24, 25 and 26, respectively. Lashley was eliminated in mere seconds by Rollins and an angry Lashley pulled Rollins out of the ring under the bottom rope and slammed him through the announcers table. Rollins would lay in that spot for the next 15 minutes.
Braun Strowman entered at No. 27 and immediately eliminated of Baron Corbin and Shelton Benjamin, but it was the next entrant that made one of the biggest eliminations of the match. Dolph Ziggler entered at No. 28 and, with Strowman's assistance, eliminated McIntyre.
Randy Orton arrived at No. 29 and squared up with Strowman. Strowman caught Orton with a power slam before assisting Andrade, Ali and Mysterio with a stacked version of an avalanche suplex from the top rope.
A big surprise came at No. 30 when R-Truth attempted to enter the match. He was attacked from behind by Nia Jax, who like Beth Phoenix, Chyna and Kharma before her, entered the men's Royal Rumble match. She recorded an elimination on Mustafa Ali before being super kicked by Ziggler, hit with a 619 by Mysterio, RKO'd by Orton and then ultimately eliminated by Mysterio.
The final four featured Andrade, Ziggler, Strowman and Rollins. Andrade was tossed out first by Strowman, followed by Ziggler shortly after.
With Rollins playing the major underdog to Strowman, the two battled until both ended up over the top rope and standing on the ring apron. Rollins tossed Strowman into the ring post, then executed his curb stomp finisher to sent Strowman onto the floor.
The most logical possibility is that this sets up a Rollins-vs.-Lesnar Universal championship match at WrestleMania. The match would be a callback, of sorts, to WrestleMania 31, when Rollins cashed in his Money in the Bank contract during Lesnar's match with Roman Reigns to become WWE champion. There's an outside chance Rollins could choose WWE champion Daniel Bryan as his opponent, but all signs point to an Architect versus Beast showdown.
When Finn Balor emphatically said he would not be donning the Demon persona against Brock Lesnar in the lead up to his Universal championship match at the Royal Rumble, fans of Balor responded with a metaphorical groan.
In all of his successes in big matches to date, Balor wore the paint and showed an extra burst of aggression on the way to victory. Most were resigned to the inevitability of another Lesnar win and another Balor failure on a big stage. For one fleeting moment on Sunday night, though, Balor seemingly had a glimmer of hope as he broke down Lesnar's ribs and then landed his patented Coup de Grace -- but then it was only worth a two-count.
Lesnar quickly rolled that setup into a kimura, locked the hold in and earned a submission victory. This wasn't quite at the level of Daniel Bryan's challenge of Lesnar at Survivor Series, and while Balor will be left to search for solutions moving forward, it wasn't a case of pure decimation by any means.
Balor brought the fight early, but Lesnar sent Balor flying out of the ring. Balor got ragdolled all over ringside, but found his opening in sending Lesnar ribs-first into the corner of a commentary table. It was an advantage Balor cashed in on throughout the match.
Lesnar still suplexed Balor all over the ring and ringside, but along the way his chain of German suplexes was hurting him as much as it was hurting Balor. A brief flash of offense led to an almost blindingly fast successful coup de grace, but it was simply not meant to be on this night.
After the bell, Lesnar went back to the well three times, hitting a trio of German suplexes and an F-5 to a loud chorus of boos. Balor won't be the one to end the run of Lesnar this time around, but he may be more likely to consider the demon next time if he wants to get the job done.
For nearly a year, AJ Styles dominated the landscape on SmackDown Live as WWE champion, but a Daniel Bryan low blow and swift heel turned Tuesday nights into a Daniel Bryan showcase.
Five years ago, Daniel Bryan owned the road to WrestleMania as the everyman hero that the entire WWE fan base got behind. Now, he's the preachy environmentalist, the "New Daniel Bryan," he's grating those same fans who were so passionately behind him now long ago.
Meanwhile, he has pushed Styles to a more-edgy place, with a little push from Vince McMahon, who enraged Styles into throwing a right hand to the Chairman last month.
After the show these two put together in their last singles meeting at TLC in December, a Bryan win in a nearly 25-minute match, the bar was set high going into their Royal Rumble match.
Coming off an emotionally exhausting ride with Becky Lynch winning the Royal Rumble moments before, this one started slow as the two jockeyed for position, with a multitude of arm drags and chin locks.
But Bryan took control after Styles hit the ring post, injuring his chest and left arm. At this point, Bryan's technical expertise took over as he picked apart Styles -- the highlight being a double underhook seamlessly turned into a submission attempt.
Styles' comebacks were cut off time and time again, as Bryan hit a nasty-looking dragon suplex and kicked Styles off the apron when Styles attempted to reverse a top-rope hurricanrana into a Styles Clash attempt.
On the outside, the pace picked up. Styles moonsaulted off the barricade and landed in perfect position for a reverse DDT on Bryan. Bryan got the knees up on a springboard 450 attempt, but his LaBell lock attempt turned into a calf crusher, broken when Bryan reached the ropes.
Bryan kicked the arm out from under Styles, but Styles landed on his feet after an avalanche back suplex attempt, and locked in the Calf Crusher once again. Bryan escaped and hit a brainbuster, leaving both laying on the mat.
The two were left laying after a desperation Pele kick from Styles, and then when things just got puzzling.
Erick Rowan appeared from who knows where, not seen on WWE TV since August, and stood ominously at ringside. Bryan attempted an enziguri, but Styles ducked and instead the referee was hit. Rowan used that opportunity to come in, hit his face-grasping slam on Styles and handed an easy three count to Bryan.
It was a disappointing ending to a well-worked match. It seems like Rowan is standing as Bryan, perhaps hired, environmentally-friendly muscle. If this is the end of the Bryan-Styles feud, the ending didn't seem to do the build justice. But if it gets Bryan even more heat heading to WrestleMania, then it could lead for better storytelling.
Becky Lynch wins women's Royal Rumble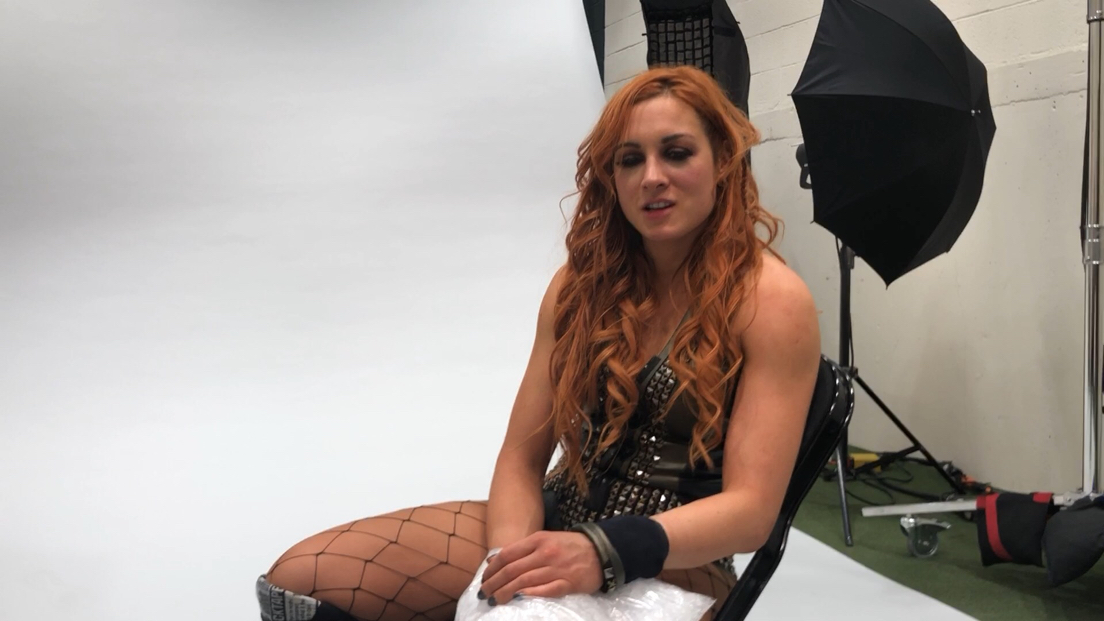 Becky Lynch's instant reaction to winning the women's Royal Rumble match.
Last year's inaugural women's Royal Rumble match was memorable. The match closed out the show and did so in grand fashion: Asuka won and Ronda Rousey made her WWE debut after the match.
The second go around possessed just as much intrigue as the first.
The first entrant, who took part in her first main roster match Sunday night, was Lacey Evans. She matched up with Natalya to start off the match and it was Natalya who recorded the first elimination of the night when the fourth entrant, Liv Morgan, entered the ring and was tossed over the top rope in mere seconds.
As the match moved along, many memorable moments unfolded. When the eighth entrant, Nikki Cross, stormed to the ring and knocked down Billie Kay, who was standing on the ramp, she ascended the top turnbuckle and performed a cross-body block onto five other superstars.
The 10th entrant was Tamina, who recorded the second elimination of the night when she tossed out Mickie James. Immediately after the elimination, we had our first surprise entrant of the night at No. 11 when Mae Young Classic competitor and NXT superstar Xia Li entered.
One of the favorites to win, Charlotte Flair, arrived at No. 13 and instantly took control. Her first elimination was Li, who tried to springboard into the ring from the apron, but was caught by a boot from Flair.
Our first Kofi Kingston moment occurred when Mandy Rose, who was eliminated by Naomi, attempted to illegally power bomb Naomi out of the ring. Naomi twisted and managed to balance herself on the barricade without her feet touching the ground. She performed a balancing act and jumped across to the steel ring steps, avoiding the ground. Unfortunately, Rose was waiting when she finally looked to be safe and pulled her off the steps, eliminating her.
Two more surprises came at Nos. 17 and 19 when two more NXT superstars, Candice LeRae and Kacy Catanzaro, entered the match. LeRae and Zelina Vega, who entered next, reignited their heated NXT rivalry. The former American Ninja Warrior star Catanzaro thrilled the crowd with another Kingston moment when it appeared she had been eliminated, but walked on her hands to the ring post and climbed up to re-enter.
Ruby Riott entered at No. 20 and was flanked by Morgan and Logan, who also had already been eliminated. They remained at ringside and started pulling superstars out of the ring and softening them up to allow Riott to officially eliminate them, a strategy we hadn't seen in a Royal Rumble match before. During the chaos, Vega snuck under the ring, but more on that later.
One of the Riott Squad victims was Kairi Sane, but at No. 23, Io Shirai arrived and delivered a perfect moonsault from the top rope to the outside of the ring onto the trio.
Yet another surprise came at No. 24 when Rhea Ripley, the first NXT UK women's champion, entered and began to make an impact using power moves. She tossed out Dana Brooke and then Vega reappeared from under the ring, but she wasn't alone. Hornswoggle, who has always been known to have a home under a wrestling ring, was right next to her, much to her chagrin. Hornswoggle chased Vega back into the ring and Ripley had herself another elimination.
Alexa Bliss and Bayley arrived at Nos. 26 and 27. Bliss eliminated Sonya Deville while Bayley tossed out both Riott and Ripley. However, it was No. 28 that proved to be the turning point of the match. Lana attempted to enter, but could not make it to the ring due to an ankle injury suffered during her husband Rusev's kick-off show match. As Nia Jax, who entered at No. 29, made her way to the ring, she added to Lana's injury with an ambush. Carmella entered the match officially at No. 30, and shortly after Becky Lynch, who lost to Asuka in the opening match, emerged to take Lana's spot.
The final four participants were Lynch, Flair, Bayley and Jax. Bayley was eliminated first when she was atop Jax's shoulders for an apparent Samoan drop. However, Flair connected with a boot to Bayley sending her off Jax's shoulders to the outside. Lynch was sent under the ropes to the outside and helped Flair eliminate Jax by pulling her from the outside off the apron. As Lynch prepared to re-enter the ring, Jax pushed her and caused an apparent knee injury. She hobbled back into the ring and Flair immediately went to work on the leg.
Lynch fought back, but Flair stayed persistent in her attack. However, when Flair attempted to deliver a boot, Lynch ducked and sent Flair over the top rope. One clothesline later sent Flair to the ground and Lynch was the 2019 women's Royal Rumble winner.
While it is unconfirmed at the moment, it appears that the highly anticipated potential main event-level bout between Lynch and Rousey is ready to close out WrestleMania.
There was a strange energy inside of Chase Field just before the bell rang for the Raw women's championship match at the Royal Rumble. Fans were collectively excited to see the match, but the feelings for Ronda Rousey were decidedly mixed.
There was a vocal contingent of Rousey fans, but the support of Becky Lynch has stretched so far that the spectre of Lynch finally getting a chance at Rousey turned other parts of the crowd against the Raw women's champ. At the same time, there were plenty of Sasha Banks supporters, but even as different sections of the crowd got louder or more quiet, there was a buzz to see how everything would play out.
Rousey and Banks battered each other from pillar to post, each taking out an arm of their opponent, but in the end Rousey absorbed everything Banks had to give and held on just a little bit longer to secure the victory. Despite the intensity and level of physicality in the match, the lasting image of this match happened after the bell. As Rousey shook Banks' hand, Banks pulled away and put up the four-finger hand salute of the Four Horsewomen -- a moniker that the NXT quartet of Banks, Lynch, Charlotte Flair and Bayley use, but also one Rousey and her trio of compatriots currently in NXT have utilized.
As far as the match went, there was no pulling punches at any point in the contest. Rousey embraced the role of the heel early on as she mocked Banks by pulling out Eddie Guerrero's "three amigos" trio of suplexes. Banks stifled that combo, though, and managed to control a good chunk of the match with flying knees, kicks and punches -- anything that could hit.
Banks eventually got cocky, though, and that allowed Rousey to roll through with a swinging neckbreaker that looked truly brutal. From that point on, both in and out of the ring, Rousey and Banks traded submission attempt after submission attempt. Rousey caught a suicide dive at one point and got Banks to tap out on the outside -- highlighting Rousey's inexperience and lack of situational knowledge, as that tap out would not ultimately count.
Banks got control back once action returned to the ring, and locked in a modified surfboard stretch that look agonizingly painful. Both women attacked from creative angles, but both worked most of the tail end of the match clutching one of their arms. They modified their offense in kind, though, and Banks seemingly had the match on a razor's edge by utilizing part of her ring gear to lock in the Banks statement.
Rousey resisted, though, and while Banks rolled through to the middle of the ring and trapped Rousey's arm, the champion rolled through and hit a combination suplex and powerbomb. She picked Banks up, spun her around and dropped Banks on her head to secure the win.
The suggestion that a battle of the four horsewomen is palpable, but we'll have to wait until the end of the women's Royal Rumble to see the picture a little more clearly.
SmackDown tag team championships: The Miz & Shane McMahon def. The Bar (c)
Before Sunday night's challengers joined forces, the SmackDown tag team division was strong. The addition of the compelling combination of The Miz and Shane McMahon has increased it even further. The unlikely duo found themselves in a position to capture the SmackDown tag titles just a month after establishing themselves as a team. Their partnership was built on the basis of Miz living up to his father's expectations, a feeling McMahon knew all too well.
Would the shiny new toy or well-oiled two-year experienced team prevail?
The match began with McMahon spearing Sheamus to kick things off in intense fashion and the early sequences maintained that tempo with a lot of back and forth action. The first big spot of the match occurred when McMahon appeared ready to perform one of his patented elbow drops from the turnbuckle onto Cesaro who was lying on the announcers table. Miz was holding down Cesaro, but Sheamus interfered and Cesaro broke free.
McMahon, still perched on top of the ropes, changed his target and hit a top rope clothesline onto Sheamus.The advantage didn't last long, however, and the Bar took control back inside the ring with a number of double-team tactics on The Miz.
Eventually, Miz made the hot tag to McMahon and unleashed a flurry of strikes onto Sheamus. A few sequences later, McMahon had both Sheamus and Cesaro set up in the middle of the ring and appeared poised to deliver his patented coast-to-coast dropkick. However, as jumped off the turnbuckle, Cesaro caught him mid-flight and performed an extended version of the Cesaro swing. After the swing, McMahon immediately turned the tides locked in a triangle choke, but flying knee by Sheamus off the top rope broke the hold.
In an effort to close out the match, Cesaro held Shane up to allow Sheamus connect with a Brogue kick, but Miz shoved Cesaro in front of the kick and caught Sheamus with a skull-crushing finale and rolled him out the ring.
As Cesaro laid in the middle of the ring, McMahon hit a beautiful shooting star press and secured the championships for his team and the two celebrated with the ringside Mr. Mizanin.
Will the Miz and McMahon duo flourish now that they have the straps or will the pressure of being the top team in a stacked division be too much? Many predict that their partnership will derail heading toward WrestleMania. Time will tell.
SmackDown Live women's championship: Asuka (c) def. Becky Lynch
When you're building a major show the size and scale of Royal Rumble, you need something to kick the card off with a bang.
By starting the show with the SmackDown women's championship match, WWE accomplished a few things at once. It got an electric reaction for Becky Lynch, it got a tremendous match and, most importantly, a shocking result that did wonders for both women involved.
Some might question Asuka defeating Lynch -- likely the most popular star of the moment -- cleanly in the middle of the ring. To those in opposition, there may yet be a sound explanation by the end of the night. In the meantime, there's no doubting the reclamation project for Asuka is complete heading into the busiest time of year.
From the opening bell, this title clash was a stiff, technical affair. Lynch shook off some brutal kicks from the beginning, and that set the tone for everything to follow. Asuka certainly got her shots in, but Lynch easily gave as good as she got. A Bex-ploder suplex into the ring barrier was an indicator of just how far and how hard these women were willing to go in this match.
Asuka and Lynch flew all over the ring, used every part of the ring to batter each other back and forth, and each struggled to get a definitive edge until the match started to peak. Everything hit another level when, after a major struggle on the apron ended with a brutal-looking fisherman's neckbreaker by Asuka that sent both women crashing to the ground.
As they slowly climbed to their feet, they traded open-handed slaps and stared death into each other's eyes. Lynch blocked a backfist, but couldn't quite turn it into a Dis-arm-her. A top rope Bex-ploder only got a two count, and a follow-up top rope leg drop missed.
Asuka was able to sink into the Asuka lock, but then turned it into a dis-arm-her. Lynch responded by stealing Asuka's submission, but it all spun into a pinfall attempt. Finally, as Lynch and Asuka each fought to lock in their signature submissions, Asuka finally got the upper hand. When the Asuka lock wasn't quite enough, she flipped over on her head and put Lynch in what I can only describe as a variation of Daniel Bryan's old pre-WWE finisher, but that was enough to get the win.
Let the speculation of Lynch being in the women's Royal Rumble begin, but for now, Asuka picked up a signature win, to say the least.
Kickoff show:
Cruiserweight championship: Buddy Murphy (c) def. Akira Tozawa, Hideo Itami and Kalisto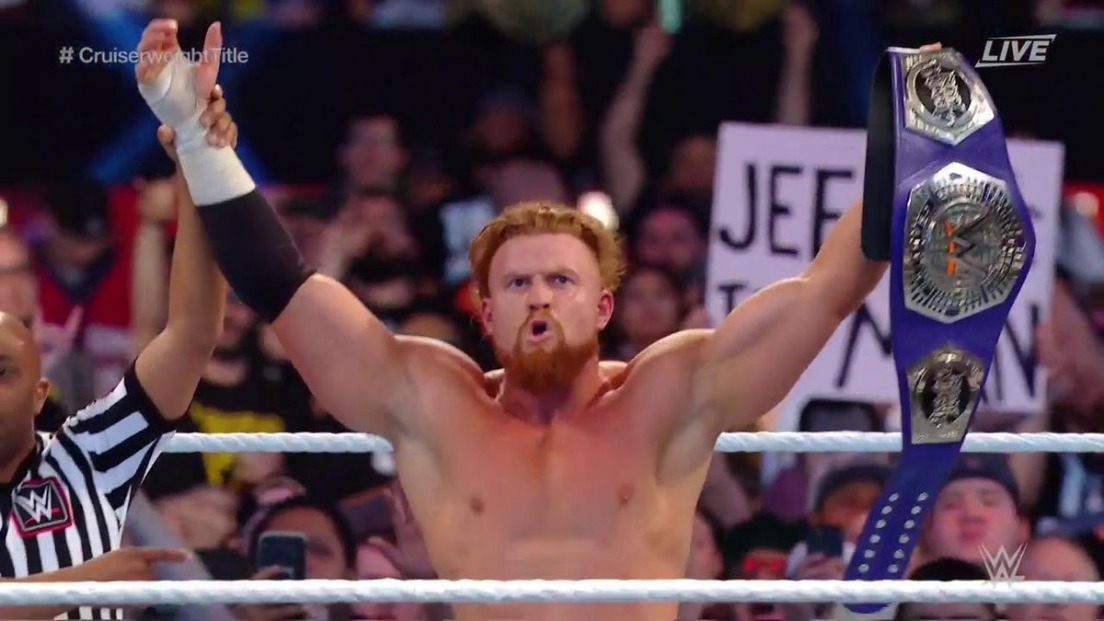 In a match that featured the creativity and acrobatics you would hope for in a four-way Cruiserweight Championship match, Buddy Murphy pinned Hideo Itami to retain his title in a match that also involved Akira Tozawa and Kalisto. The finish came via a Murphy's Law, after a crazy sequences of knee strikes and stiff blows between all four competitors. The match might not have been on the main card, but if that was the reason they got 15-20 minutes to shine, then it was well worth the pre-show placement. (Photo from @WWE205Live)
United States championship: Shinsuke Nakamura def. Rusev (c)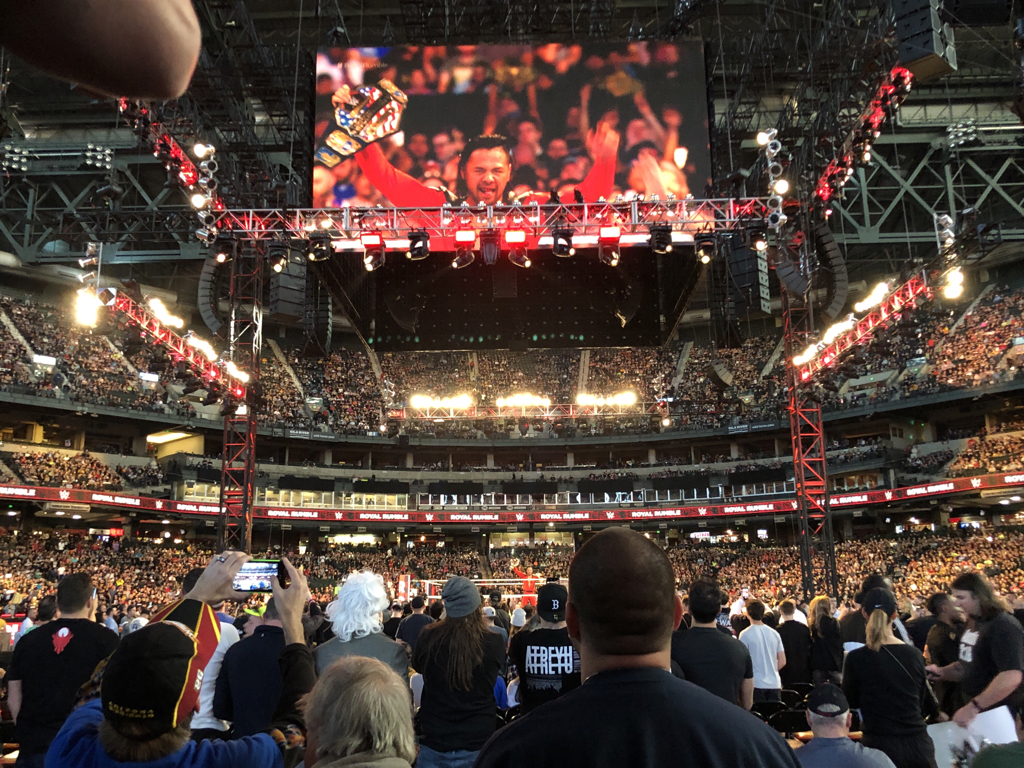 Just over a month after losing the United States championship to Rusev on SmackDown, Shinsuke Nakamura regained that title on the Royal Rumble Kickoff. The end of the match saw Nakamura remove the top turnbuckle cover, which brought Lana up to the apron to complain. The distraction led to a sequence in which Nakamura tricked Rusev, slipped out of the way and caused Rusev to crash into Lana - the second time he's done so in recent weeks. In the confusion, Nakamura hit a Kinshasa knee and earned a pinfall victory.