These daily files will give you the latest reporting from around the World Cup as well as betting lines, what to watch for information and best reads. Check in with ESPN throughout the tournament as we bring you the latest from France.
- RUGBY WORLD CUP 2023: Squads | Schedule | Standings | Podcast | Injuries
---
THE LEAD: FIJI'S RUGBY CHAMPIONSHIP CLAIMS FAST BECOMING IRRESTISTABLE
They are reluctant to demand it themselves, so it's a good thing Fiji's performances are doing their Rugby Championship bidding.
Just a few weeks after they knocked over England at Twickenham, Simon Raiwalui's side produced an inspired performance to down the Wallabies 22-15 at Rugby World Cup 2023, blowing Pool C wide open and putting the spotlight firmly on Eddie Jones and his 1-6 team.
How much longer, then, can SANZAAR powerbrokers deny the Rugby Championship claims of Fiji? For Sunday night's effort was no flash in the pan, no throw-the-ball-around-and-hope-the-offloads-stick; it was a victory that belied their status as a "developing" rugby nation. It was a performance that not only took apart the Wallabies in nearly every facet of the game, but one that would have severely tested any of world rugby's "big four".
SANZAAR last expanded the Rugby Championship from the Tri-Nations in 2012, welcoming in Argentina, who have gone on to record historic wins in South Africa, Australia and finally last year, New Zealand, albeit with plenty of tough losses at home and away across that period.
But 11 years on, at what point do we keep standing in the way of progress? Anyone who was privileged enough to be in the stands in Saint-Etienne on Sunday evening or has looked on in jealously at the atmosphere at Fijian Drua home games the past two years, will surely sing the Fijians' praises.
Even if coach Raiwalui isn't one to get carried away.
"It's always about being included in those competitions but today was not about that, today was about winning this game and staying alive in the tournament," Raiwalui said when posed the Rugby Championship question.
"We have had that mindset from the beginning, if we do things right and prepare right we will be in every match. Yes, we want to be involved in those things moving forward but today is about today.
"If you get consistent results the rewards will come. Other teams are pushing for that as well. If a new tournament comes in, if those matches become available we have our hand up, we are ready.
"Fiji are likely to be added to the new Nations Championship, which is set for its first run in 2026, but that carries no guarantee that they will also be added to the Rugby Championship.
Sadly, Japan haven't progressed as many hoped they would post their home World Cup four years ago. But can you imagine the drama and tension if either the All Blacks or Springboks had to go to Lautoka or Suva on a sweaty Saturday afternoon in the search of a bonus-point win, and Fiji produced a performance of the same quality they delivered in Saint-Etienne?
It would be brilliant. And Wallabies coach Eddie Jones, who assumed the blame for Australia's seven-point defeat, is certainly in the Fijians' corner.
"Well, I'm not an administrator, mate, but all I can say is that they've got a quality team, they're well coached and they're a team at the end of their cycle," Jones said. "They've got a very experienced team; guys probably close to their peak, [whereas] we're at the beginning of our cycle.
"But I thought they played really well and the good thing for Fiji now, the development of the Drua in bringing those young players through like the hooker [Tevita Ikanivere] who comes on in the second half, he's a quality player. And he's become a quality player through training fulltime with the Drua and also playing with the Drua at a higher level.
"And I think that's the real benefit for Fiji rugby. And if they can keep growing that, keep growing that system, there's no reason why they can't be in the Rugby Championship."
Raiwalui, who was part of the Wallabies' setup under former coach Michael Cheika, has clearly worked wonders with this Fijian group. But it is not in the gentle 49-year-old's nature, nor that of the Fijian people, to aggressively pursue something which many others may believe they deserve.
But more performances like their 22-15 will keep banging on the door on their behalf -- here's hoping soon enough they bust it down.
---
AROUND THE CUP
Springboks experiment a success
Naming four halfbacks in their 23 to face Namibia, including Faf de Klerk at fly-half and Grant Williams on the wing -- where he scored two tries -- as well as flankers playing hooker, the Springboks experiment went off without a hitch.
De Klerk showed his class playing in a much different role from his usual place at the ruck when he came off the bench while Cobus Reinach, who wore the No.9 jersey, scored a hat trick of tries, alongside wing Makazole Mapimpi. Williams added a double to his name when he finished off several slick moves on the wing.
The most interesting positional experiment though came in the front row with flankers Deon Fourie and Marco van Staden shifting into hooker throughout the match.
With Malcolm Marx ruled out for the remainder of the tournament and coach Jacgues Neinaber calling-up fly-half Hanrde Pollard as his injury replacement, the side have just one recognised hooker remaining in the squad in Bongi Mbonambi.
According to Neinebar and the blown out scoreline, the positional experiment was a success.
"I'm especially happy with a couple of things we tried," Nienaber added. "The three different hookers that we used, I thought that paid off.
"Then Faf got some exposure at fly-half so I thought a lot of things that we wanted to get out of the game, we got.
"We're happy from a defensive point of view, the fact it went to 76 points to zero conceded. Sometimes the scoreboard goes for you but the effort was there and that's what mattered."
The Springboks will have a much tougher assignment next week however when they take on top ranked Ireland at Stade de Fance in Paris in what's considered one of the biggest matches of the tournament with the result determining who will play either France or New Zealand in the quarterfinal.
-- Brittany Mitchell
Sopoaga pleas for return of childhood treasure
Samoa playmaker Lima Sopoaga has pleaded for the return of his kicking tee after it went missing following his team's win over Chile on Saturday in Bordeaux.
The 32-year-old took to X [formerly Twitter] calling for the safe return of the tee as it holds sentimental value being the tee he's used since he was 14.
"Could whoever took my goal kicking tee from the field please give it back to me. I'll even pay you for it. I've had it since I was 14 years old," the fly-half posted.
World Rugby have also joined the appeal, offering merchandise in exchange for the safe return of the tee.
Sexton deserving player to reach historic milestone
In the midst of Ireland's impressive 59-16 win over Tonga, there was a milestone. Johnny Sexton's try just before half time saw him surpass Ronan O'Gara's 1,053 points total and become Ireland's record points scorer. The try saw celebrations from the players and coaching staff in the stands, knowing what it meant to the man who continues to set standards at fly-half even at the age of 38 years old.
This will be Sexton's last World Cup -- and whenever Ireland's final kick or pass in anger comes, it will mark the end of the great fly-half's career. He will retire after the tournament, but it's testament to both him and those around him that he continues to excel despite the looming curtain call.
"He deserves it," fellow Ireland fly-half Ross Byrne said of Sexton. "He's been absolute incredible. He's got plenty more to go in the next few weeks. The longevity is incredibly impressive. Remarkable."
Sexton has battled back to full fitness from injuries throughout his career but Andy Farrell knows the strength of his character having worked with him both with the British & Irish Lions and now as Ireland head coach.
"The record's fantastic but he'd say that's his job. But it takes some doing," Farrell said.
"To us, as a leader and as a player, he's a lot more than a points-scoring machine. How he prepares his team and gets them up for absolutely every game selflessly is more important to him and to us."
Sexton looked overjoyed as he scored his try in the 38th minute, also securing the bonus point in the process. But post-match, it was back to business and the next challenge. He wouldn't have it any other way. "It's something when you retire you can look back on and be very proud," Sexton said. "My little boy will be very proud. He was talking about it during the week.
"It's there to be broken now and I'm sure there'll be some young guys eyeing it up. I'm very proud but tonight it was more important to get the win."
-- Tom Hamilton
---
NEWS OF THE DAY
Wallabies injury woes worsen
The Wallabies injury woes have worsened after it was finally revealed Will Skelton will not be available for the Wallabies must-win clash against Wales next week, alongside prop Taniela Tupou, after the towering lock was ruled out just minutes from kick-off in his side's historic loss to Fiji in Saint-Etienne.
Suffering a calf injury at training earlier in the week, Eddie Jones stated he would give his captain up until kick-off to prove himself fit to play. But spotted heavily strapped and in a moonboot as his teammates warmed up it was clear Skelton never had a chance of appearing against Fiji and would be racing the clock to make another appearance at the tournament if the Wallabies manage to win through to the quarterfinals, which is looking unlikely given their recent performance.
Australia crashed to historic lows on Monday morning [AEST] after they were punished by a slick Fiji side that showed they were a team that had shed themselves of the many issues that had plagued them over the past decades, showcasing an impressive set-piece game and an ability to produce a full 80-minute performance.
-- Brittany Mitchell
Pollard gets his World Cup chance
Missing the original World Cup squad through a calf injury, Springboks fly-half Handre Pollard has been called up as an injury replacement for hooker Malcolm Marx, the Springboks have confirmed.
The decision to call up Pollard means the side have just one recognised hooker in Bongi Mbonambi. But they have Deon Fourie -- who usually plays in the back-row -- available to cover hooker while flanker Marco van Staden can also play there.
---
TOP FEATURES OF THE DAY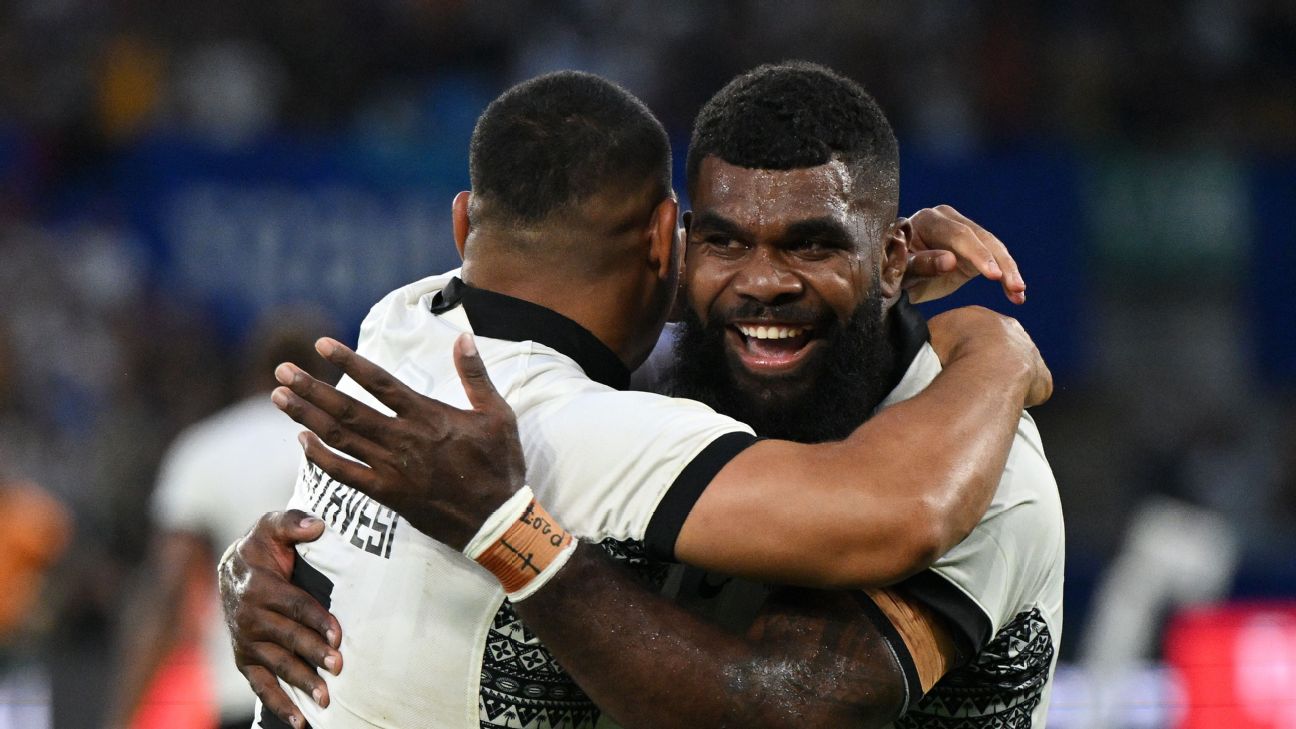 Magnificent Fiji generate a Wallabies implosion at Rugby World Cup
Fiji's perfect performance makes history as they dismantle a lacklustre Wallabies side who need to go back to the drawing board.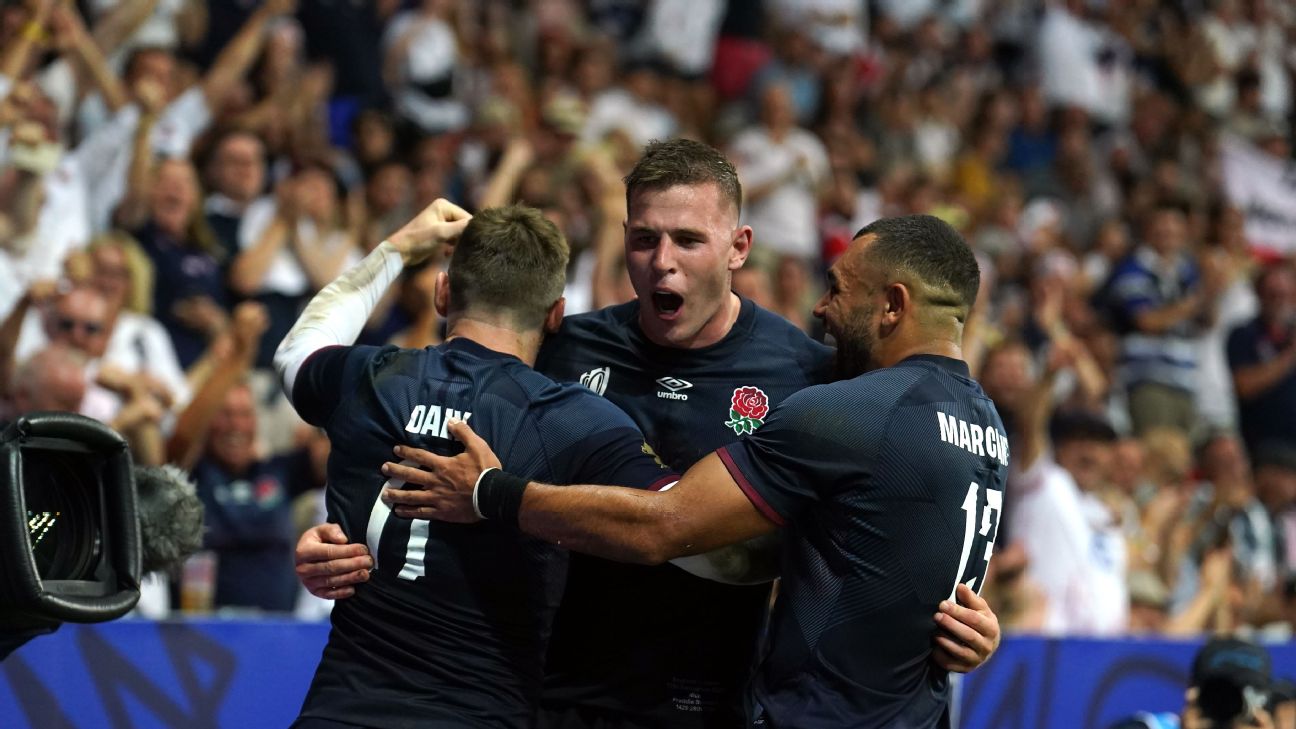 It wasn't pretty but England won't lose sleep over it
It was scrappy, at times fractious, but England won't care a jot as they reflect on a job done against Japan.