It's not hyperbole to say there were plenty of early signs suggesting Peyton Manning would one day finish atop the all-time yardage list. In his first NFL game, on Sept. 6, 1998, he threw for more than 300 yards. If you add up all of Manning's completions since then -- every dump-off to Edgerrin James, every bomb to Demaryius Thomas -- they'd cover a 40.7-mile span. That's three times the length of Manhattan, and enough for Manning to break Brett Favre's all-time mark of 71,838 career passing yards.
Here's a look at how Manning did it and what records might be next on the 39-year-old's list.
---
Remember when there was legitimate debate about taking Manning with the No. 1 overall pick? That didn't last long, as Peyton proceeded to lead the NFL in passing in two of his first six seasons. Not bad. And how about this: From 1920-2003, only one player in the history of the league (Dan Marino) had ever thrown for 4,000 yards in six consecutive seasons. Manning matched that number by the time he was 27. The one blip in Manning's march to 71,839 yards came in 2011, when he missed the entire season while recovering from a neck injury.
---
Yards By Season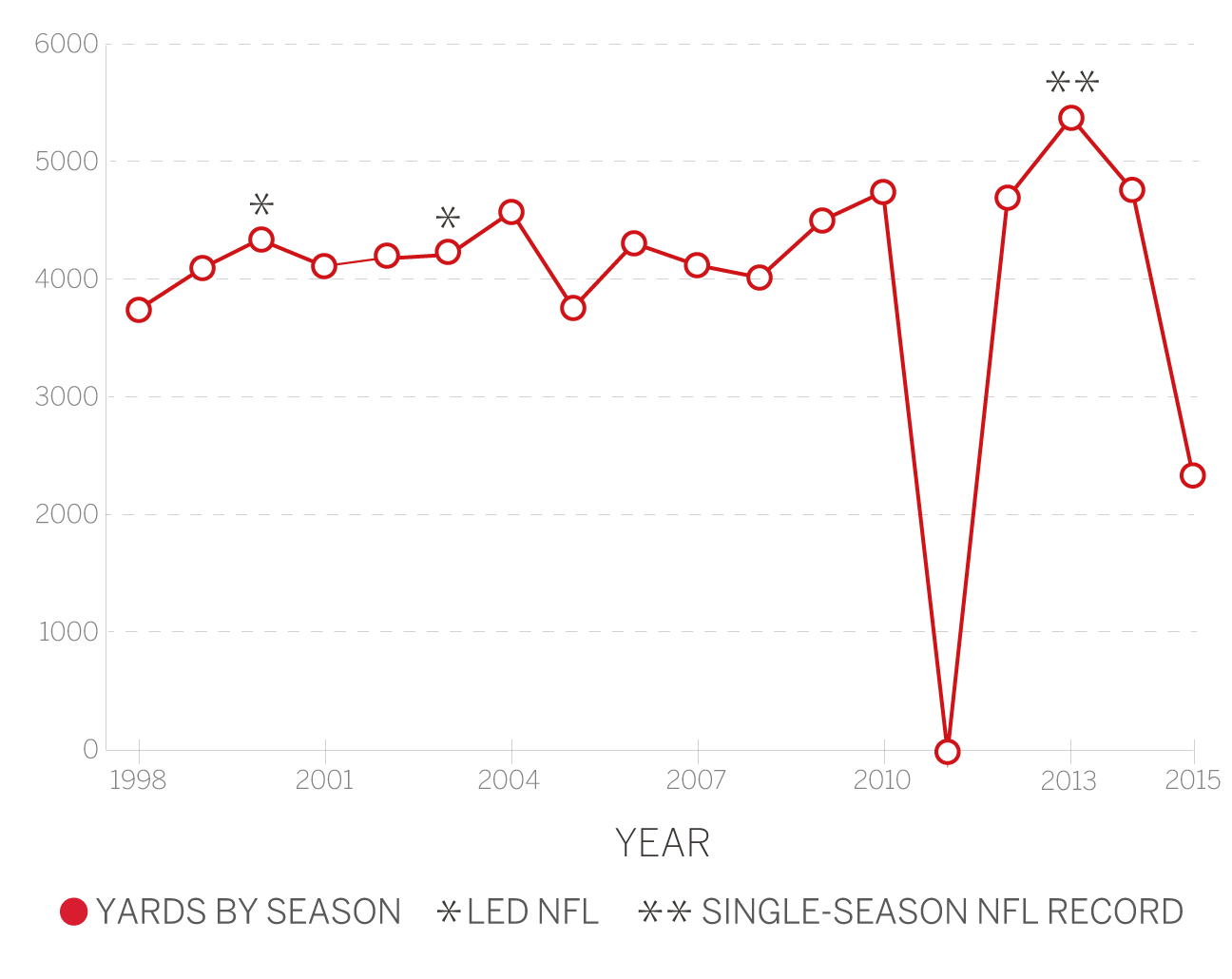 Marvin Harrison and Reggie Wayne rank seventh and eighth, respectively, in career receiving yards -- and more than 80 percent of their 29,925 combined yards started with a pass from Manning. Perhaps what's most incredible is what the QB has done with Thomas in such a short time. The 6-foot-3 Thomas has gained 5,236 yards on Manning's throws in 57 games. That pace (91.9 yards per game) exceeds what Manning was able to do with both Harrison (80.7 ypg) and Wayne (67.5 ypg).
---
Most Yards By Player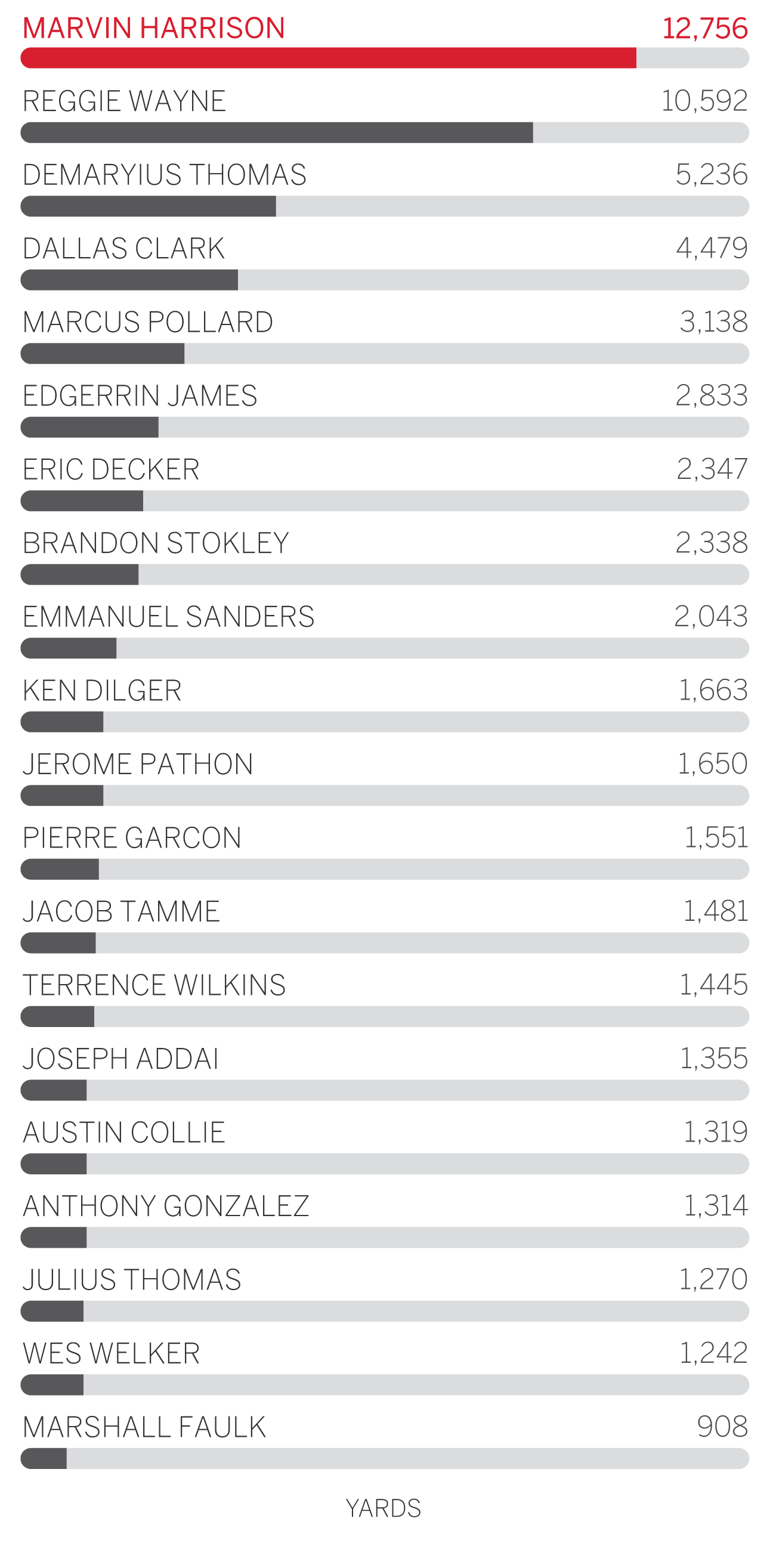 Manning's longevity is a major reason he reached 71,839. He has missed just 16 games in his 18-year career (all coming in 2011). And according to Elias Sports Bureau research, there are only two other active NFL players who were playing when Manning made his pro debut: Adam Vinatieri and Charles Woodson. At this stage of his career, Manning has played -- and beat -- all 32 NFL franchises, but which one did he have the most success against from a yardage perspective? That honor goes to the Dallas Cowboys, who never held Manning below 250 yards passing in five regular-season games. Back in 2013, he put up 414 inside Jerry World in a 51-48 shootout win. Amazingly, that was only the ninth-best passing performance of Manning's career. (The best, in case you're curious, came against the Arizona Cardinals in Week 4 last season: 479 yards on 47 attempts ... at 38 years old.)
---
Five Favorite Opponents (min. five games against)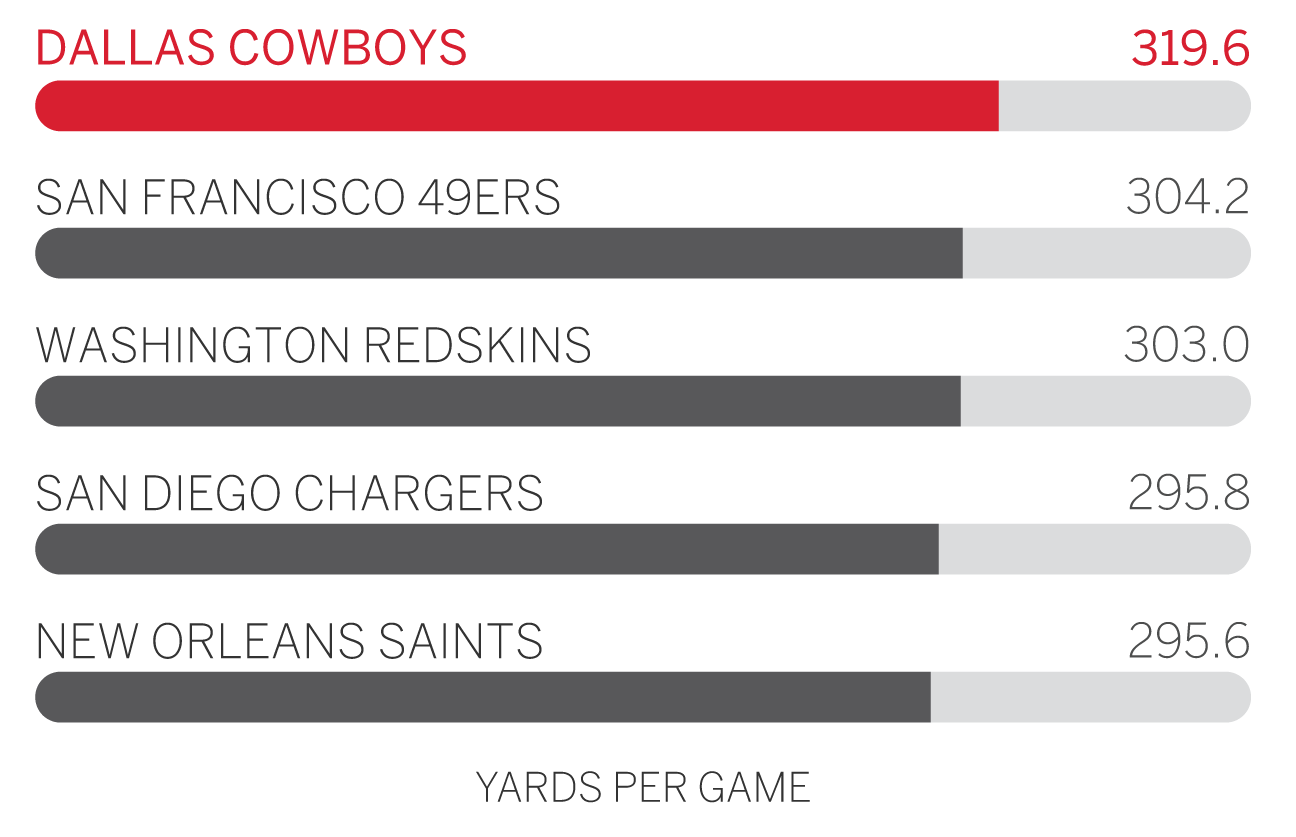 There's a narrative out there that needs to be debunked. It goes something like this: Since Manning returned from a neck injury in 2012, he has become more reliant on short passes. What do the numbers say? From 2012-15, 52 percent of Manning's passing yards came via throws of 10 yards or shorter. And from 2006-10, 52 percent of Manning's passing yards came via throws of 10 yards or shorter. In other words, Manning hasn't changed his philosophy because of his age or declining arm strength; throwing short and keeping it simple is just the most effective way to move the ball through the air in today's NFL.
---
Reliance On Passes Of 10 Yards Or Fewer*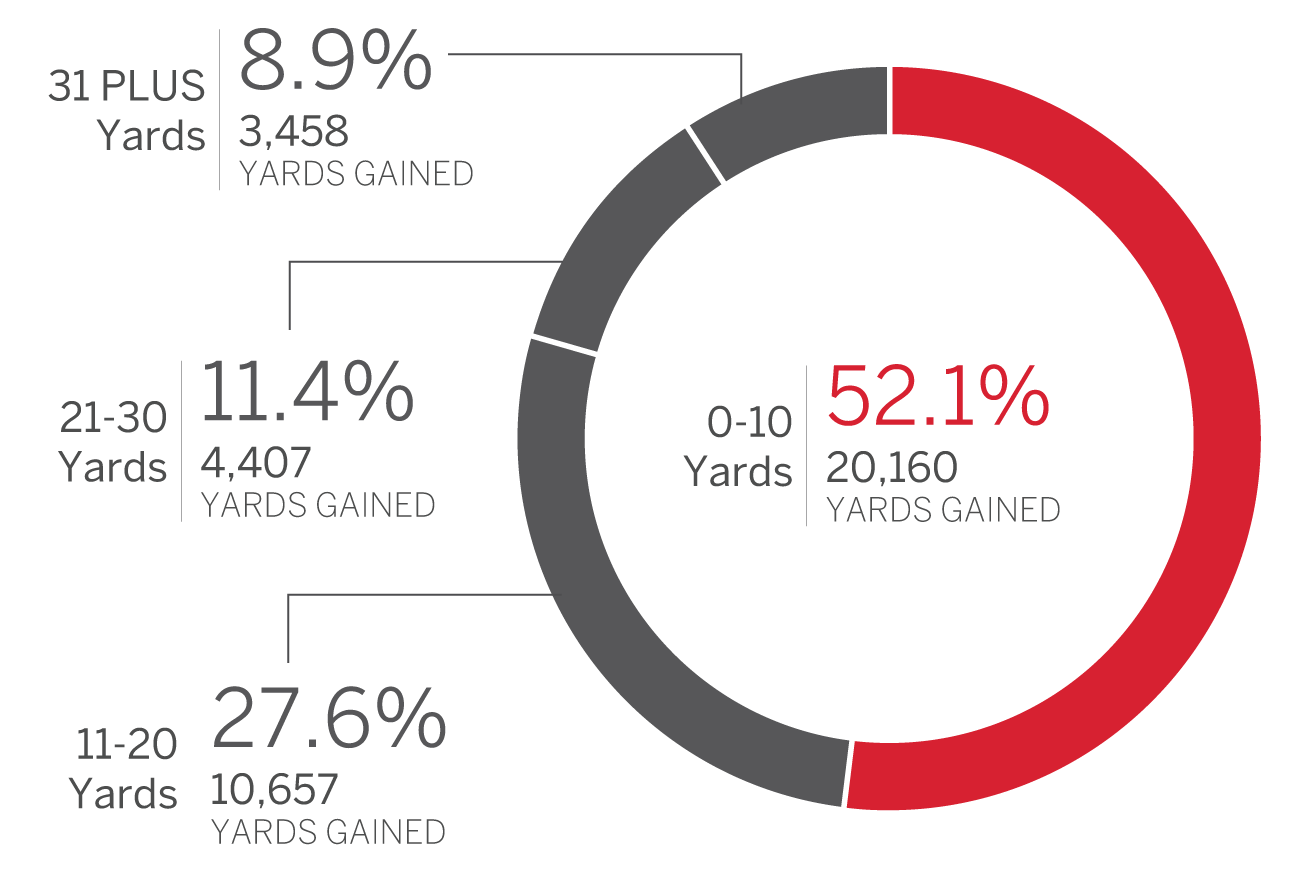 *Air yard data available from 2006-15.

Here's what Manning has actually become more reliant on as he has grown older: yards after the catch. From 2006-08, just 34.4 percent of his yardage came via YAC. That has risen to 42.5 percent in his past six seasons.
---
Percentage Of Yards Gained After The Catch*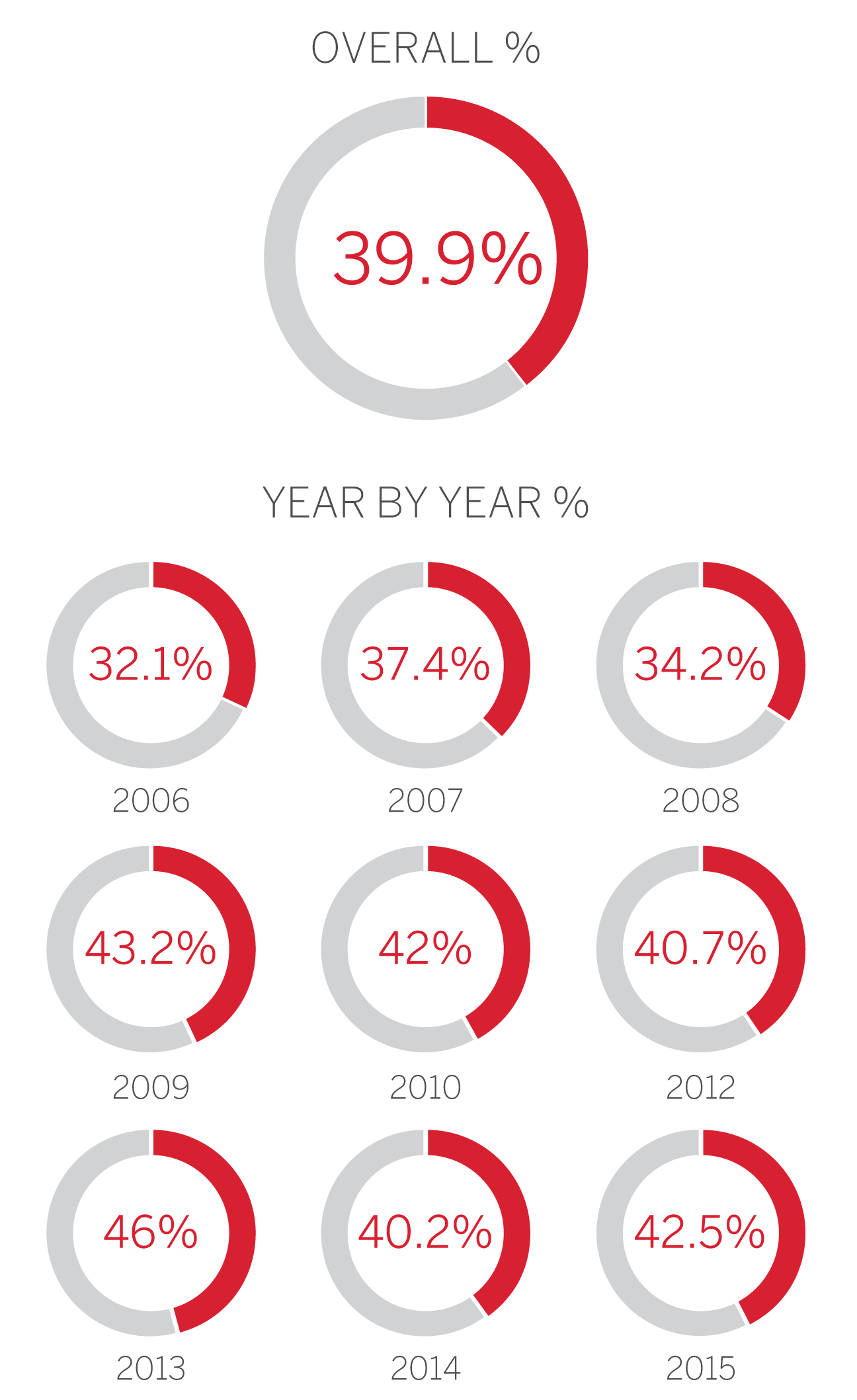 *YAC data available from 2006-15.

Manning now holds the all-time record in the following major categories: passing yards (career and single-season), touchdowns (career and single-season), four-plus TD games (career and single-season), 300-yard games (career), game-winning drives (career) and comeback wins (career). Here's what could be next up for No. 18.
---
Records Manning Still Might Break