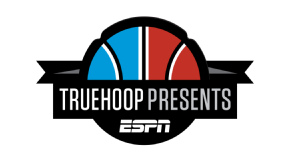 SALT LAKE CITY -- Utah Jazz center Rudy Gobert crouches in a defensive stance just inside the 3-point line, far from his preferred territory. There are less than three minutes left in a game the Jazz lead 78-73. He's guarding DeMarcus Cousins, the high-scoring center whose highlight-producing skill set factored into Gobert missing his first All-Star invitation.
It feels like everyone in Vivint Smart Home Arena knows Cousins will attack Gobert. Down five, Cousins' Pelicans need a bucket, and Cousins is among the league's best bucket-getters. Cousins makes his move: a dribble to his left, bringing him to the top of the key, then a nimble crossover followed by devastating power move, dropping his shoulder into his 7-foot-1 defender. Gobert mirrors Cousins' early maneuvers, moving laterally, extending some of the NBA's longest arms straight up and then -- surprise! -- turbo backpedals as Cousins charges forward, expecting contact. Cousins stumbles, flinging up a wild shot that fails to draw iron.
Cousins sits on the floor, scowling at the referee as Gobert grabs the rebound and shovels the ball to teammate Gordon Hayward. Gobert then sprints the floor, seamlessly flowing into a high pick-and-roll with his All-Star teammate. The Jazz get a clean look at a 3, which misses, but Gobert dives down the middle of the lane, slices under All-Star game MVP Anthony Davis and uses his full length to tip in the missed 3.
Gobert ends up with 15 points, 16 rebounds, two blocks and the win.
Jazz GM Dennis Lindsey believes a big man like Gobert, if he is committed to dominating with simplicity, can anchor a contender. And that's the plan he laid out to Gobert and his agent. "We hope," Lindsey says, "that he's the Utah Jazz version of Bill Russell."
---
HEADING INTO THIS SEASON, Gobert was eligible for a lucrative contract extension. His agent, Bouna Ndiaye, was happy to be in talks with Lindsey as the Halloween extension deadline approached.
But weeks into the talks, with tens of millions of dollars at stake and an Oct. 31 deadline from the league, the one thing that had not come up at all was the one thing agents typically care about most: money.
"It was so long that I started to get nervous," Ndiaye joked.
Instead, what Lindsey painstakingly detailed was Utah's long-term developmental plan for the player who had already earned the nickname the "Stifle Tower." The short version, according to Lindsey: "Making Rudy safer, stronger and more skilled." But he was deep into the particulars of the plan that had been in place since the Jazz selected Gobert with the 27th overall pick in the 2013 draft.
That meant cracking open a thick binder that contains all of Gobert's diagnostic testing results from P3, the sports science company the Jazz work with extensively, and poring over the data. They discussed in great length the most scientifically sound path for him to prevent injuries and continue to add functional strength.
They explored the additional duties and responsibilities, such as the Jazz's expectation that Gobert would emerge as a team leader. They discussed their hope that Gobert would spend his summers at times in Salt Lake City under the supervision of the Jazz staff. They talked about Gobert's potential for improvement, with Lindsey emphasizing the Jazz were investing in a dominant defensive presence and complementary offensive force, not paying Gobert to grow into a go-to scorer.
There was a method to Lindsey's approach. Gobert's value has many aspects, and Lindsey intends to maximize it by narrowing the big man's focus. There is cutting-edge evidence to show the value of rim protection. There is an intricate conversation to be had about injury prevention. Analytics have also taught us a lot about the value of players who can be effective without much needing the ball.
Despite all those delicate aspects of the deal, and despite all the long conversations, the team's bottom-line goal was easy for Lindsey to summarize: They believe Gobert can dominate games as a role player.
---
GOBERT GREW UP in Saint-Quentin, a blue-collar town in the northern part of France known for a butterfly museum and the Hotel de Ville, which took almost 200 years to complete.
Orlando Magic swingman Evan Fournier, Gobert's best friend in the NBA, remembers his buddy at the tender age of 13, staying after practices, his competitive spirit lit even then. It's hard to imagine -- now that Gobert is among the NBA's tallest, a half-foot taller than Fournier -- but at that time Fournier was the taller of the two. Nevertheless, Gobert was determined to dunk. He failed over and over again but made an impression by relentlessly keeping at it.
"As a kid, he was not necessarily confident," Fournier said. "But he was always competitive."
In 2013, something similar caught Lindsey's eye when he went to watch Gobert play for the French club team Cholet. Gobert was raw, but Lindsey liked how he approached pregame warmups.
"He was working on completely the wrong stuff," Lindsey said with a laugh.
But Gobert cared deeply about getting better at basketball.
"I know this sounds crazy, but it's proven to be true to date: His want to be good is as unique as his wingspan and standing reach," Lindsey said.
Not every NBA team saw the value. The pre-draft process, for the most part, did not go well for Gobert. He measured as the longest player ever to attend the NBA draft combine in Chicago, with a 7-foot-9 wingspan and a ridiculous standing reach of 9-foot-7, which means he can reach within five inches of the hoop without jumping. But he struggled in several workouts, a skinny international player who was poorly prepared for individual showcases and got pushed around by bigs such as Steven Adams and Gorgui Dieng.
"He was lost going into that jungle of the workouts," Ndiaye said. "In Chicago, he was bad. He was really bad."
The Jazz workout, however, was an exception. Gobert caught lobs from fellow prospect Matthew Dellavedova and wowed the Utah scouts and executives with his shot-blocking range and instincts.
"I think it was very important to us that how the workout was set up was how he could closely contribute," Lindsey said, noting that Gobert was "never a tick late" to challenge shots, as is often the case for young big men. "From that standpoint, he knocked it out of the park."
"He likes to play. Like, he enjoys playing. ... It sounds simple, but it's rare. It's not the norm."

Alex Jensen, Utah Jazz assistant coach
Lindsey was working late the night before the workout when he saw Gobert, who had asked a Jazz intern to let him in, putting himself through a strenuous workout on one of the practice courts. For Lindsey, it confirmed the feeling he got during a European scouting trip months earlier: Gobert would do the work.
"He likes to play. Like, he enjoys playing," said Alex Jensen, the Jazz assistant coach who works individually with Gobert. "I think a lot of big guys kind of fall into it because of just being big, but he likes to play and he wants to be good. It sounds simple, but it's rare. It's not the norm."
Based on that kind of thinking, Lindsey, along with his predecessor Kevin O'Connor, persuaded Jazz owners to pay $3 million to purchase a late first-round pick from the Nuggets in what has proved to have been a weak draft.
"We got lucky there," Lindsey said. "If we were so smart, we would have moved to the top of the draft."
---
GOBERT BELIEVES HE should have been picked higher than 27th, and he wears the number 27 to remind himself of the insult. Things didn't get better his rookie year, when he was buried on the bench behind Enes Kanter and Derrick Favors, who were seen as the Jazz frontcourt of the future.
The Jazz, though, saw Gobert's combination of anger and free time as an opportunity to move quickly into a long-term plan to strengthen Gobert's uniquely long body.
"The fact that I wasn't playing, I had a lot of energy going to the weight room," Gobert said. "I was kind of putting my anger into the weight room."
As frustrating as it was for Gobert to ride the bench, it let him train harder than most players.
"A lot of his stuff wasn't necessarily having him lift heavy stuff," Jazz strength coach Isaiah Wright said. "It was more, 'OK, let's put you in the correct position. This is the safest position to load your hips. This is the safest position to move laterally.' It was basically just teaching him how to move again."
As Lindsey put it, the goal has never been to make Gobert "look like Hercules" or even Dwight Howard. The Jazz don't want Gobert to sacrifice mobility and flexibility to add strength, especially in the upper body. Bulking up doesn't do Gobert any good if it causes imbalances.
"Rudy's going to stylistically maybe do it a little bit different," Lindsey said. "But certainly from a production and impact standpoint, there's no reason why he can't be one of the most impactful bigs in the league, if not the most impactful in the league going forward."
Every rep Gobert does in the weight room is carefully plotted out based in part on his P3 data. He underwent a diagnostics test immediately after being drafted, going through a series of exercises to identify biomechanical inefficiencies and measure strength, explosiveness and balance. Gobert goes through the same process each offseason at P3's facility in Santa Barbara, California.
The hips and glutes have been primary target areas for Gobert. Strengthening those areas eases the pressure on his knees and ankles and improves his ability to withstand the wrestling that occurs in the NBA paint. Gobert's program, particularly the pregame activation routine that makes up the majority of his strength work during the season, includes a series of movement exercises with light weights and/or resistance bands, many performed while contracting his glutes.
An emphasis in the 15-minute routine is on imitating movements that Gobert will do during the game. For instance, he does defensive slides with resistance bands around his knees. Gobert also grabs light dumbbells and mimics the movement of going up off one foot for a dunk, along with other hops and jumps.
The purpose is to activate and maintain a physique uniquely suited for basketball, not bodybuilding.
"Nothing crazy; we're not doing heavy squats, not doing heavy chest press or anything like that," Wright said. "But it's something loaded. That way when he goes out on the court, he feels like, 'Man, this is nothing.' He's already put his body through those quick stressors or reactions."
"Basketball players are just the race-car version of cars. Bigger, stronger, faster, more powerful," Lindsey said. "Every person has a chassis, if you want to use the car analogy. The chassis has to be balanced."
All of the work Gobert does with Wright during the offseason and on off-days targets the core down. Those are the areas critical to Gobert's basketball development, and Wright takes advantage of Gobert's work ethic and vanity.
"I know he's going to get upper-body work in," said Wright, who has visited Gobert in France the past two summers. "He's going to do that anyways. But you're going to do our workout first, and then you can do your curls and your upper body afterwards."
That's fine with Gobert, who is determined to prove his publicly stated belief that he's the NBA's best big man.
"I'll still look good for the girls, so it's OK," Gobert said, smiling and raising his eyebrows.
---
THIS WASN'T EXACTLY what Quin Snyder had in mind when he projected his future coaching Rudy Gobert. The first flight of Snyder's tenure as Jazz head coach was due to take off, and Gobert was nowhere to be found.
A few minutes late, the second-year center arrived, and the plane took off. Snyder found a seat next to Gobert once the plane was airborne.
"You've got a chance to be great," Snyder recalled saying. "It's just a question of when it's going to happen. If you're continually late to the plane, people aren't going to take that commitment you have to the group as seriously."
"He looked at me and nodded," Snyder said -- but Gobert's main takeaway was that Snyder had high enough expectations to be hard on him. He liked that.
"He always talks about that Tim Duncan-Gregg Popovich relationship," Gobert said. "He said that Gregg had always been hard on Tim, and that's the kind of relationship that he wants with me."
What the Jazz don't worry about is Gobert's effort. Instead, it's about fine-tuning his focus.
"Part of it with Rudy is just having him believe and trust you that this is what he can do to be successful. He needs to know why. He needs to understand and believe you."

Quin Snyder, Utah Jazz head coach
Snyder and Jensen form a one-two tough-love punch with Gobert, stressing the importance of details to him. But they can't just tell Gobert what to do. They always have to explain why, because Gobert likes to understand how things work and how his role translates to winning. (No staff is happier that the NBA started tracking "screen assists" this season. Gobert ranks second in the league at this thankless task, giving his coaches tangible evidence that there's value in the things they ask him to do.)
"Part of it with Rudy is just having him believe and trust you that this is what he can do to be successful," Snyder said. "He needs to know why. He needs to understand and believe you. On a personal level, that kind of mutual commitment and partnership is foundational in his development."
Jensen runs individual film sessions with Gobert most days. They are usually only six to eight clips, maybe one of which celebrates Gobert helping the team with something most fans wouldn't notice, such as rolling hard to the rim and inspiring the defense to rotate in such a way that gets an open 3 for a teammate. The rest are normally correctable mistakes, such as Gobert getting pump-faked off his feet or clogging the Jazz's offensive spacing by flashing to the ball at an inopportune time.
Those sessions typically last between five and 10 minutes, depending on whether Gobert is in one of the contrarian moods the team has come to expect from time to time.
"It's funny, because there's ongoing debates we'll have about things," Jensen said. "He's smart, he's confident and he has opinions about things."
---
IT'S ALL BUT A BASKETBALL TRUISM, now: Young players usually struggle to excel as NBA defenders. First- and second-year players are almost never in the top 20 as measured by defensive Real Plus-Minus. Yet at 22, Gobert finished the season an incredible 13th, just ahead of Tyson Chandler. In his third year, last season, he moved into the top 10, ahead of Kawhi Leonard.
"He can be dominant defensively," Snyder said. "He impacts the game because he has a presence. He creates thought at the rim: Whatever type of shot you're going to shoot, whether you're going to pass or shoot, whether you should not shoot."
Halfway through Gobert's second season, the Jazz traded Kanter away, clearing the way for Gobert to be the team's center of the future. A few months later came his breakthrough performance, at the 2015 Eurobasket, where Gobert blocked Pau Gasol at the end of regulation to key the French national team's upset of the favored Spanish team.
"That was the moment for me where I was like, 'This guy's got a chance to be really good,'" Hayward said.
"After that, he never stopped to get better," French national team coach Vincent Collet said.
GOBERT IS NOW the NBA's best defender by almost any measure, the frontrunner for defensive player of the year. He sits alone in first, by a wide margin, atop the defensive Real Plus-Minus standings. He's on pace to have more win shares in a season than any pure center since Dwight Howard in 2010-11. He's also averaging career highs in points (13.1), rebounds (12.6), blocks (a league-best 2.5), field goal percentage (.654) and free throw percentage (.664).
Gobert has emerged as an elite pick-and-roll finisher. According to NBA.com, Gobert improved from 1.08 to 1.42 points per possession as a roll man. Only DeAndre Jordan has been more efficient among players regularly used as rollers. The Jazz are a lock to make the playoffs for the first time in five years and might have homecourt advantage in the first round.
"I don't think anybody predicted he would come as far, as fast, as he has," Jensen said.
Gobert balks at the belief that he used to have bad hands. Instead, he explains, he'd be so nervous when the ball came his way that he'd often bobble it.
"I was scared to do mistakes offensively," he said. "So I was very tight."
The money from the four-year, $102 million extension agreed to on Oct. 31 seems not to have made Gobert complacent, evidently because he is more concerned with being respected than rich.
"Getting money is nice, but in life, you get money and you get happy? What's the point?" Gobert asked rhetorically while resting in one of the cushioned chairs on the sideline of the Jazz's practice courts.
It took him a few months to make his first major purchase after his extension -- a house a 10-minute drive away from the team's practice facility -- but he surfs his Twitter mentions in search of doubters on a daily basis, with negative feedback filling his likes. He believes he's the NBA's best big man and most dominant defender, and he quietly seethed when snubbed by West coaches in All-Star voting.
"I just love to win," Gobert said, "and I love to shut people's mouths."
---
GOBERT IS 4-OF-24 on shots outside the paint during his career, according to nbasavant.com. However, he firmly believes that he can develop a face-up jump shot that boosts his game to the next level. Gobert has added so many things to his bag of tricks and swears this is next.
"I think I'm a good shooter, to be honest," Gobert said. "I've been working on my shooting every day since I played basketball. In practice, I've always been a good shooter. It's just translating it to the game."
Informed of this, the Jazz's go-to guy responds with an uncomfortable smile.
"He's got some development to go," Hayward said. "Still room to improve. Room to improve."
"I just love to win, and I love to shut people's mouths."

Rudy Gobert
Snyder wants Gobert to believe he's a valued member of the team on both ends, so he has an open mind on the subject.
"I think the key thing with Rudy is being very, very honest and realistic and him trusting that that's the case and then also being incredibly optimistic about his ability to improve," Snyder said. "Because he believes in himself, and you have to believe in him. Frankly, it's warranted. It's warranted because he'll work at it. Any time you see a person commit and work and is dedicated specifically on certain things, they're going to make progress. Him kind of understanding and accepting, what are those things? What are the best things for me to work on today?
"I wouldn't put a ceiling on him. His game's going to take its own direction. That growth process, I just never want to put a ceiling on a guy. I'd rather have it kind of happen organically. Sometimes people surprise you."
As a way of rewarding Gobert, Snyder called a play designed for him to get a jump shot on the first possession of the Jazz's Jan. 10 home win over the Cavaliers, knowing how much it meant to him. After getting down-screens from Hayward and Rodney Hood, Gobert caught the ball at the elbow, wide open for a midrange jumper he has practiced so much. This was the moment.
And Gobert blew it. He immediately dribbled into traffic before committing a turnover, firing a fastball that George Hill couldn't handle a few feet away.
"Sometimes I wish I was just dumb and just shoot the ball," Gobert said. "Sometimes it's good to be dumb in sports, because you don't think too much. I mean, I prefer being smart, but I've just got to be confident and take my shots."
"Slow down, big fella," Lindsey said, a little leery of Gobert's latest ambition. "It's just like I told him when I sat with him right before we penned the deal: 'We're paying you to defend, to shot block, to rebound, to finish and to provide the defensive integrity that we believe you need to be the last team standing in the league.' He got that. I understand him very well at this stage. He doesn't even have to say it. You can feel it. He wants more. But it has to be more within the context of the group."
It wouldn't bother Lindsey a bit if Gobert never hit another shot outside the paint. He paid Gobert to be the Jazz's Bill Russell, not their Larry Bird.