What's in store for the Detroit Pistons? Our panel of five looks back at the offseason moves (and nonmoves), and forward to what lies ahead in the 2013-14 NBA season.
1. What grade would you give the Pistons' offseason?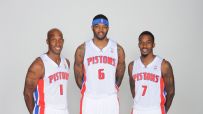 Dan Feldman, Piston Powered: B. By trading a first-round pick to the Bobcats just to dump Ben Gordon's contract a year early, the Pistons committed themselves to upgrading their roster as soon as possible, even if that limited their long-term ceiling. With that in mind, they did about as well as possible. But perhaps a more patient approach all along would have been more prudent.
Patrick Hayes, Piston Powered: A-. The Pistons, a team that was one of the two or three least relevant in the league over the past few seasons, landed a top-five free agent (Josh Smith), pulled off a surprising trade for an intriguing young talent (Brandon Jennings) and mended fences with the former face of the franchise, Chauncey Billups. Not bad.
J.M. Poulard, Warriors World: B-. The Pistons absolutely needed to shake things up and did just that by acquiring a new head coach and bringing in talent. Smith, Jennings and Billups are good enough to make Detroit relevant and fairly entertaining.
Jeremy Schmidt, Bucksketball: B. For all their flaws, Smith and Jennings are both talented players. There might be fit and spacing issues with certain lineups, but there's no question the Pistons have a good deal of talent, both young and old.
David Thorpe, Scouts Inc.: B-. They added players that are better than the guys they had, at decent prices. But are they the best pieces they can get to pair with their quality big men? We will see.
---
2. What's the biggest question facing the Pistons in 2013-14?
Feldman: Will Josh Smith, Greg Monroe and Andre Drummond fit together as a front line? They shot a combined 33.4 percent beyond three feet last season, and that number is inflated by the most competent jump shooter of the trio (Smith) attempting more than the second-most (Monroe), who attempted more than the least-competent (Drummond). These three aren't going to space the floor for each other by shooting well, so how will they do it?
Hayes: Can they shoot? Their talented frontcourt could be neutralized if the Pistons can't find competent perimeter threats to complement them. Or, worse, Smith could fancy himself a competent perimeter threat.
Poulard: Drummond. The previous regime kept his minutes relatively low and it might have stunted his growth some. He will be a starter this season and it's important for him to improve over the course of the season. Monroe's development (and cheap rookie contract) might lead to the Pistons trading him for a big-name player.
Schmidt: Can Smith play extensive minutes with Monroe and Drummond? The trio could cause nightmares for opponents or nightmares for Pistons fans, depending on how the game is going. Is it going to be too crowded in the paint without a shooter to alleviate pressure?
Thorpe: Is Drummond a franchise player, and will he play like one? If he is, it does not mean they are immediate contenders (ask Kevin Love and the Timberwolves). But if he is, then at least they can use him to lure other guys and build skill sets of their current roster to better complement Drummond.
---
3. Who's the Pistons' most intriguing player?
Feldman: Andre Drummond. Drummond has the athletic tools to become a superstar, and he will determine the Pistons' ceiling. If he produces for a full season the way he did in limited minutes last season, this could be a championship team in the making. He was that good as a rookie.
Hayes: Andre Drummond. New coach Maurice Cheeks says Drummond will play as many minutes as he can handle. If his per-minute production from last season is sustainable in bigger minutes, he'll have a Dwight Howard-like impact on the Pistons.
Poulard: Brandon Jennings. It's tempting to go with Smith, but Jennings' vow to become more of a playmaker as opposed to a low-percentage shooter is a fascinating change. He struggled at times with the Milwaukee Bucks because of his ill-advised shots, and it will be interesting to see if that happens again in Detroit.
Schmidt: Andre Drummond. It seems like the sky is the limit for a player everyone largely overlooked at this time last year. It's always an intriguing thing when a player who supposedly lacks motor suddenly finds fuel and makes everyone pay attention.
Thorpe: Brandon Jennings. Who is he? I'm not sure he even knows, but the league, at this point, thinks it knows (and Jennings does not like what they think). If he can elevate his game the way, say, Ty Lawson and Mike Conley did last season, then suddenly Detroit has both the bigs and the point guard to use as a foundation going forward.
---
4. What's one bold prediction about the Pistons?
Feldman: The Pistons will win 43 games. Does that qualify as bold? Only the Kings, Timberwolves, Raptors, Wizards and Pistons have failed to win even 40 games each of the past five seasons. Aside from Washington, I don't see many predicting those teams will make a jump. The Pistons have added enough talent to escape their poor recent history.
Hayes: Jennings will turn into a steady, consistent point guard. Not only does he have weapons who love to finish lobs at his disposal, but he has a coach and a teammate who were both pretty good point guards in their own right. That influence will rub off on him.
Poulard: After struggling to convert around the basket in 2012-13 (bottom five in the league), the Pistons will be a top-five team in scoring efficiency within the restricted area in 2013-14. Oh, and it will look very good, too.
Schmidt: At some point, the Pistons will win 10 consecutive games this season. They have just enough youth, interest in a positive regular season and swagger that I suspect they'll go through a stretch of invincibility before crashing back down to earth before the playoffs start.
Thorpe: They can explode up the defensive rankings into the top eight, a huge move from 23 last season. Jennings and Smith both know how to play for elite defenses, and more Drummond can spell even more production from a defensive standpoint.
---
5. Prediction time: How far will the Pistons go this season?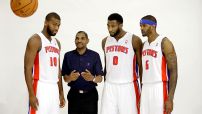 Feldman: First round of the playoffs. The Pistons have invested so much in reaching the playoffs this season, it would be an utter failure if they're left out, and it would probably cost Joe Dumars his job. Thankfully for Detroit, a postseason berth seems likely. Personally, I'd judge this season a success if they're truly competitive in a playoff series. Qualifying just to get swept or lose in a lackluster five games would be underwhelming.
Hayes: 45 wins, a hard-fought first-round exit from the playoffs and the positive beginnings of a recovery process from the disastrous summer of 2009.
Poulard: First round and out. The Pistons will make the postseason as a seventh seed and fall to the Pacers in five entertaining games that will air on NBATV (book it). Here's what you need to know about the series: Paul George versus Josh Smith in a battle that leads to George screaming, "Are you not entertained?!?"
Schmidt: Despite the streak (see No. 4), the Pistons will fall short of the playoffs. Inconsistencies may plague them all season. That's the life of following Smith, Jennings, a 55-year-old Billups and a 20-year-old Drummond into battle every night. Ninth place and a fight to the finish line feels right.
Thorpe: It's hard to envision getting past Round 1, but it's easy to see this team in the playoffs. Sure, it will be a fight for the last few spots, but getting the seventh or eighth seed is a decent bet.