PARIS, France - As his ball sank to the bottom of the lake, Phil Mickelson took his hat off and conceded the 16th hole and match to Francesco Molinari, then bedlam ensued at Le Golf National.
Songs broke out from that corner of the course, beers mixed with tears, strangers hugged strangers, supporters decked out in European blue and yellow clasped their faces in glee and suddenly nerves evaporated to be replaced by unbounded joy.
Europe had come to its home Ryder Cup as underdogs. But it left having handed the U.S. a thrashing, laughing in the face of those who doubted the team. Team unity proved to be far more valuable than the sum of its parts.
This was testament to Thomas Bjorn's brilliant captaincy and his 12 players who each contributed points to their overall 17½-10½ triumph. He had been questioned over his wild-card picks. They said he had panicked with Sergio Garcia, ignoring rookies in better form. Europe were written off; surely the U.S. would end its 25-year wait for a win on European soil?
But then came three days of incredible drama underpinned by collective European pride as Bjorn's captaincy and plan worked to perfection, and the U.S. were sent home having to wait until Rome in 2022 to break this travelling hoodoo.
This party in Paris is not going to end any time soon.
The final four holes at Le Golf National are called the 'Loop of Doom'. A green island houses both the 15th and 18th greens. Just to the other side of the water lies the par-3 16th hole, before the brutally tight 17th runs back away from the clubhouse, looping round to the 18th tee. It is wonderful golf claustrophobia.
And as the afternoon's play panned out, supporters darted from green to green, trying to anticipate where the winning moment would materialise. At one stage, any one of four Europeans could have held the accolade of securing the victory.
As Molinari stood on the 16th tee, Europe were already dormie in three matches, leading 13 ½ to 9 ½. Mathematically, the Ryder Cup was already in the bag, but the vital point was not officially on the board. Molinari, who had already secured four wins from the opening two days alongside Tommy Fleetwood, stuck his tee shot to the back of the green, giving him the chance for a birdie. Mickelson stuck his in the water, putting a full stop next to his miserable week.
And then: chaos.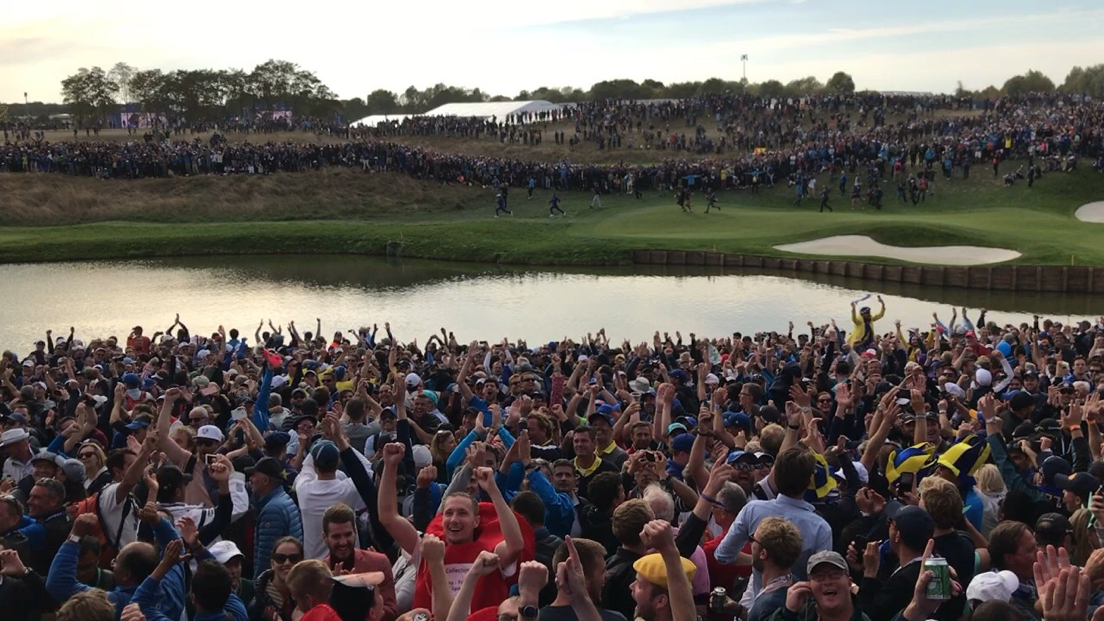 Absolute bedlam as Rory McIlroy charges back from the 16th green to celebrate with Francesco Molinari as Europe's triumph at the Ryder Cup is confirmed.
Justin Rose was on the 15th already hugging Ian Poulter and Bjorn, knowing they were on the verge. Then as Mickelson conceded, there was this incredible outpouring of emotion.
Tyrrell Hatton was heading down the 15th, still in his game with Patrick Reed, already fighting back the tears. Garcia was on the 17th and soon closed out his match with Rickie Fowler and burst into floods. Then Henrik Stenson cracked out the champagne, the songs started and Tommy Fleetwood was lifted onto the shoulders of supporters. Fleetwood then got on a golf cart, drove around a bit, got bored of that -- adrenaline overflowing -- and dove straight into the crowd.
Those poor marshals had no chance of keeping supporters off the 16th fairway, nor could they prevent the tee box being stolen, so confusion broke out when Hatton went to hit his tee shot amid the pandemonium. It was a wonder no one ended up in the water.
A chant of "Bjorn beat the USA" to the tune of the Bruce Springsteen classic broke out, more versions of "Ole, Ole, Ole" and then the thunderclap. All the while Poulter ran around, chest thumping like it was 2012. He was then seen taking a postbox costume off a supporter: Poulter, the postman, had delivered, again. He intends to frame the outfit in his home in Florida.
Such was Europe's dominance that the 18th green barely saw any champagne trampled into its roots. Even Bjorn could not have dreamt it would have been this comfortable.
The American team included Brooks Koepka, with two majors to his name this year; it had three-time major-winner Jordan Spieth; it had the great Tiger Woods, buoyed by his remarkable win in Atlanta only last Sunday; and it had and it had... Nine of them have won a major title, compared to five of Europe's team. And in the singles, the U.S. started well with the leaderboard showing encouraging patches of red.
But Jim Furyk's decision to stack the top of the order meant Europe's tail-enders began turning the leaderboard blue. It all led, fittingly, towards Molinari. He won all five of his matches, becoming the first player to do so for Europe and the fourth in Ryder Cup history. Not bad for a man who said last October he planned to retire in a year or two. Those plans are now shelved. He is playing the golf of his life.
There were other heroes, too: The way Rory McIlroy came back on Friday having endured a miserable opener. Thorbjorn Olesen was left out of the action for three sessions, a sole defeat to his name alongside McIlroy on Friday, but he roared back Sunday to thrash Spieth 5-and-4. Then there was Fleetwood with his four wins alongside Molinari, bringing with it the new moniker "MoliWood." Jon Rahm, a rookie who had just missed a key putt on the 16th, shocked even himself with the most remarkable 360-yard drive on the 17th to tee up a Sunday victory over Woods. His thoughts immediately went to the late, great Seve Ballesteros as his victory soaked in. The list goes on.
But Garcia deserves special praise. He came into this Ryder Cup on a miserable run of form. He was described by Bjorn as the "heartbeat" of the team and regained his rhythm. He also has a new record to his name, as he overtook Nick Faldo to become the top-scoring European in Ryder Cup history on 25½ points.
Spare a thought for Alex Noren, who came home to win his match against Bryson DeChambeau with a wonderful putt on the 18th, an hour or so after Molinari had been engulfed. More hugs followed. Cue further thunderclaps, and renditions of songs forced through throats long since roared hoarse.
The best TEAM won the Ryder Cup.
There were doubts ahead of this Ryder Cup, but every single one, from a European point of view, was answered.
There were concerns the French crowd -- with golf hardly the star act in this part of the world -- would struggle to take the tournament to their hearts. Soon after Rahm had secured victory on the 17th, a rendition of "La Marseillaise" broke out in the 18th grandstand. How silly we were to ever doubt French passion.
There were the worries and criticism over Bjorn's picks, described as heart overruling common sense. But over the three days we collectively learned to trust the content of Bjorn's guts -- or whatever he turned to -- to make his decisions. He did not put a foot wrong or misjudge a pick.
And there were concerns over the quality of the European team, compared to the American list of golf superstars. But amid the personalities of Poulter and Hatton, the quietly-spoken Molinari, the charming humour of Fleetwood, the precision of Rose and Stenson, the rock'n'roll golf of Rahm -- now known as Rahmbo -- a victorious team was formed.
There was no need for a miracle like Medinah this time around. As it all played out on Sunday, Europe was united, standing shoulder to shoulder, bonded by a feeling of belonging. This was the Ryder Cup of "Moliwood," of Bjorn but above all of uncontrollable European pride.