PARIS -- Europe entered the final day of the Ryder Cup with a four-point lead. On Sunday, in singles, it continued its long streak of dominance at home, defeating the Americans.
Here's how it all went down:
SCORE: EUROPE 17½, UNITED STATES 10½
The best TEAM won the Ryder Cup.
---
Sunday session: singles
How it happened: It was the heavyweight fight that was expected. The first match out of the box went to the 18th tee all square. The difference was simple: On the most important drive of the day, Thomas hit the 18th fairway and McIlroy did not. McIlroy left a shot in the bunker, then hit a line drive into the water. Once Thomas found the green safely, the hole -- and the match -- was conceded. The U.S. needed a win to start the day, and it got one.
Rory McIlroy concedes the 18th hole before he even reaches the green, having found water with his second shot from the fairway bunker and failing to hole his fifth shot. Thomas gains his fourth win of the week and completes the role he was handed by captain Jim Furyk: the first point on the board is red.
How it happened: Second match of the day, second match that went all the way to the 18th hole. This one did not end as well for the Americans. With a short iron in his hands from just 152 yards, Koepka yanked his approach into the bunker. He got up and down from the bunker to make par. Casey had 25 feet up the hill for birdie to win the match, but just missed on the left edge, ending it in a tie. On a day when the U.S. needed every point it could get, this was a hard half-point to let get away.
Brooks Koepka completes a superb sand save on the final green and Paul Casey can't find the bottom of the cup for the win. Europe are now just four points from regaining the Ryder Cup. Casey has claimed 1.5 points on his return to the European team.
Paul Casey after his fightback for a half: "What a great match. Brooks is player of the year in my eyes. We threw a lot at each other. He wants to win, I want to win. The half was big for us. I told Thomas that I'm not scared. I'm very proud to grab that point. This was awesome."
How it happened: Simpson had a hot putter in Saturday's foursomes win with Bubba Watson. It carried over into Sunday's singles match with Rose. He won the second and third hole, then pushed the lead to 3 up at the seventh. The lead never shrunk below 2 up and he closed it out with a birdie at the 16th.
Webb Simpson has been superb today and polishes off a 3 and 2 victory over Justin Rose when both exchange birdie-2s at the 16th. Last night European captain Thomas Bjorn said Le Golf National reminded him of TPC Sawgrass. It definitely suited The Players' Championship holder Simpson who ends the week with two wins and one defeat.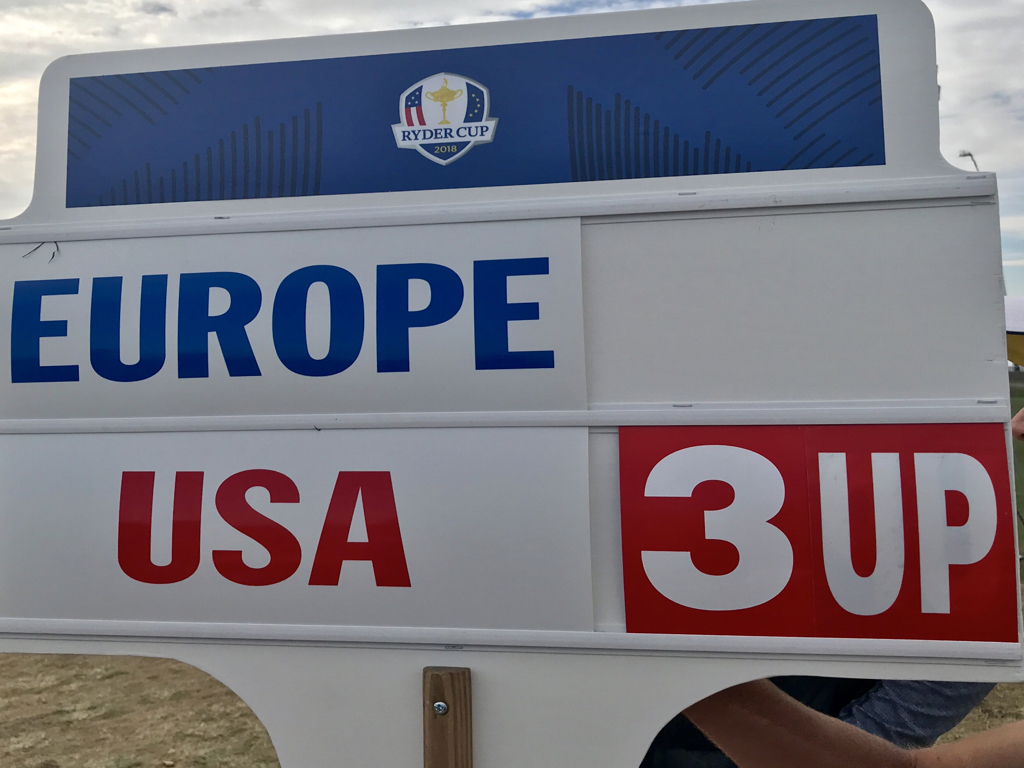 Need to see a lot more of these leaving the course.
How it happened: Every time you looked up on Sunday it seemed Finau was walking in a birdie putt. Through 10 holes, Finau was a stunning 5 up. Fleetwood was the star of the show over the first two days, posting a perfect 4-0 record alongside partner Francesco Molinari, and before the match started, this felt like a sure win for Europe. Finau didn't see it that way and won in a rout.
Tony Finau on his huge win against Tommy Fleetwood: "Feels great. I played incredible golf today. It was hard for Tommy to get in the match. I've controlled my nerves well all week. I have confidence in my team. We know the late guys can turn it around."
How it happened: Olesen had not hit a golf ball in competition since Friday morning. He sat out the afternoon session Friday and then both sessions Saturday, benched by countryman and captain Thomas Bjorn. All he did Sunday was pound Spieth, taking a 5 up lead through nine holes and then cruising on home. Spieth's puzzling issues in singles continues. He is now a combined 0-6 in singles between the Ryder Cup and Presidents Cup.
Thomas Bjorn good friend and compatriot Thorbjorn Olesen after completing his 5 and 4 destruction of Jordan Spieth: "It was massive. I've never felt anything like that walking to the first tee. The crowd were mental. I played great on the front nine."
How it happened: Last week was memorable for Tiger Woods. This week was forgettable. After earning his first win in five years by capturing the Tour Championship, Woods went 0-4 at this Ryder Cup. He showed flashes Sunday -- there was an eagle and a big fist pump at No. 9 -- but there were too many mistakes. His short miss for par at No. 14 essentially locked up a winless week.
Rahm closes out Tiger. The chip from Woods doesn't find the bottom of the cup whereupon the big Spaniard converts his birdie from 5 feet and promptly lets out a volcanic scream, bouncing around the green and dropping his putter. He's claimed a first point in the third match of his Ryder Cup debut. Woods finishes the week with a dismal log book: played four, lost four.
How it happened: Dustin Johnson rolled in a 60-footer for birdie at No. 11 for his first lead of the day. But Poulter has a way of getting things done in the Ryder Cup. He quickly won No. 13 and No. 14, the second with a classic Poulter chest thump. The loss was Johnson's first ever in Ryder Cup singles. He entered a perfect 3-0.
The battle of the Ryder Cup unbeaten singles heavyweights reaches the final round and it ends in a concession. Dustin Johnson's lengthy birdie putt slides by and he turns to Ian Poulter to shake his hand. The Englishman wins 2 up and has now claimed five singles win and one half. Mr Ryder Cup also ends the week 2-2. He thumps his chest and implores the crowd to join him in loud cheers.
Francesco Molinari def. Phil Mickelson 4 and 2
How it happened: This outcome might have been the most predictable. Molinari was literally unbeatable, winning all five of his matches. Mickelson, meanwhile, went 0-2 over a miserable week in France. He tried to make a push Sunday, but he could never fully close the gap, not with Molinari continuing to make every clutch putt. Fittingly, it was Mickelson's tee shot at No. 16 that found the water that clinched the Ryder Cup for Europe.
Fitting that Francesco Molinari wins the Ryder Cup for the European Team after Phil Mickelson hits it in the water.
How it happened: Bubba Watson has never won a Ryder Cup singles match. It wasn't happening Sunday, either. Stenson went up early and Watson could not figure out a way to catch him. Shortly after Molinari won his match to clinch the Cup, Stenson was able to join in the celebration.
Henrik Stenson completes a 5 and 4 thrashing of Bubba Watson (now 0-for-4 in singles) and is then handed a bottle of champagne. He pours himself a glass, sips it and then kisses his wife. Meanwhile, elsewhere, Tommy Fleetwood is lifted shoulder high and walked through the masses of adoring fans.
How it happened: Garcia was a controversial captain's pick, given his record over the past year. But there he was on Sunday, winning again at the Ryder Cup. Sunday's victory made him the winningest player in the history of the Ryder Cup with 25½ points. For Fowler, it was a struggle. In one stretch over the closing holes, Fowler had three consecutive swings that ended with a ball in the water.
Sergio Garcia defeats Rickie Fowler 2 and 1 on the 17th green. The pair embrace and smile, then the Spaniard turns to his wife for a kiss. Four hundred yards away Ian Poulter lifts Francesco Molinari in the air and screams: "You beauty!"
An exhausted Sergio Garcia says: "I am so thankful for Thomas to pick me. So happy, so happy." "Europe's highest points scorer!" interrupts Justin Rose. "It's about the team," grins Garcia.
How it happened: It took Captain America three days to show up, but there he was Sunday. Granted, it was a bit too late. The Cup had been decided by the time he put an American flag on the board. Reed turned a match that was all square through six holes into a 3-up lead after 11 and kept it there.
Alex Noren def. Bryson DeChambeau 1 up
How it happened: They were the last two on the course, tasked with the impossible -- try to continue playing a match that was meaningless in the big picture. Fittingly, Noren ended the match with a 30-footer for birdie to win it.