Imagine you had a billion dollars and you had to buy a player to replace Lionel Messi, or Cristiano Ronaldo. You couldn't. There is simply nobody else as good, no matter how much you pay. That is the problem now worrying the people who run Barcelona and Real Madrid. This spring the two clubs sit on top of the world and look favorites to win the Champions League. But their long dominance could end in the next couple of years.
There's an endless silly argument about who is better, Messi or Ronaldo, when the key point is that they are probably the two best club players in history. True, we can never prove that they have more quality than Diego Maradona, Pele or Johan Cruyff. But we do know that their club stats are much better. Ronaldo and Messi reached their current level in about 2008. Since then, both have averaged more than a goal per league game, and between them have won six out of nine Champions Leagues (including Ronaldo's victory with Manchester United in 2008).
There's a lot more to Messi and Ronaldo than their scoring records, but it's the stat that most immediately demonstrates how special they are. "When it comes to scoring, these two aren't just on top of the pile, they're hang-gliding somewhere way above it," FiveThirtyEight remarked in a 2014 article called "Lionel Messi is Impossible." Compare them with the next-best forwards of our time: Luis Suarez averaged over a goal a game in just one of his seven seasons in top-class leagues. Zlatan Ibrahimovic managed it once in 13.
But Messi, 29, and Ronaldo, 32, won't last forever. With Ronaldo you can already see some decline. He no longer makes the rushes he used to, and this season, with 19 goals in 23 league games, is on track for his lowest goals total since 2009-2010. True, that's partly because he's had various injuries, but then frequent injuries tend to be signs of age.
Madrid and Barcelona won't merely lose two irreplaceable players. They will also soon lose an irreplaceable generation. From 2008 through 2012, Spain, for the first time in its history, had the best crop of players in the world. Most of them grew up at Barcelona or Madrid, or moved there young for relatively low transfer fees, and then won multiple Champions Leagues.
But Carles Puyol and Xavi are gone, Xabi Alonso is retiring this summer, while Iker Casillas is spending his golden years at Porto. Sergio Ramos (31), Andres Iniesta (32), Gerard Pique (30) and Sergio Busquets (28) won't be around much longer. The Spanish generation beneath them is less brilliant. Forget the impossibility of replacing Messi. Barca and Madrid will find it almost impossible and extremely expensive to replace Iniesta and Ramos.
In 2020, these clubs will still have excellent players. But it's hard to see Spain, a midsized and not very rich country, continuing to dominate the Champions League. Barca and Madrid are the best teams of our era, but that's an historical anomaly, far from Spain's normal performance since Real's great run in the 1950s. From 1967 through 2008, Barca and Madrid won only five Champions Leagues between them. Those meagre times could soon return.
Contrary to what many fans imagine, it's not a club's history or spirit or inspirational manager that wins trophies. (Ronaldo and Messi have won their six Champions Leagues with five different managers.) The secret to winning in soccer is, simply, money. Money buys or helps you keep the best players. Money has enabled Spain's dominance. Real Madrid topped the consulting firm Deloitte's "Money League" of the clubs with the highest revenues for 11 straight years through 2015. Barcelona was usually close behind. But now the Spaniards risk losing their financial lead.
The world's richest club in the 2015-16 season, according to Deloitte, was Manchester United. Scarily for the Spaniards, United generated revenues of €689 million despite exiting the lucrative Champions League after the group stage. Madrid won the competition that season, yet generated "only" €620.1 million, a fraction behind Barcelona.
On the field, English teams are currently unremarkable. They are third-best in Europe, behind Spain and Germany, according to UEFA's coefficient rankings. But they can expect to rise. The Premier League's broadcasting revenues have kept soaring and are worth more than £8 billion over the next three years.
True, Spanish TV revenues have soared, too. La Liga is negotiating its biggest ever deal for foreign rights. But in 2015 the Spaniards decided to share out the TV cash more equally among all clubs. No longer do Madrid and Barcelona bag the lion's share. The Big Two's TV income is therefore stagnating at about €140 million a year each, while English clubs are catching up.
Crucially, the English domestic TV market dwarves Spain's: there are about 16 to 17 million soccer TV subscribers in England, against 3 to 4 million in Spain, noted Barcelona's vice-president Manel Arroyo last year. No wonder the Premier League's total wage bill of about $3.6 billion is nearly as high as the Bundesliga's, Spain's top division and Italy's Serie A combined.
---
The world's richest clubs: Manchester United No. 1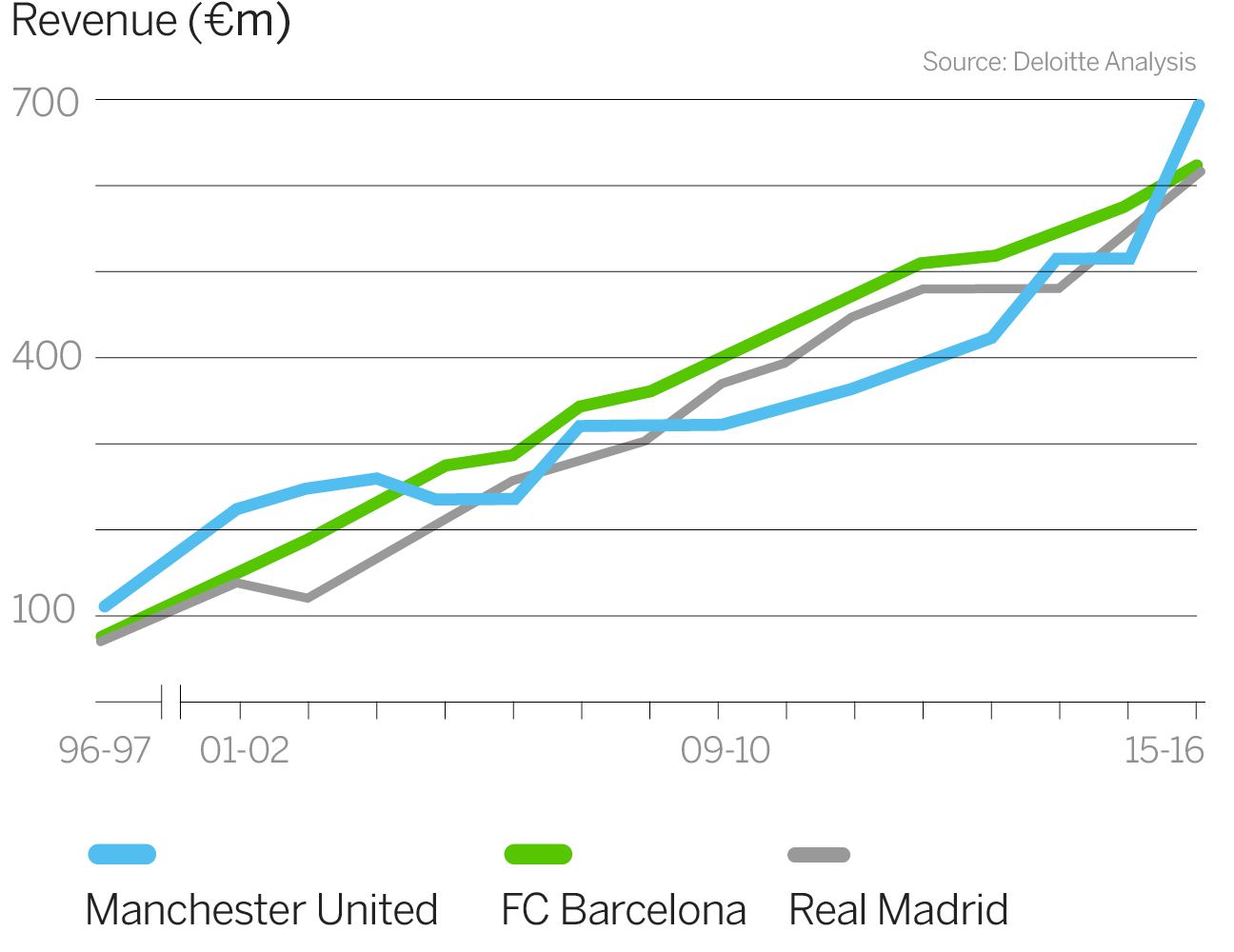 ---
For now, Barca and Madrid lead global soccer in commercial deals. For instance, from 2018 Barcelona will get at least €155 million a season from its kit sponsor, Nike. But once Messi, Ronaldo and Spain's golden generation fade, these clubs will be less appealing to sponsors.
We'll see the consequences on the field. Last summer Manchester United paid a world-record fee of $116 million for Paul Pogba. He will never be in the class of Messi or Ronaldo, but he might become the best in the world of his generation. This summer United look the favorite to sign his compatriot Antoine Griezmann, another contender to be the world's best player in the future.
Then there's Bayern Munich, which has been closing the financial gap with the world's three richest clubs. (It has also closed the intelligence gap and may now be the smartest big club both on the field and in terms of marketing its brand and expanding its reach globally, though unfortunately Deloitte doesn't rank brains.) Bayern's home country is larger and richer than Spain and has a more consistent record of producing top-class players.
We've come to take Spanish dominance for granted. We shouldn't. Remember that once upon a time Italian clubs, even Dutch clubs, dominated Europe. In the end, all empires decline. I'd bet on Bayern and Manchester United to win more Champions Leagues from 2020 to 2030 than Real and Barcelona.