Until two years ago, one of the Champions League's major selling points was not about the teams, the players, the coaches or the stadia. Instead, it was about the competitiveness of the tournament; specifically, the fact that, in the modern format of the competition, no club had successfully defended their crown.
It created a mystique and an aura around the tournament, but that has gone because Real Madrid have triumphed three times in succession. Now, the Champions League fits with the pattern we are witnessing across Europe: Juventus have won seven straight Serie A titles, Bayern have won six Bundesligas in a row, PSG have won five of the last six in Ligue 1.
Over the past nine years, each of UEFA's 55 leagues has seen its title successfully defended except one.
The Premier League has seemingly become impossible to defend. Not since a Cristiano Ronaldo-inspired Manchester United were triumphant in 2008-09, which actually clinched a third a consecutive title, have champions gone back-to-back.
Therefore, if Pep Guardiola's Manchester City are unable to repeat last season's success this year, it will mark a decade of failed attempts to retain the English top flight, which is an extraordinary run in the context of modern European football.
Moreover, while some teams went close to claiming consecutive titles in the early years of this ongoing trend, the last three seasons have seen defending champions not just fail to win the title, but struggle to mount even a vague challenge.
Chelsea, Leicester and Chelsea again have finished at least 10 wins away from the top spot, with the knock-on effect being that managers Jose Mourinho and Claudio Ranieri were sacked midway through the following campaign, while Antonio Conte only just clung onto his job last season.
Differences between managers and players might be partly responsible for lacklustre title defences -- as was the case with Mourinho at Chelsea in the latter half of 2015 -- but tactical considerations also play a major role.
With champions Chelsea in crisis, Leicester shocked the world in 2015-16 with an emphasis upon counter-attacking football, which saw them concede possession before breaking quickly through Riyad Mahrez's dribbling and longer balls to Jamie Vardy. The following season, though, opponents adjusted and not simply against Leicester.
The Premier League's highest-profile new managers, Guardiola and Conte, put huge emphasis upon a defined structure in possession -- usually almost a 2-3-5 formation -- and that meant their sides were not so open after turnovers. Leicester struggled to play their quick-breaking style and offered little alternative.
Conte's Chelsea streaked to the 2016-17 prize after switching to a 3-4-3 formation, which transformed the side in the autumn and catapulted them from mid-table to an unassailable lead. By spring, though, half of the league had adopted an identical formation and, suddenly, Chelsea's advantage was no longer so obvious.
Even Arsene Wenger, who had deployed a four-man defence for more than 1,000 games with Arsenal, switched to 3-4-3; the most notable result was an FA Cup final win that denied Chelsea the double. Conte's alternative was 3-5-2, but that alignment lacked the dynamic wide play of his previous system, and Chelsea flopped last season.
The challenge for Guardiola, then, is to keep Manchester City fresh. It is something he attempted after winning his first league titles at Barcelona and Bayern Munich by signing a new striker, Zlatan Ibrahimovic and Robert Lewandowski, respectively, although the former move was overshadowed by Lionel Messi's move into a false nine position.
City's only significant arrival this summer has been Mahrez, who does not seem an obvious fit for a 4-3-3 alignment that features "proper" wingers. Perhaps Guardiola is looking at alternatives in his front three, such as using Raheem Sterling as a false nine more regularly.
It seems unlikely that City will collapse dramatically, like Chelsea or Leicester. Indeed, when assessing the reasons for teams' failure to successfully defend the league title, Chelsea's boom-and-bust cycle must be considered a primary factor.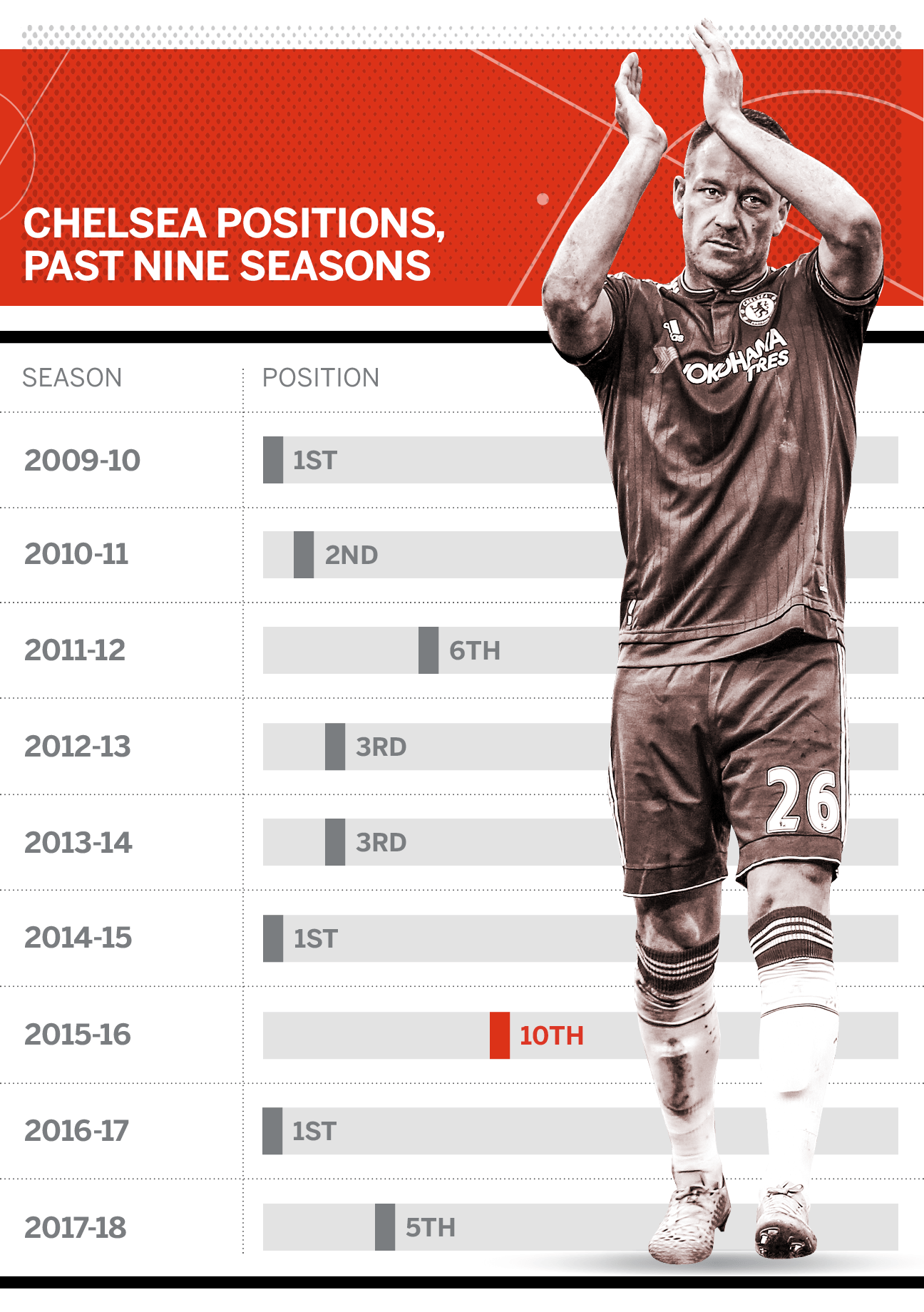 Their points total from the past four years -- 87, 50, 93, 70 -- represents an incredibly volatile run that is incomparable to any other club in European football. The knock-on effect of their players' capacity to thrive under a manager before suddenly turning against him has been to cause four years of the title not being retained.
It might not have felt like it at the time, but one positive of Chelsea's dreadful 2015-16 performance, which saw Mourinho lose his job four months after signing a new contract, was that they did not even qualify for Europe the next season.
While this represented a blow to the club's reputation, it did ensure they could concentrate on domestic football the following season. Sure enough, they promptly recorded the then-second-highest Premier League points total under Conte -- 93 -- and reached the FA Cup final.
Leicester's 2015-16 campaign was similarly boosted by a lack of European football (admittedly, they were not in Europe the previous season when finishing 14th), as was Liverpool's near miss two seasons earlier under Brendan Rodgers.
The effect was not merely about physical fitness; in the modern world of complex, reactive tactics, the managers affected had extra time on the training ground. The following season, with added European commitments, none of these teams looked quite so impressive.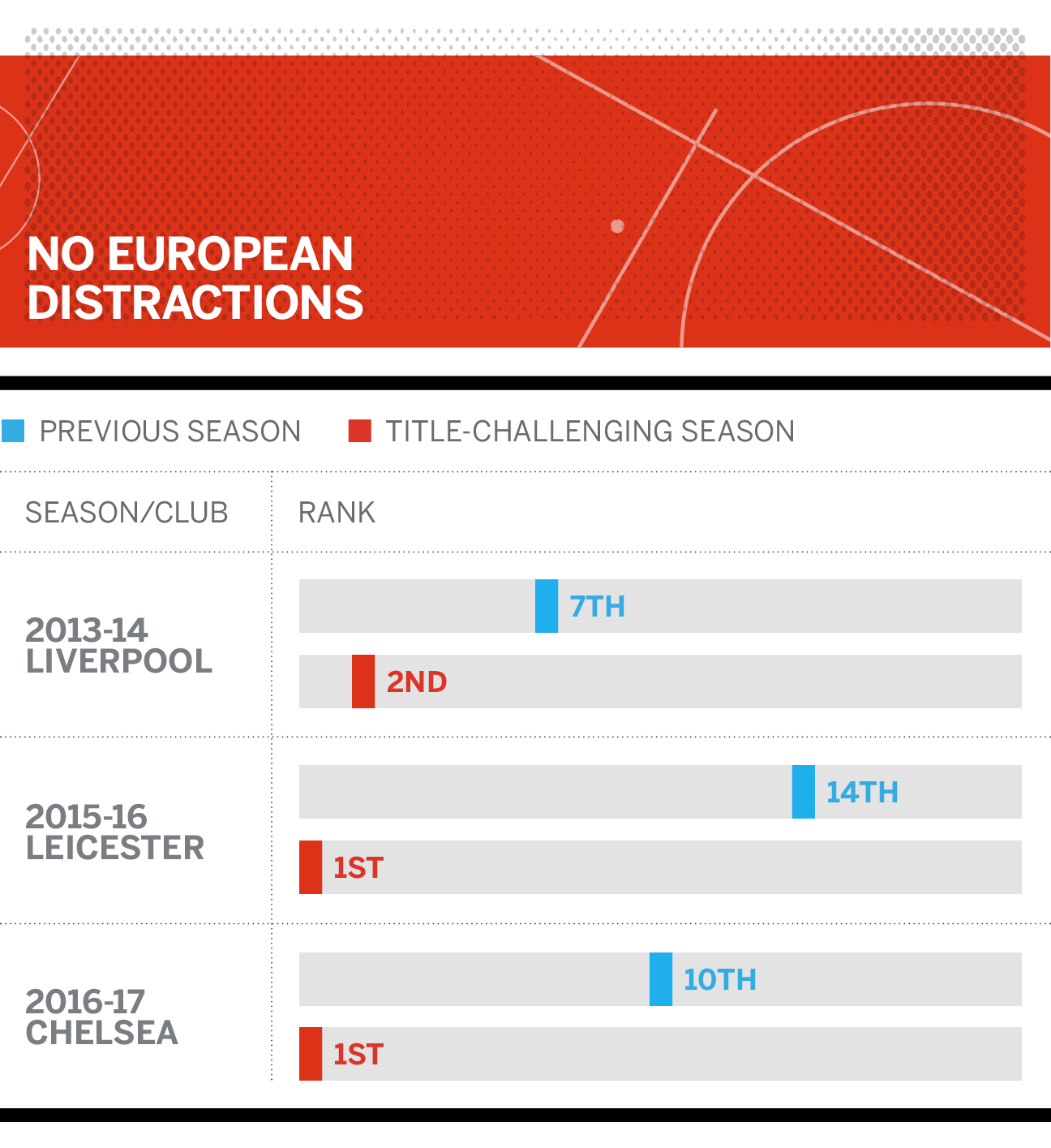 While recent struggles are noteworthy, it is worth remembering that the English top-division title has not been regularly retained in the post-World War II years. The dominant Liverpool side of the 1970s and 1980s managed it only twice and the achievement was only "normalised" by Sir Alex Ferguson's Manchester United. Since the 1960s, Ferguson is responsible for more than half of successful title defences, with six.
Given all that, what are the chances that, come May 2019, Man City are celebrating again? Guardiola has retained La Liga twice and the Bundesliga twice, while his current club start this season as odds-on favourites to win the title.
Doing so would be a first in their history and it has been notable that, after successes in 2011-12 under Roberto Mancini and 2013-14 under Manuel Pellegrini, they suffered a downturn, albeit not to Chelsea levels.
Guardiola seems unlikely to suffer such slumps, however. His is a highly motivated squad that features tremendous competition for places and more tactical variety. It is difficult to think of another team over the past decade that seemed so likely to retain the trophy.
The Premier League has long boasted of its competitiveness and promoted the idea that anyone can beat anyone. It is a difficult sell, however, when City have just won the title with 100 points, fully 19 clear of their closest rivals. So perhaps the focus will shift toward whether anyone can defend it.
Since 2009, every other league in Europe has been successfully defended, as have the Champions League (twice), the Europa League (twice) and even the European Championship, thanks to Spain in 2012. In that, the Premier League stands on its own.
As the old cliche goes: Winning the title is hard, but retaining it is even harder.