If you're going to have a great team, you need a great centre-back (two, if you're really lucky). The best in the game are formidable in both size and strength but also blessed with the grace to time tackles and anticipate a striker's movements to win back possession. Elegance on the ball and off it is essential, whether playing a weighted pass up-field or feinting past opponents to ease the pressure.

Gerard Pique, Barcelona
Perhaps, when Pique's career is over, those who appear to be hounding him out of international football will realise what they missed. The Barcelona defender has said he will retire from Spain duty after the 2018 World Cup, partly on account of the criticism he has received for his views on Catalan independence, though Pique may still be in his prime then.
Now 29, he is the perfect modern defender, a blend of brain and brawn with the passing range demanded of a Barcelona player and a happy knack of scoring important goals. He is adored at the Camp Nou, where he has won 19 major honours, but also earned approval from fans of former club Manchester United when he said his affection for the club would prevent him from joining rivals City.

Jerome Boateng, Bayern Munich
It takes something for a defender to be named footballer of the year when your league's stars include Robert Lewandowski, Thomas Muller and Pierre-Emerick Aubameyang, but that's exactly what happened in Germany last season when their media voted Boateng the Bundesliga's best by a landslide margin. The 28-year-old made only 19 top-flight appearances last season because of injury and has had his issues this term too, but he is an extraordinary competitor when fit.
Boateng's speed, strength and athleticism are unrivalled and would probably go down well these days under his former manager Pep Guardiola at Manchester City, where he spent a single unsuccessful season in 2010-11.

Diego Godin, Atletico Madrid
It is easy to see why Manchester United have been linked with a £30 million move for Godin next summer. He is straight from the Uruguayan mould of uncompromising, unyielding centre-backs. His style is that of a defender from another time, perfectly competent on the ball but standing out through leadership and sheer guts. Those commodities are thin on the ground in the modern game, which explains why the 30-year-old is so highly prized.
The development of Atletico's watertight defence has owed a huge amount to their lynchpin and while he would improve any leading side, he possesses qualities that money simply cannot buy.

Leonardo Bonucci, Juventus
One of a fearsome trio of Juventus defenders alongside Giorgio Chiellini and Andrea Barzagli, Bonucci has shot to prominence since joining from Bari in 2010. More of a ball-playing presence than his two colleagues, he was subject of the highest praise when Pep Guardiola called him "one of my favourite ever players" last season.
He would fit in perfectly at Manchester City and also at troubled Inter Milan, who may still be kicking themselves for selling him to Treviso after only four appearances eight years ago. Bonucci's career has gone in only one direction since then.

Sergio Ramos, Real Madrid
Ramos has a habit of upsetting people but he probably wouldn't have it any other way. No Real Madrid player in history has more than his tally of 21 red cards for the club and although he can be a niggly presence, someone whose gamesmanship and gesticulations are designed to wind opponents up, there is no doubting that he is a winner.
Ramos, 30, was primarily a right-back in his youth but in recent years his partnership with Pepe has been one of the world's best; together they make the ultimate bad boy defensive duo. Few would fancy their chances against them.

Mats Hummels, Bayern Munich
He's not exactly popular at Borussia Dortmund these days, having left to join Bayern in the summer in the latest big-name move between the two sides, but Hummels has only ever charmed the fans of clubs for which he plays. In fairness, Bayern was his first club and Carlo Ancelotti has been quick to buy stock in a player whose elegant, authoritative style sets him apart.
His debut for Bayern came against -- naturally -- Dortmund in the German Super Cup at his former home but he did not let his old supporters' taunts get to him, producing the kind of unflustered and intelligent performance that has long been his hallmark.

Giorgio Chiellini, Juventus
If there were university degrees for defending, Chiellini would have his doctorate. Across more than a decade with Juventus he has proved to be a centre-back in the finest Italian tradition, putting head and body on the line for his team and covering a tremendous amount of ground foraging for the ball high up-field.
Chiellini scored against Spain in Italy's Euro 2016 campaign and has always been a threatening presence inside the opposition box, although perhaps his most famous involvement in another team's area is the skirmish with Luis Suarez in Brazil that led to the Uruguayan's third "biting" controversy.

Thiago Silva, Paris Saint-Germain
Had Thiago Silva not obstructed Colombia goalkeeper David Ospina in Brazil's 2014 World Cup quarterfinal, the walls might not have caved in against Germany in the following round. It was a minor, petty offence but Silva was booked and suspended for the semifinal tie and the rest is history.
There is scant chance Brazil would have lost 7-1 with their captain to pull them together; PSG can point to his influence, too. He has won four Ligue 1 titles since becoming their defensive rock four years ago; not bad for a player who came close to retiring at the age of 20 when he contracted tuberculosis during his time at Porto.

Pepe, Real Madrid
Villains in football don't come much bigger than Pepe. The problem is that if you are booing and hissing him, he almost certainly has your team where he wants them. Pepe was actually on something approaching his best behaviour at Euro 2016 and was the most consistent performer in Portugal's momentous success.
His man-of-the-match showing against France in the final was one of the best -- and perhaps the most important -- in a career that has seen the Real Madrid defender build a reputation as a high-level master of the dark arts. In France, though, the extraneous stuff was put firmly on the backburner and the world was reminded that there are few who can marshall a back line quite like him.

Laurent Koscielny, Arsenal
You wonder what the cost to Arsenal would have been had Arsene Wenger not signed the relatively unheralded defender after a sole Ligue 1 season with Lorient back in 2010. Koscielny has been the on-pitch constant in a six-year period fraught with ups and downs for the Gunners, and it is a mark of how quickly time passes that he has reached the age of 31 without quite getting the recognition he deserves.
Although not a commanding figure at first glance, Koscielny has the all-round athleticism and anticipation to make amends and shows little sign of letting up. In Shkodran Mustafi he appears to have found the central-defensive partner who best complements his strengths. This season may be his best chance yet of winning the Premier League medal that his application deserves.
---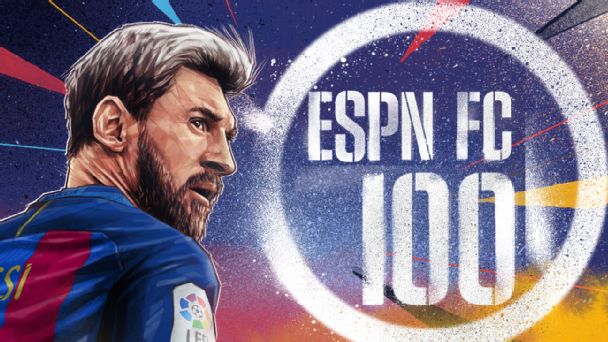 FC100: The full list
Goalkeepers
Right-Backs | Centre-Backs | Left-Backs
Central Midfielders | Attacking Midfielders | Wingers
Forwards | Strikers
Managers
---
Feature content
Gab Marcotti: Putting the fun back in football rankings
Miguel Delaney: Picking the future #FC100 No. 1s
Nick Miller: England's slipping stock behind low #FC100 representation
Mark Lovell: No surprise that Bayern dominated #FC100
John Brewin: Where were all the Premier League players?
---
FC 100 is the result of a comprehensive vote among ESPN FC writers, experts and regions to determine the top 100 in the men's game right now. Our ballot breaks things down by position to more accurately reflect the top performers all over the pitch, not just the ones who dominate the headlines.