Right-back was never the most glamorous position, but the game's many evolutions have seen it become a thrilling and unpredictable spot on the pitch. The best in the game will marry a strong positional awareness with blinding speed and the daring to surge forward and support their teams in attack.

Philipp Lahm, Bayern Munich
Bayern captain Lahm is 33 now, but it will still take someone special to usurp him as the world's best player in his position. Lahm remains an extraordinary footballer, one who looked as comfortable in midfield under Pep Guardiola and at left-back for his national team as he still does on the right. He won 113 caps for Germany and lifted the World Cup and, overall, has spent 10-plus years at the highest level.
There may never have been a more talented all-round full-back, and there is more to come: "I'm convinced that he can play until he's 39," Bayern manager Carlo Ancelotti said in August. Publicly, Lahm is leaning toward retirement in 2018 and recently said he could even quit the game next summer, but don't bet against him playing on.

Hector Bellerin, Arsenal
When Barcelona and Manchester City are the two clubs said to be soliciting your services, something is going right. Little has gone wrong for Bellerin, arguably the most exciting full-back Arsenal's academy has produced -- with a touch of help from those at Barca's La Masia, since he broke into the side two years ago.
Electrifying going forward, Bellerin actually started his career as a winger but has been quick to learn his defensive responsibilities since dropping into the right-back role, rapidly becoming the best in his position in the Premier League.
Rest easy, Gunners fans; he has no plans to follow the example of Cesc Fabregas, who beat a similar path from Barcelona to the Emirates Stadium and back again. "If I wanted to play there, I would have stayed there," he says of the club he left at 16. Bellerin has stated he would love a race with Olympic sprint champion Usain Bolt to test his exceptional pace to the full.

Juanfran, Atletico Madrid
Rugged, insistent and with more than a touch of genuine class, Juanfran is every inch an Atletico Madrid player in the mould demanded -- indeed, created -- by coach Diego Simeone. Juanfran turns 32 in January but seems to get better with age, and he has defied the trauma of a decisive missed penalty in last season's Champions League final shootout to return with his usual level of performance this season.
His father was a club member at Real Madrid, the team responsible for that painful night in May; his wider family also supports Atletico's bitter rivals, but there is no questioning his own commitment. A strong runner, an economical user of the ball, and a dogged defender, Juanfran exemplifies the remarkable consistency shown by Atleti in recent seasons.

Dani Alves, Juventus
At his best, Alves could run a game from right-back; he is a force of nature who would turn up all over the pitch but still, somehow, be trusted to keep things quiet in defence. That is not quite how he operates these days, but he remains one of the cleverest defenders around, recently playing as a third centre-back for Juventus and bringing the ball out with his usual distinction.
If the Brazilian is a slightly more restrained figure now, his contribution in Spain for Sevilla and Barcelona was routinely thrilling. He made 100 assists in La Liga and appeared more times in the division than any other foreigner, defining the position in a way perhaps only Cafu has come close to achieving. Now 33, Alves chose to join Juventus last summer in an effort to escape his "comfort zone" at the Camp Nou; there is little danger of him failing his latest challenge.

Dani Carvajal, Real Madrid
It sometimes seems that Carvajal flies beneath the radar. Many Real Madrid youth products do -- such is the rarity of progression to regular football in the club's first team -- but the 24-year-old is an outstanding talent and has improved each year since Madrid exercised a buy-back clause to retrieve him from Bayer Leverkusen in 2013.
Carvajal gives Madrid attacking impetus down his flank and is capable of lighting an occasion up on his own: witness this season's European Super Cup against Sevilla, in which he scored a brilliant last-minute solo winner. Carvajal has considerable competition for a place in Spain's squad, but has time on his side to make his argument even more persuasive.

Lukasz Piszczek, Borussia Dortmund
When you think of Piszczek, perhaps you think first of his role in Jurgen Klopp's dazzling, dynamic Borussia Dortmund side earlier this decade. The 31-year-old has fizzed up and down the Bundesliga club's right flank for years and has adapted well to the more possession-based demands of Thomas Tuchel, too. Piszczek is equally important to Poland, for whom he reprises his former club partnership with Jakub Blaszczykowski.
The tidiest of operators on and off the ball -- one goal-saving tackle in the recent Ruhr derby with Schalke was positively Bobby Moore-like -- Piszczek started as an attacking midfielder during six years with Hertha Berlin. Now, though, he wreaks havoc with his incursions from deep.

Stephan Lichtsteiner, Juventus
Lichtsteiner's gifts are admirable enough before you consider what he endured just over a year ago. Last September, the Juventus player was stricken by breathing difficulties during a Serie A match against Frosinone and had to be replaced. It turned out Lichtsteiner had cardiac arrhythmia, which needed correction with heart surgery. The procedure went well enough for him to be back in training by the start of November; on his comeback two days later, the Swiss international volleyed in a superb Champions League goal for his side against Borussia Monchengladbach.
The moment summed up his qualities well: Lichtsteiner, now 32, is still a formidable athlete renowned for his runs up the right flank and his willingness to contribute in attack. He has even got better and better with age.

Nathaniel Clyne, Liverpool
Observers tend to be split over the comparative merits of Clyne and Kyle Walker as far as the England right-back berth is concerned. If this list is anything to go by, Clyne gets the nod. There could be few more perfect full-backs for the demands of modern-day football, and the 25-year-old has become crucial to a Liverpool side that have played some thrilling football en route to topping the Premier League. He may even be the first name on Klopp's team sheet.
There is no more creative right-back in the Premier League; his elegance and speed on the ball feeds slickly into Liverpool's attack. It was not always smooth going, though: Clyne grew up in a troubled area of south London, and while football was a vital diversion, he was rejected by Arsenal at the age of 10 for being too small.

Kyle Walker, Tottenham
Walker got the nod over Clyne for the majority of England's ill-fated Euro 2016 campaign, starting three of four games. There is little to choose between the two, and Walker, just 26 but now in his eighth season with Tottenham, certainly has similar gifts.
Strongest when on the front foot and when supporting attacks, he may get more chances to shine in the opposition half if Mauricio Pochettino persists with the 3-4-3 formation he fielded at Arsenal recently, a move the manager said was in part designed to use the offensive skills of Walker and left-back Danny Rose. Walker has faced some injury problems; he missed the 2014 World Cup with a pelvic injury that kept him out for nine months. Before that, he was considered liable to make errors; since, he has been in the form of his life.

Darijo Srna, Shakhtar Donetsk
The best European right-back not to have played in a major league? The case is compelling. Some believed Srna, who turned 34 in May, was slowing at Shakhtar Donetsk last season, but he proved to be an unstinting presence up and down the right wing for Croatia at Euro 2016. Those performances were made all the more remarkable by the fact that his father, Uzeir, died shortly after the opening match against Turkey; Srna returned straight home to mourn but was back in Croatia's side five days later, captaining them in the 2-2 draw with Czech Republic.
In September he was linked with a move to Barcelona. Srna would have graced any club on the continent, but Shakhtar, where he has spent 13 years since leaving Hajduk Split, is his spiritual home.
---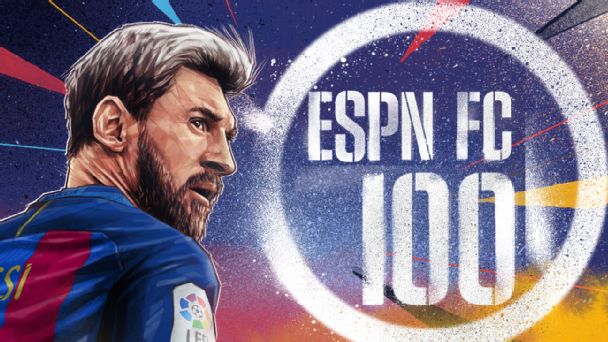 FC100: The full list
Goalkeepers
Right-Backs | Centre-Backs | Left-Backs
Central Midfielders | Attacking Midfielders | Wingers
Forwards | Strikers
Managers
---
Feature content
Gab Marcotti: Putting the fun back in football rankings
Miguel Delaney: Picking the future #FC100 No. 1s
Nick Miller: England's slipping stock behind low #FC100 representation
Mark Lovell: No surprise that Bayern dominated #FC100
John Brewin: Where were all the Premier League players?
---
FC 100 is the result of a comprehensive vote among ESPN FC writers, experts and regions to determine the top 100 in the men's game right now. Our ballot breaks things down by position to more accurately reflect the top performers all over the pitch, not just the ones who dominate the headlines.