Gianluigi Buffon has been around so long that the Juventus goalkeeper is now swapping shirts with the sons of former opponents and teammates...
The Toe Poke Daily is here every day to bring you all the weirdest stories, quirkiest viral content and top trolling that the internet has to offer, all in one place.
Jump to: Ronaldo bests Ibrahimovic in battle of top knots | Adebayor gets hero's welcome on arrival at new club in Paraguay
Buffon leaves San Siro with Daniel Maldini's shirt
"In my collection I have Chiesa and son, Thuram and son, Weah and son, and now Maldini and son. I'm waiting for their grandchildren" 😍😂 #Juventus #ACMilan #MilanJuve pic.twitter.com/f4ZW0dz8qo

— Daniella Matar (@DaniellaMatar) February 13, 2020
With well over 1,000 games under his belt, it's perhaps little wonder that Buffon has amassed a huge collection of shirts swapped with illustrious opponents over the course of his long and distinguished career.
The 42-year-old keeper has now been around long enough that he's beginning to add second-generation names to his vast haul.
After playing in Thursday night's 1-1 draw in the Coppa Italia first leg against AC Milan (stream the replay on ESPN+ in the U.S.), Buffon left the pitch clutching the jersey of youngster Daniel Maldini, which will take pride of place alongside the 18-year-old's father (and Buffon's former international teammate), Paolo.
"In my collection I have [Enrico] Chiesa and son [Federico], [Lilian] Thuram and son [Marcus], [George] Weah and son [Timothy], and now Maldini and son," the 2006 World Cup winner told reporters in the mixed zone, where his beaming pride at adding to his collection was captured for posterity by Associated Press reporter Daniella Matar. "I'm waiting for their grandchildren."
Given his already impressive longevity, we honestly wouldn't put it past him completing an entire father-son XI's worth of shirts before he calls it a day.
- Horncastle: Milan on the up, but are Juve regressing?
Ronaldo bests Ibrahimovic in battle of top knots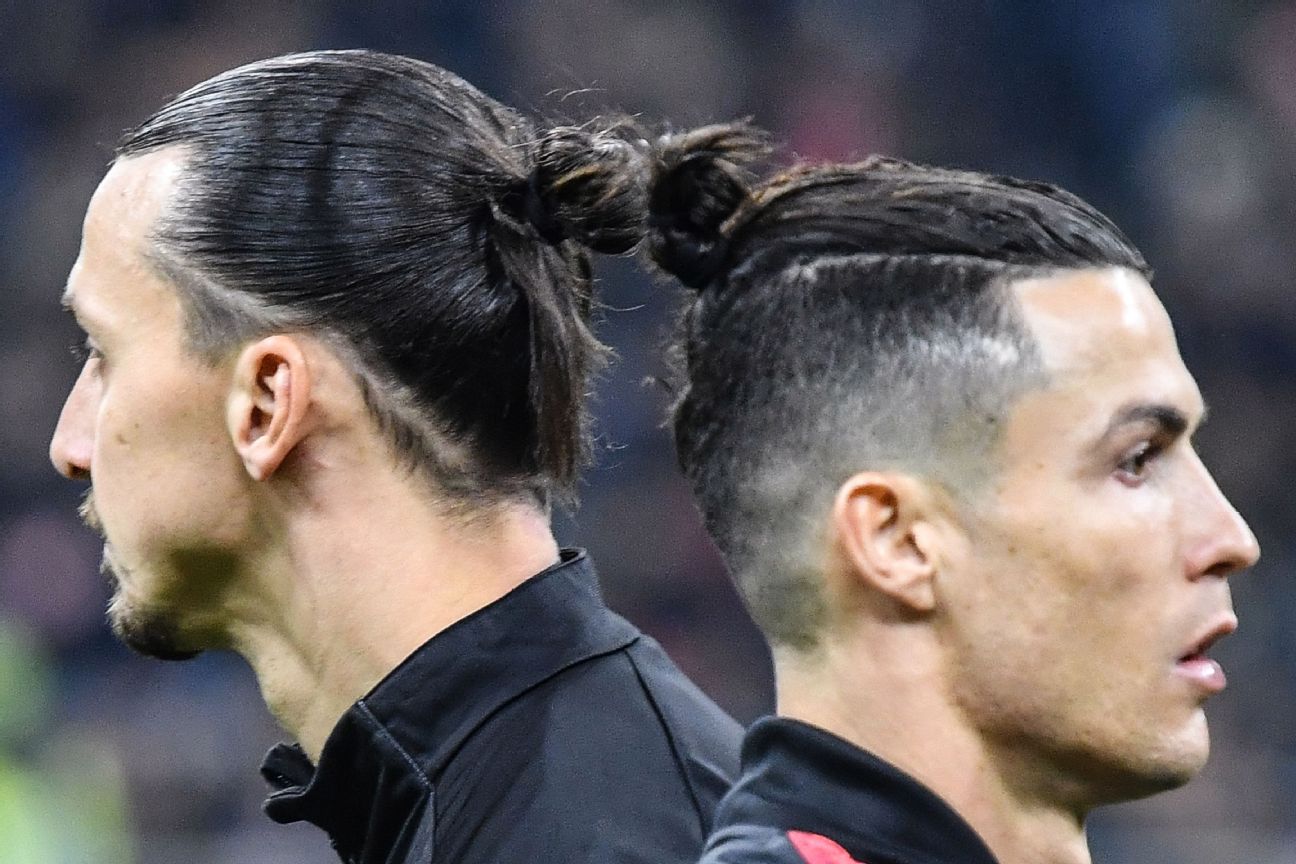 Honours were even at San Siro between Milan and Juve, but Cristiano Ronaldo and Zlatan Ibrahimovic were slugging it out in their own intense personal duel: the Derby della Top Knot.
The pair were both sporting miniature ponytails for the occasion, with Ronaldo's effort a relatively new arrival on the scene, while Ibrahimovic has sported his for so long that even his statue has one.
Ultimately, it was the new interloper Ronaldo who triumphed, slotting away a late (and extremely controversial) penalty to rescue a point for Juve in the 91st minute.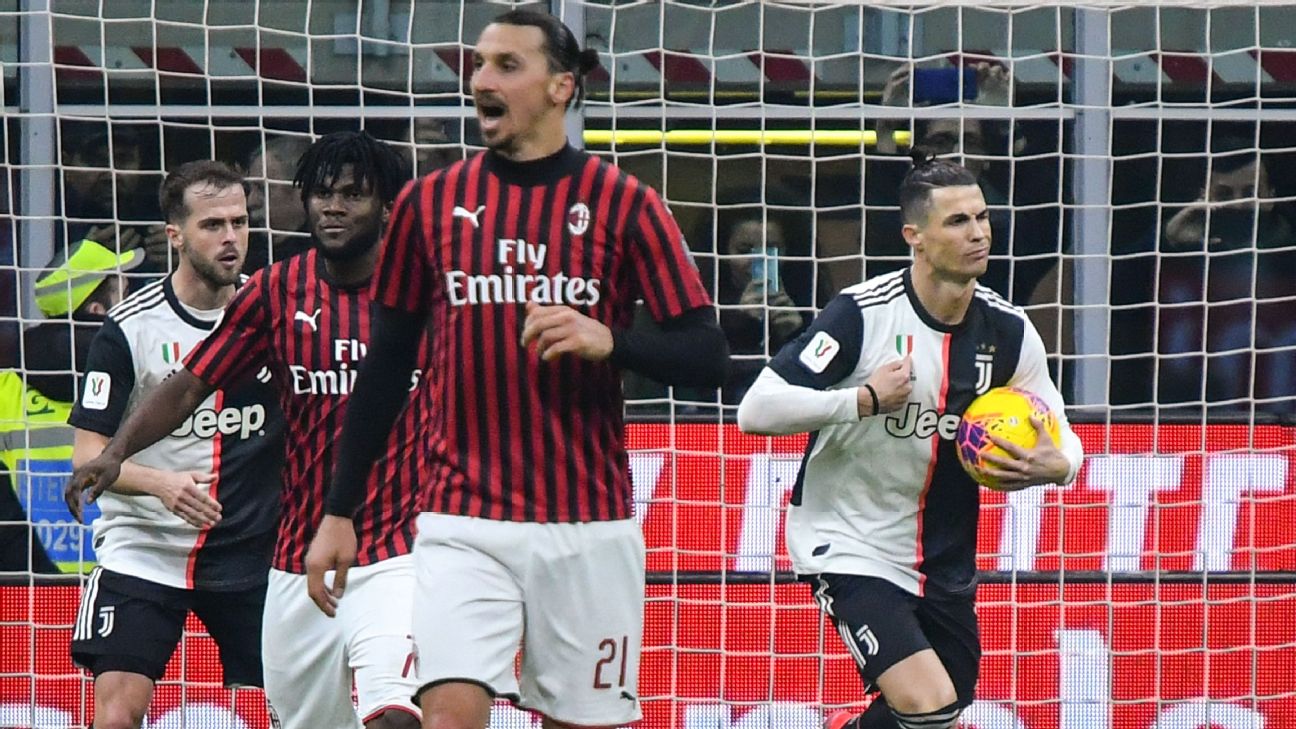 Of course, the naked truth is that as long as top knots are involved, there really are no winners.
Adebayor gets hero's welcome on arrival at new club in Paraguay
It's almost 2AM local time, and tons of you still showed up at the airport. Thank you for the great welcome in Paraguay 🇵🇾❤️❤️❤️🇵🇾 @e_adebayor just landed ! #teamSEA #25 pic.twitter.com/FpmHbOMgwI

— THE OFFICIAL TEAM ADEBAYOR (@TeamAdebayor) February 14, 2020
Emmanuel Adebayor was rescued from free transfer purgatory this week after signing for Paraguayan side Olimpia Asuncion, the 10th club of his meandering career. The Togolese striker had been unattached since leaving Turkish team Kayserispor in December, but will now represent Olimpia in the 2020 season, which began last month.
After he announced he was inbound on social media, a large crowd of fans made their way to the Asuncion airport to welcome Adebayor despite it being 2 a.m. local time. The former Arsenal, Manchester City and Tottenham target man was serenaded through the arrivals lounge with wild chants and drumming. If it's that lively at the airport, imagine the pandemonium when Adebayor makes his debut.
The 35-year-old is now due to reunite with his former Man City teammate, Olimpia captain Roque Santa Cruz, 38, in what could be one of world football's oldest strike duos.