The day before Muhammad Ali (then Cassius Clay) won the heavyweight championship from Sonny Liston, on Feb. 25, 1964, the latest issue of Sports Illustrated hit the newsstands -- featuring Ali sitting on a pile of money and cradling a smaller stack of bills in his arms.
The headline read: "My $1,000,000 Getaway," by Cassius Clay. But even taking inflation into consideration, the sum (worth roughly $8.1 million today) pales in comparison to Canelo Alvarez's 11-fight deal with streaming service DAZN, worth $365 million.
So how did unified middleweight titleholder Alvarez become one of the highest-paid athletes in the world? He's not a charismatic international figure or a flamboyant extrovert like Ali was. He doesn't "float like a butterfly and sting like a bee."
But Canelo, who will have his second bout on his DAZN deal against fellow middleweight world titleholder Daniel Jacobs on Saturday at the T-Mobile Arena in Las Vegas, is the right fighter at the right time -- and a damn good one at that.
One major factor working in Canelo's favor, one that dates back beyond Ali beating Liston, is Mexico's love affair with boxing. That Alvarez is a Mexican national is essential to his success. Thriving somewhere that is so passionate about the sport has proven to be the foundation upon which he has earned a prominent place in boxing. Alvarez has ascended to the point that he's now in the pantheon of great Mexican boxers.
There are currently 16 Mexican boxers enshrined in the International Boxing Hall of Fame, 17 if you count Chalky Wright, whose birthplace is a matter of dispute.
From Kid Azteca and Baby Arizmendi to Juan Manuel Marquez and Marco Antonio Barrera, Mexico has given us an inordinate number of memorable fighters. That said, no boxer reached greater heights than Julio Cesar Chavez in the hearts of Mexican fans, most of whom consider "The Lion of Culiacan" the greatest of them all.
Canelo would tell you the same thing.
Alvarez is the man of the moment, though, and not because he has red hair and freckles. True, those attributes alone are the source of his nickname and made him stand out among a throng of hungry Mexican prospects. But if he couldn't fight, the color of his hair wouldn't make any difference.
Alvarez, who turned pro in October 2005, has steadily upped his game throughout his career. The majority of boxers reach a point where they are as good as they'll ever be and level off for a while before the inevitable descent. The same thing will eventually happen to Canelo, but not in the near future.
"He incorporates an odd mixture of seemingly contrasting techniques that nonetheless work incredibly well together, creating a style that is both unique and highly entertaining," said David Christian, creator of the Modern Martial Artist.
The method is based on using both a sideway and squared-up stance. The sideway stance allows him to jump in and out, as well as lean back to avoid punches. The squared-up position puts his rear hand closer to his opponents, making them more vulnerable to Alvarez's counters.
His ability to counter a series of three, four or five punches without getting tagged in return is remarkable. It's a high-risk, high-reward approach, and head and upper-body movement are key. If you look closely, you'll often see Canelo starting to duck before the punch he has just thrown connects.
In a way, Alvarez is the son of those who went before him. His calm demeanor and wicked left hook to the body are reminiscent of Chavez. There's also a Juan Manuel Marquez-like cunning to his work and a hint of classical stylist Salvador Sanchez.
Where Alvarez would rank among his country's great prizefighters is something that can't be fairly decided until his career is over. Even so, the three-category statistical breakdown of seven Mexican greats compiled by CompuBox provides insight into the diverse qualities that carried the magnificent seven to the pinnacle of their profession.
Of course, no boxer can be accurately judged by numbers alone. There's so much more to it than that, and it's best to keep in mind Larry Merchant's homily about punch stats being "quantitative, not qualitative."
The seven boxers selected serve as a representative, rather than comprehensive, list.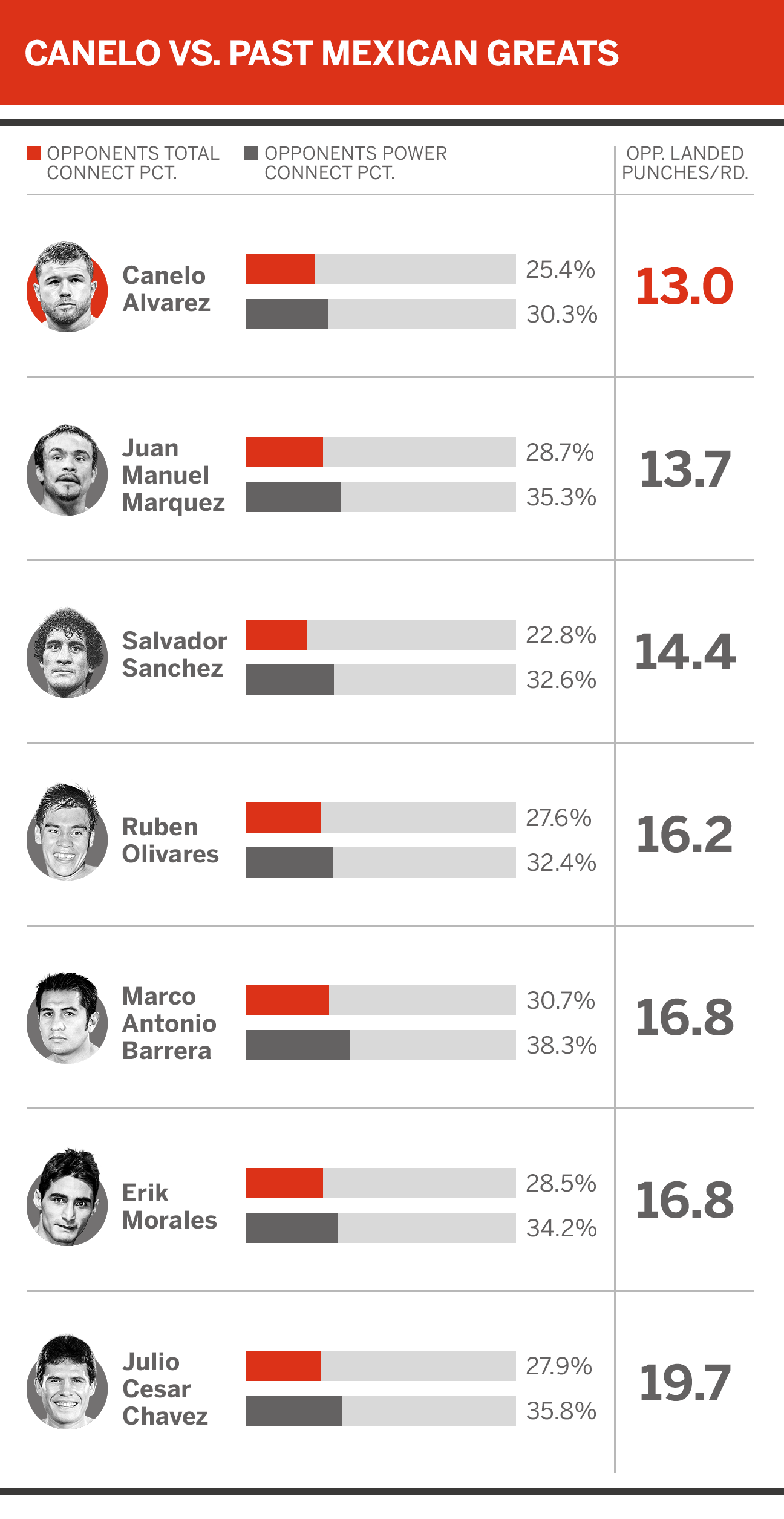 Alvarez tops the list. The three categories in which he excelled center around his elusiveness -- opponents power punch connection percentage, opponents total punch connection percentage and opponents landed punches per round.
Though these results clearly reinforce Canelo's defensive acumen, what's the deal with his offense?
He's no Olivares, that's for sure. Olivares was a pure puncher and went for broke nearly every time he fought. Canelo is a thinker -- a figure-you-out and break-you-down type. Reckless attacks are not his thing.
From early on in Canelo's career, Mexican fans were drawn to the bony 15-year-old oddity who punched like El Diablo. In the years since, he has matured as a fighter, going from victory to victory. His majority decision loss to Floyd Mayweather in September 2013 proved to be little more than a temporary inconvenience.
As basic as boxing is as a sport on the surface, its intricacies are countless. The digital revolution helps boxers in ways that were unavailable to past generations, from fighting tips to self-promotion. Even an obscure amateur can have hundred of thousands of followers on Instagram or Twitter, and with matches made through social media sparring, fighters such as Alvarez can expand their horizons and marketability with a single click.
Timing has often been on Alvarez's side over the course of his career. He became Mexico's most popular boxer since Chavez at a point when his people were ready to take a new hero to heart.
Chavez retired almost 14 years ago, and although there have been great Mexican boxers in the interim, Canelo was the chosen one -- just take one look at his Tecate commercials with actor Sylvester Stallone as an indicator of his brand's ever-growing prowess.
Alvarez's string of impressive wins was accompanied by sold-out venues and some of the best pay-per-view numbers since Mayweather took his leave of absence from boxing and Manny Pacquiao began declining. The avid support of Mexican and Mexican-American fans has combined with a growing appreciation in the U.S. to make Canelo both boxing's biggest moneymaker and richest competitor.
Still, as much as anything else, the advent of streaming boxing services and competition to sign talent led to Alvarez's unprecedented contract. Streaming is the future of boxing, and as boxing undergoes a paradigm shift, nobody wants to get left behind.
ESPN's streaming service, ESPN+, was launched just a year ago and features Top Rank Boxing, along with additional programming from Frank Warren's U.K.-based Queensberry Promotion. DAZN is a major player and has partnered with Matchroom Boxing and Golden Boy Promotions. Al Haymon's Premier Boxing Champions streams on Fox Sports' digital platform.
Alvarez has been faced with a measure of discontent due to the performance-enhancing drug scandal that delayed the rematch with Gennady Golovkin and the controversial decisions in both of their highly competitive fights -- a split draw in their first encounter and the majority decision in Canelo's favor in the second.
Alvarez-Jacobs is an attractive match, probably the best one that can be made for both boxers at this time. If it turns out to be a good fight with a definitive winner and no controversy, sins of the past will start to fade in the light of new success.
With the exception of Sanchez, who died young, the heroes of the past will be watching Alvarez-Jacobs. Like most people of Mexican heritage, Olivares, Morales, Marquez, Chavez and Barrera will be rooting for the latest standard-bearer of a proud tradition.
Thanks to Alvarez, Mexico's role in boxing -- especially in the Western Hemisphere, where Latinos are the fastest-growing demographic -- has never been more essential to the health of the sport. That, more than anything else, is what's at stake Saturday night.
Data compiled by CompuBox.